Weekly Update #293: Lyft Files for IPO: Ride-Hail Business Demonstrates Strong Growth and Increasing Efficiency
Hello Investors,
This week's content is brought to you by Adam Augusiak-Boro.
Chart of the Week – Lyft Files for IPO: Ride-Hail Business Demonstrates Strong Growth and Increasing Efficiency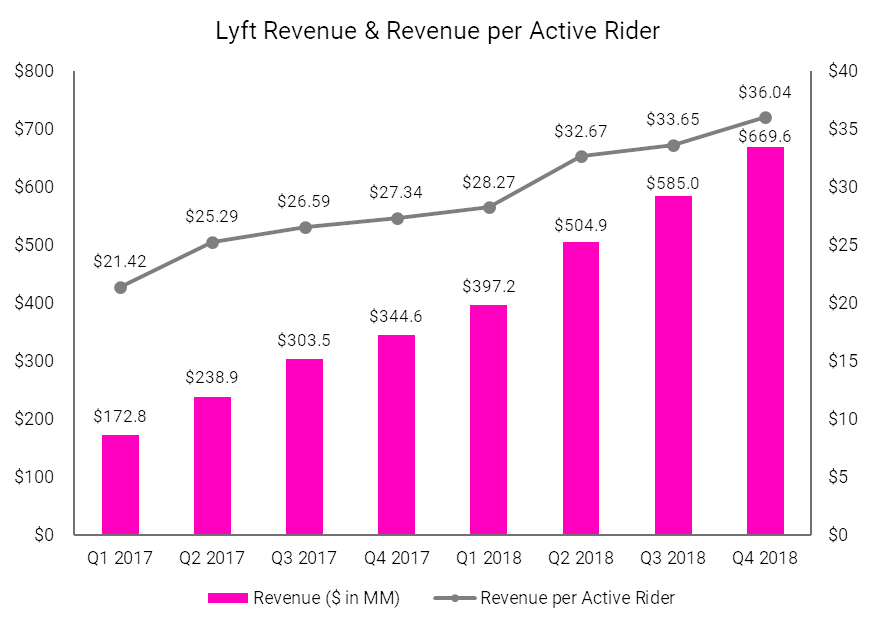 Source: Lyft Form S-1 Filing
Ride-hail startup Lyft is the first company from EquityZen's 2019 IPO Outlook to file its securities paperwork publicly, giving public investors a look under Lyft's hood for the first time. While Lyft and its lead underwriter, J.P. Morgan, get ready to answer investor questions during Lyft's roadshow, below are some of the key takeaways from Lyft's S-1 Filing:
"Transportation-as-a-Service" Narrative. While Uber's public S-1 filing remains elusive, Lyft is leveraging its first-mover advantage to set the narrative around ride-hail's total addressable market and how a company like Lyft should be valued. Lyft's S-1 paints a portrait of the company as a "multimodal transportation network" and one of the leading players in a growing "Transportation-as-a-Service" (TaaS) sector. The company points out that only 1% of all miles traveled in the U.S. occur on rideshare networks while Americans spend $1.2 trillion annually on transportation. In the future, Lyft aims to operate a TaaS platform that seamlessly integrates bikes, scooters, public transit, and its core ride-hail network that will largely consist of autonomous vehicles.
Growing Ride-Hail Business. The narrative of a multimodal transportation network powered by artificial intelligence is ambitious and worth pursuing, but Lyft today remains a pure-play ride-hail company, despite investments in autonomous vehicles and bikes and scooters. Consequently, prospective IPO investors will largely be focused on the core ride-hail business, which Lyft admits generates substantially all of its revenue (the S-1 does not break out revenue by business segment). Luckily, Lyft's filing demonstrates strong ride-hail growth—revenue grew from $343 million in 2016 to $1.1 billion in 2017 (209% growth) and reached $2.2 billion last year (103% growth). By comparison, Uber is estimated to have grown only ~50% in 2018 from 2017. Other financial and non-financial metrics also demonstrate Lyft's strong ride-hail position:
Active Riders Tripled: 6.6 million active riders in 2016 grew to 18.6 million by end of 2018. Unsurprisingly, Bookings have quadrupled from $1.9 billion to $8 billion over the same period.
Increasing Revenue Conversion: Lyft's Revenue per Active Rider has nearly doubled from $18.53 in 2016 to $36.04 in 2018 as the company scales and becomes a more efficient TaaS provider. Notably, revenue as a percentage of bookings grew from 18% in 2016 to 27% in 2018 in a testament to Lyft's growing operational efficiency.
Shrinking Loss Margin: Net losses as a percentage of revenue have fallen quickly, from (202%) in 2016 and (67%) in 2017 to (45%) in 2018. By comparison, Uber's net loss margin was approximately (43%) in 2016, falling to (30%) according to 2018 estimates.
Strong Liquidity: Lyft lost nearly $600 million of cash last year, but still has over $500 million in balance sheet cash and $1.5 billion in short-term investments it could quickly liquidate. Markedly, cash used in operations has fallen significantly, from $487 million in 2016 to $281 million in 2018.
Stealing Uber's Market Share: Lyft's U.S. market share has reportedly grown to 39% from 22% in 2016, which we can safely assume has come almost entirely at the expense of Uber, which has been focused on international and business segment expansion.
Investor Questions Remain. Lyft has demonstrated that its ride-hail business is a force to reckon with, and the company has successfully trimmed costs. However, Lyft's expenses crossed $3 billion last year—despite improving margins, the most popular question on Lyft's roadshow will certainly be whether the company can continue charging towards profitability without sacrificing growth and ambitious autonomous vehicle goals. Additionally, we found that the S-1 lacked substantive guidance on the future of Lyft's scooter and bike investments, which will be crucial segments if Lyft is to realize on its multimodal ambitions. On the autonomous vehicle front, we know that Lyft is supercharging R&D spending (the R&D budget has nearly quintupled to $301 million from 2016), but we would guess Lyft's spending comes up short against Uber's, which has raised over $20 billion since inception.
Final Takeaway. We were impressed by Lyft's core ride-hail business, particularly by the growing contribution margin and bookings to revenue conversion. Unsurprisingly, we're looking for more details on Lyft's expense reduction strategy going forward and how it plans to execute on two key future growth drivers—autonomous vehicles and other modes of transportation like bikes and scooters.
Other items we're reading this week: