80,000+ Shareholders and Investors Use EquityZen
11,000+
investments closed
$575B
estimated total market cap of transacted companies
200+
companies served
Access the $500B+ market for pre-IPO companies1
Companies are staying private for longer.
Value creation in technology-enabled companies is increasingly occurring in the private markets. In 2004, companies typically went public after 4 years, today the average company IPOs after 10+ years.
Until recently, access to this asset class has been limited. EquityZen is here to change that.
1Not all pre-IPO companies will go public or get acquired, and not all IPOs or acquisitions will result in successful investments. There are inherent risks in pre-IPO investments, including the risk of loss of the entire investment, illiquidity, and fluctuations in value and returns. Past performance is not indicative of future returns.
Invest in the secondary market with EquityZen funds
Access Private Technology Companies
Tap into a $500B venture-backed equity class. Invest in EquityZen investment funds which purchase and own the shares on behalf of investors.
Company-Friendly Transactions
We generally source shares from early employees and investors looking for liquidity. We work together with the issuer company to close transactions, mitigating the risk that the transaction is not recognized by the company.
Curated Investments
We only offer companies with proven track-records and top-tier venture capital investors. We provide proprietary analysis including recent price history, valuation and cap tables.
Guided Transactions
Our platform guides you through the complex process of transferring equity ownership, and keeps you updated on the progress of your investment. Execute and manage all your investment documents easily on the EquityZen platform.
Explore Companies2
Invest in individual companies via EquityZen's investment funds
See more companies2
2Companies displayed do not equate to current live/in-progress investment offerings.
Invest in a managed portfolio of companies
Diversified exposure to the pre-IPO asset class with a single investment
Invest in a diversified portfolio of pre-IPO companies.
Make a single investment in EquityZen's managed funds. Rely on our expertise in the pre-IPO secondaries market.
Highly selective investments
Our investment committee follows strict guidelines to evaluate and select investments opportunities.
Since 2015, our committee has reviewed potential investments in over 200 companies.
Low investment minimums
Gain exposure to historically difficult to access growth companies. Low investment minimums are enabled by EquityZen's proprietary technology platform, which enables efficient marketplace execution.
EquityZen funds make it easy to invest in pre-IPO companies
Sign up and verify accreditation status
Sign up as an investor on EquityZen and verify your status as an Accredited Investor to access the platform and browse available fund offerings.
We only offer companies with proven track-records and top-tier venture capital investors. Stay updated as new offerings are added and become available for investment.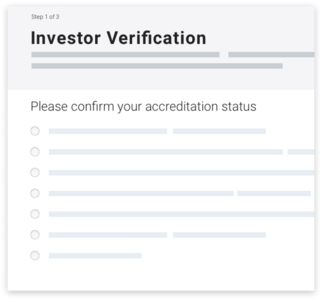 Reserve investments
You can review offering documents for live offerings and reserve investments in EquityZen's investment funds by signing a non-binding term sheet on EquityZen. We provide proprietary analysis in our offering documents including recent price history, valuation and cap tables.
You can also indicate your desired investment in preview offerings, which may turn live with adequate investor interest.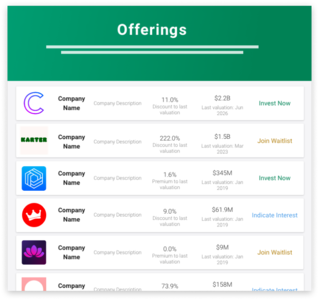 Complete investment documents and fund investment
Once reservations are filled for a offering, complete your investment by executing the investment paperwork on EquityZen and providing bank information for funding your investment. Note that investments are in an EquityZen investment fund that owns the shares.
During this period, we will work with the company and the shareholder to complete the transaction. EquityZen will keep you abreast of any important investment updates via e-mail. Once the deal is approved, funds are transferred by ACH or wire.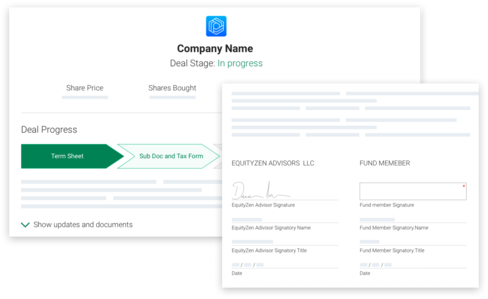 Manage portfolio
Easily track and manage your investments and documents on EquityZen. We will provide periodic updates related to news about the company. In addition, our third-party fund administrator will send you relevant tax forms related to your investment.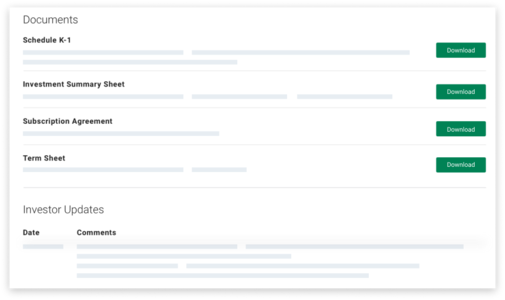 Receive investment proceeds
If the company IPOs or gets acquired we'll distribute shares to your brokerage account or cash proceeds to your bank account.
Note: not all pre-IPO companies will go public or get acquired, and not all IPOs or acquisitions will result in successful investments.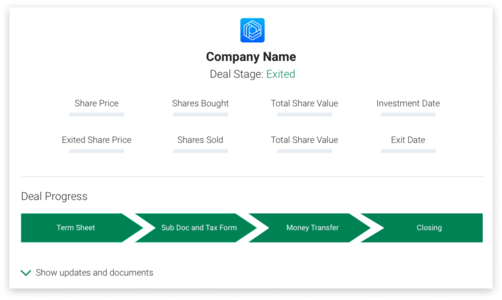 What Investors Say3
"Much as Uber revolutionized travel, EquityZen could very well redefine the private investment marketplace. It's simply a brilliant approach for investors.
I highly recommend EquityZen and will being doing more transactions with them in the future."
- Geoffrey Shmigelsky, Investor
"I thought I'd let you know that I find EquityZen to generally be the best of the secondary platforms. The organization of the information online and generally quick responses makes it my preferred platform when looking for secondary opportunities."
- N.V. Investor
"EquityZen helped me find and invest in a fast growing startup that I wanted to own. I never would have been able to accomplish this without their team and platform."
- R.N. Investment Professional
3Specific customer experiences are not representative of all customer experiences and are no guarantee of future returns or success.
Nothing set forth here shall constitute an offer to sell any securities or a solicitation of an offer to purchase securities in any jurisdiction. Any offer to sell or solicitation of an offer to purchase shall be made only to qualified investors through a private placement memorandum or associated offering document ("Offering Document"). The specific terms of an investment are subject to the Offering Document, which will contain additional information not set forth here, including a description of certain risks of investing, which will be material to any qualified investors decision to invest.