Weekly Update #272: VC Moving to the Final Frontier?
Insight of the week: VC Moving to the Final Frontier?
VC Aerospace Investment by Year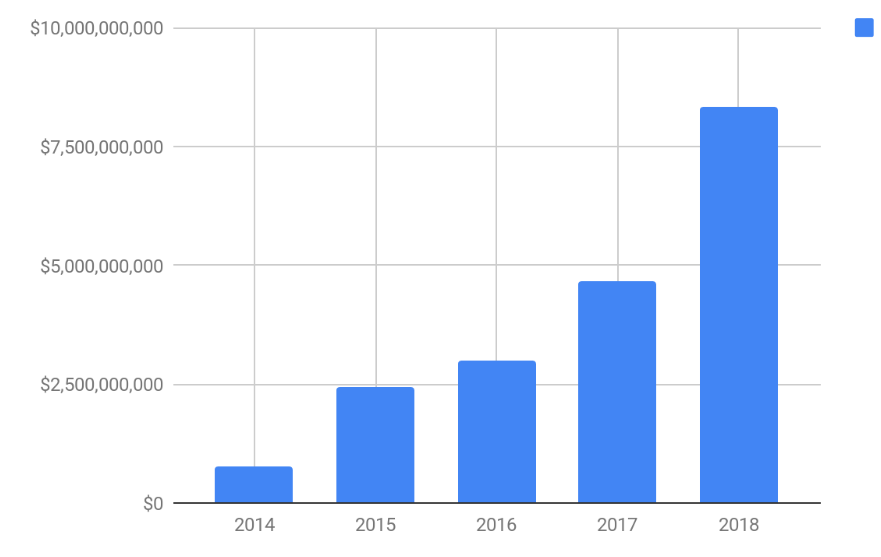 Source: Crunchbase
Aerospace continues to garner increasing interest among venture capitalists, with 2018 set to be the strongest year for investment on record. Year-to-date, over $7.5B has been funneled into aerospace startups, up over 50% from the prior year. At this pace, investment into the sector is tracking to match the previous three years combined.
The bet that many of these investors appear to be making is that lower-cost space access could transform life on earth. Small satellite companies, for example, have reduced the cost of sending new satellites into space from well into the hundreds of millions to less than a million in some cases. In an increasingly data-dependent world, technologies like these could revolutionize several industries, including telecommunications and business (and government) intelligence.
As the excitement over space grows in VC circles, however, the key question is whether it will be sustainable. Unlike some of the more well-trodden VC sectors, such as SaaS, the path to adequate investment returns for many space startups is often less clear. Historically, these companies have often been seen as great ideas in search of a viable business model. Compounding the risk, space ventures often require considerable capital before even reaching potential viability. RapidEye, a German satellite startup, closed shop in 2011 after failing to develop a market for its earth-observation services. The company burned through at least 160 euros in seed funding before that.
That said, there are several reasons to believe space investments aren't "moonshots" this time around. First, technological advancements have made even lower-cost space equipment extremely powerful and effective. This has fostered industry development in two ways - (1) through more effective products to eventually sell to end users and (2) by improving internal economics of the industry itself. In small satellites, for example, new launch technology may reduce operating costs significantly. Second, established players in the sector have taken notice of space upstarts, often outsourcing innovation to these smaller outfits. We believe consolidation may be likely down the road. Finally - and importantly - defense budgets may be tipping towards commercial contractors. In our view, this could serve as a powerful bridge for startups to monetize their products and mitigate overall cash burn until larger and more lucrative commercial markets are established.
Venture capital has entered the final frontier. Buckle up for an exciting ride...and a sector report exploring the dynamics of space investment from EquityZen later this month.
Other items we are reading: