Weekly Update #268: SoftBank-Backed Guardant Health Files for IPO While Chasing Unproven Market
Chart of the Week – SoftBank-Backed Guardant Health Files for IPO While Chasing Unproven Market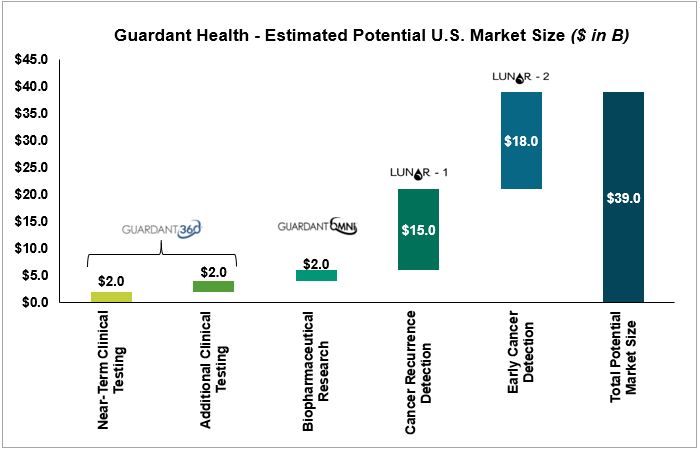 Source: Based on Guardant Health's September 5, 2018 S-1 filing
On September 5, 2018, SoftBank-backed oncology company Guardant Health filed an S-1 with the Securities and Exchange Commission in anticipation of going public. Guardant, which provides blood test-based cancer biopsies (called "liquid biopsies") for clinicians and biopharmaceutical companies, hopes to commercialize its underlying gene sequencing technology for an estimated $39 billion domestic market. While many of Guardant's venture-backed competitors have stayed private or have been acquired by diversified, multinational companies, Guardant's impending IPO may serve as a litmus test for more pure-play, gene sequencing oncology companies.
Guardant's primary product is Guardant360, a liquid biopsy test for advanced cancer, which has been used by over 5,000 oncologists and 40 biopharmaceutical companies. Based on the 700,000 late-stage cancer patients in the U.S., Guardant believes there is a $4 billion market for Guardant360, which is used primarily by oncologists to perform biopsies and customize cancer treatment for patients. Moreover, the company believes its GuardantOMNI product, which is a broader liquid biopsy test (measuring 500 genes), has a $2 billion biopharmaceutical research market.
However, the vast majority of Guardant's business upside rests with its LUNAR-1 and LUNAR-2 products, which remain in development. LUNAR-1, if successfully developed, will be used to test for cancer recurrence among the approximately 15 million solid tumor cancer survivors in the U.S. Guardant believes this represents an additional $15 billion market for its future product. LUNAR-2, which will remain in development longer than LUNAR-1, will hopefully be used in early cancer detection among the approximately 35 million individuals in the U.S. that Guardant believes are at a higher risk of developing cancer. Guardant argues that this represents an additional $18 billion market.
Notably, the vast majority of Guardant's addressable market rests on its ability to successfully commercialize two products that remain in development. Below, we note some additional highlights and considerations for investors as they debate whether to buy into Guardant's IPO:
While Guardant's longer-term upside rests largely within its research and development department, the company has been quite successful in commercializing its Guardant360 product. To date, over 70,000 Guardant360 tests have been ordered, and Guardant believes it sells the leading liquid biopsy test in the market, with revenue from its test sales increasing at a CAGR of 66% in the last year and a half.
Guardant also argues that it sells the highest-performing clinical liquid biopsy, with a turnaround time of less than seven days after receiving a testing sample. Moreover, the company believes that its platform is able to detect genomic alterations at sensitivity levels greater than its competitors. Guardant's technological strength relies on, among other things, a proprietary tumor DNA sequencing technology.
However, despite these reported technological advantages, the company is transparent about the intense competition it faces from multinational corporations that may have "substantially greater financial, technology and research and development resources." In a market where unlocking upside rests squarely on an ability to innovate, Guardant may need to continue to lean on SoftBank's "capital canon" to stay ahead.
In recent newsletters we highlighted the growing dominance of large companies over smaller challengers. Relatedly, despite some stumbles over the summer from the tech giants, Amazon, Apple, Google and their peers (of which there are few) continue to outperform and concentrate tech dominance within their hands. With Guardant's IPO, we see another smaller challenger to established companies, like diagnostics and biopharmaceutical giants Illumina, Inc. and Roche Holdings. Hoping to avoid a similar fate faced by other prominent emerging companies, who were either outspent or acquired by larger rivals, Guardant's IPO may further illuminate whether the corporate elite's cash war chest is too great for most entrepreneurial ambitions.
Other items we are reading: