Weekly Update #263: Tesla Leads Short Positions Despite Rally
Charts of the Week - Tesla Leads Short Positions Despite Rally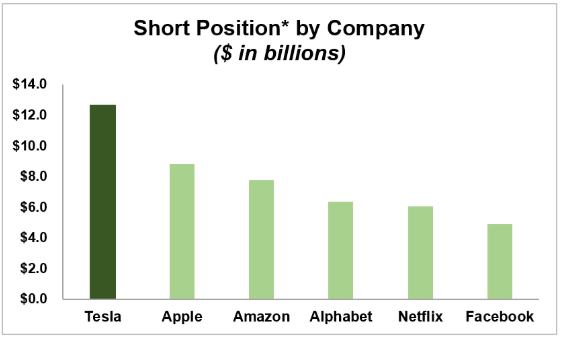 Source: S3 Partners (data as of 8/2/2018)
*A "short position" is the number of shares that have been sold short but have not yet been covered. Investors sell short when they believe a company's share price will fall, which involves borrowing shares of a company and selling them until buying them back at hopefully a lower share price and profiting the difference. Buying the shares back is covering and closing out a short position.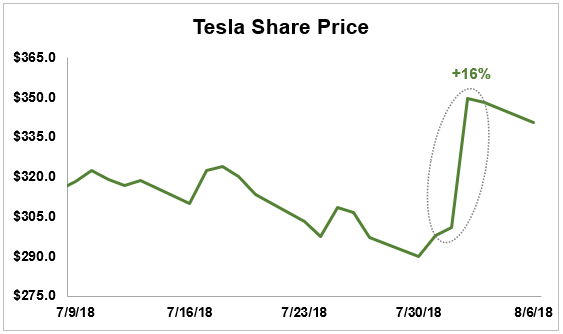 Source: YCharts market data as of 8/6/2018
As we discussed in last week's newsletter, tech stocks have endured significant volatility in recent days. After a mixed bag of FAANG (Facebook, Apple, Amazon, Netflix and Google) earnings results over the last couple weeks, investors turned their focus to Tesla, which released earnings just last Thursday. True to Tesla form, the company lost a staggering $718 million, or $4.22 per share, in the quarter ended June 30, 2018, compared to $336 million, or $2.04 per share, in the same quarter last year. Despite missing analyst expectations of a $2.88 loss per share, Tesla exceeded revenue estimates by approximately $100 million. This was enough to send Tesla shares soaring 16% to $350 per share, its best one-day gain in five years.
Despite the improved revenue results, Tesla remains the most shorted stock in the U.S. on a dollar basis, at $10.5 billion in short interest. Given Tesla's post-earnings pop, however, short sellers lost $1.7 billion on their short positions, wiping out all profits for the year to date. In terms of negative bets on its future, Tesla is in good company among the tech giants--all five FAANG stocks are among the top ten most shorted U.S. stocks, reflecting deep investor skepticism on their future potential. However, given the recent stellar performances from Apple, Amazon and Google, and the better-than-expected results from Tesla, who has the better perspective on the tech industry's, particularly Tesla's, future prospects--the short sellers or the market optimists?:
Despite negative press and burning millions in cash, Tesla shares have actually outperformed the general market, gaining approximately

12%

in 2018 so far, while the S&P 500 has gained only

5.8%

. Moreover, investors who have shorted Tesla have lost

$1.4 billion

year to date. Since 2016, Tesla short sellers are down $6.4 billion, making Tesla the

third-worst short

of all time, behind only Amazon and Nvidia.

Admittedly, Tesla has a long history of recovering from the brink of disaster, making it incredibly tempting to short yet always staging a comeback. Back in 2008, Tesla neared bankruptcy before

securing last minute funding

, which allowed the company to survive and launch its Model S in 2012. Following its IPO in 2010, Tesla's stock hardly moved for almost three years as the company struggled, forcing it to

issue additional shares

to stay in business. Most recently, Tesla faced

"production hell,"

struggling to meet its Model 3 production goals until finally hitting the

5,000 per week

target by this July.

Chronic disaster aversion, however, has not been interpreted as a sign of strength, as short sellers have continued to pile negativity onto Tesla's future. For many investors, Tesla is running through cash at

an unsustainable pace

with profitability unlikely in the near future. Additionally, other luxury auto makers, such as

Audi

and

BMW

, are planning significant pipelines of their own electric vehicles. Tesla's sustained issues with production delays may hamper its ability to compete with these seasoned auto makers.
Regardless of where you come out on Tesla, it's certain that divisive views will continue, with the next quarter's results only a few months away. That is, if Tesla even reports earnings next quarter--as of the writing of this newsletter, Elon Musk caused Tesla stock to jump to $371 per share by tweeting that he was considering taking Tesla private for $420 per share.
Other items we are reading: