Weekly Update #262: Facebook and Netflix Lead Broad Tech Sell-Off
Charts of the Week - Facebook and Netflix Lead Broad Tech Sell-Off
Source: YCharts data as of market close on 7/30/18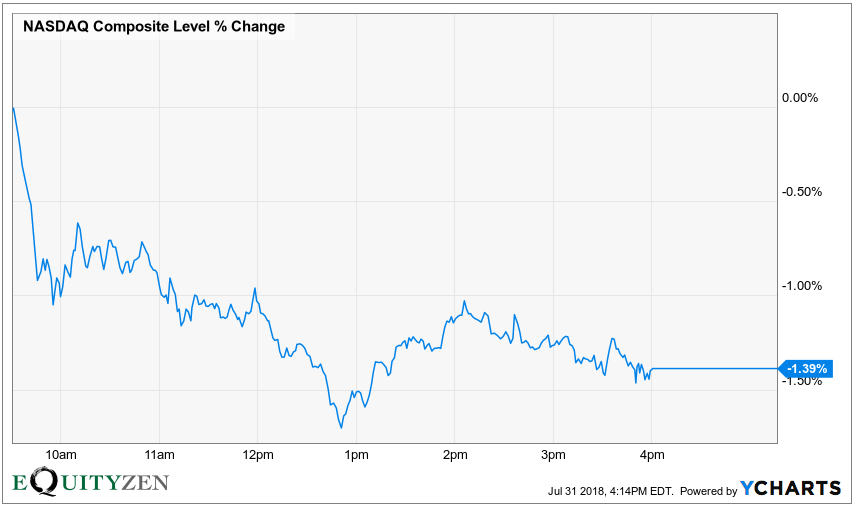 Source: YCharts data as of market close on 7/30/18
Tech stocks continued their selloff at the beginning of this week, with the tech-heavy NASDAQ falling 1.39% and the companies comprising the FAANG group--Facebook, Apple, Amazon, Netflix and Google-parent company Alphabet--all beginning and ending the day in the red. Monday's results mark the first time the NASDAQ has had three consecutive declines of greater than 1% in nearly three years. Facebook and Netflix were the biggest FAANG losers of the day, falling 2.09% and 5.59%, respectively.
Facebook's performance comes off the heels of an over $100 billion market value drop last week after it missed Wall Street estimates and warned investors that sales growth could slow considerably as the company invests in user privacy after the fallout from the Cambridge Analytica scandal. Similarly, Netflix's losses reflect poor recent performance after Netflix reported earlier this month that its customer acquisition goals had fallen short by about one million during the second quarter of 2018. Following these results, investors will now be focused on Apple and Tesla, two prominent tech names that will be reporting quarterly results this week.
Investors seem to be worried about what the recent tech sector performance means for the overall market and economic expansion, already the second longest on record. However, to put the recent days' market activity into perspective, we note some key investor considerations below as we await the earnings releases of other tech giants later this week:
Performance from the other tech giants remains strong.

Despite high-profile stumbles at Facebook and Netflix, Alphabet and Amazon both posted

stronger than expected

quarterly results. Alphabet's profit fell to

$3.2 billion

in the quarter (down from about $3.5 billion in the same period a year ago), although without the

$5 billion fine

the European Commission levied on Alphabet last week, the company's profit would have been $8.3 billion. Additionally, Amazon posted its largest quarterly profit in history--

$2.5 billion

on the success of its cloud computing and advertising businesses.

Moreover, the overall market continues to display resilience. As of last Friday,

83%

of the companies in the S&P 500 that had reported quarterly results posted stronger-than-expected earnings, and

73%

beat revenue estimates. Notably, earnings overall are tracking to a

21%

increase. Even Facebook, despite the massive market loss it has experienced in recent days, has performed objectively very well--with quarterly earnings up

32%

and revenues up

42%

year-over-year (and up

11%

quarter-over-quarter).

Despite the overall market strength noted above, there certainly are strong views that

valuations are stretched

across the tech sector, as we have been hearing for quite some time. Additionally, public perception of the industry has deteriorated, with

half the public

now believing that major tech companies should be regulated more than they currently are in the wake of recent data scandals. Regardless of which side you fall on in the debate as it stands, we will see more data points in the coming days and weeks that will hopefully give us a fuller picture of where we are heading.
Other items we are reading: