Weekly Update #259: Sonos Banking on Market Growth as Investor Questions Persist Before IPO
Chart of the Week - Sonos Banking on Market Growth as Investor Questions Persist Before IPO
Source: Form S-1 (filed July 6, 2018)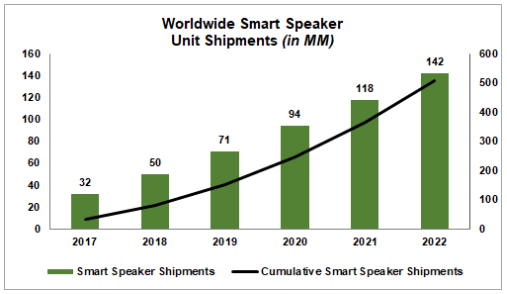 Source: Form S-1 (filed July 6, 2018)
Sonos filed an S-1 on July 6, 2018, signaling the end of its 16 year run as a private company. The company plans to list on the NASDAQ under the ticker "SONO," although timing, pricing and size of the offering are still TBA. As part of its S-1 filing, Sonos touts the large market opportunity underpinning its belief in a successful future for its speaker business. The company states that the rapid adoption of streaming services and voice assistants will provide consumers "frictionless access to an unprecedented breadth and depth of content, transforming how people live, listen to music and experience entertainment."
Indeed, estimates indicate that the number of global paid subscribers to streaming music services grew from 29MM to 176MM from 2013-2017, and is projected to grow to 293MM by 2021. Moreover, the transition from speakers as "passive, standalone devices to internet connected systems that can deliver sound and control other home experiences" is rapidly accelerating. Globally, it is estimated that worldwide shipments of smart speakers will reach 142MM by 2022, with over 500MM in global cumulative shipments since 2013. Industry reports also project that by 2022, 55% of U.S. households will have at least one voice-enabled speaker.
Sonos aims to be at the forefront of these significant trends, providing speakers integrated with streaming services and digital assistants to its users. We note some key investor considerations below and what we believe Sonos will have to do to capitalize on these industry trends:
Sonos has demonstrated an ability to consistently roll out successful, new products. Since its first speakers in 2005,

Sonos has released

13 products

, including the Sonos One and Sonos Beam, both of which are equipped with Amazon's assistant, Alexa.

In total,

Sonos has sold more than

19 million

products and is in

7 million

households to date. On the customer retention side, Sonos states that its users own

2.8 Sonos products

on average and that

60%

of Sonos customers are repeat buyers.

In order to take advantage of positive industry trends, we believe that Sonos will have to maintain if not exceed its past performance as it rolls out new products. While successful in its own right, Sonos' growth and performance have already been outstripped by tech giants like Amazon and Google. For reference, Amazon has sold more than

30 million Echo speakers

in the 3 years since the Echo's debut. Other competitors include Apple, Samsung, Bang & Olufsen, and private companies like Bose, who are all chasing share of the growing speaker market.

In order to remain competitive, Sonos will have to keep innovating and releasing popular products that consumers believe are differentiated from those of its competitors, who largely

have greater financial, technical and marketing resources available and are able to sell speakers at a lower price point given their diversified businesses and cross-selling of other products and services.
In addition to customer adoption and retention, investors will also be concerned about Sonos' ability to remain competitive in the context of rapid adoption of digital assistant technologies and music streaming services. Currently, Sonos has been able to

leverage its strong patent portfolio

to negotiate integrations with Amazon's Alexa and recent integrations with both Apple's AirPlay2 and the Google Assistant. Sonos also has

attracted a broad range of approximately

100 streaming content providers

, such as Apple Music, Pandora, Spotify and TuneIn.

To remain competitive, we believe Sonos will have to maintain these partnerships with its speaker rivals. Investors should be concerned, however, with contractual weaknesses in these arrangements; for example,

Amazon could disable its Alexa voice assistant on Sonos speakers with

"limited notice,"

or could begin charging licensing fees. While there is currently no indication that Sonos is developing its own digital assistant or streaming platform, Sonos management may want to consider future sources of recurring revenue. Sonos already has a free, proprietary software platform for its products and may find merit in developing "premium," subscription services in order to compete with its larger rivals.
Other items we are reading: