Two tech exits were announced in the past week:
Yesterday, Microsoft announced it would acquire code repository GitHub in a $7.5B stock-for-stock deal. The acquisition price marks a significant increase from the $2.2B implied valuation awarded to the startup in its 2015 funding round. GitHub raised a total of ~$350M of outside funding prior to Microsoft's offer -- demonstrating the potential capital-efficiency of developer-focused business models. Atlassian (NASDAQ: "TEAM"), another developer-focused tool, also effectively bootstrapped its business to a $4B IPO valuation, raising only $62M of outside funding before going public. Of course, less outside funding also means less dilution and a greater windfall for founders and other common shareholders. In Atlassian and GitHub's case, common shareholders controlled just under 80% of the company prior to exit. By comparison, this number can be 40-45% for the typical startup (with founders accounting for 10-20% of this).
Common Shareholder Ownership Prior to Exit
Source: Company Data, AVC and EquityZen estimates
Domo filed an S-1 on Friday, with plans to list on the NASDAQ under the ticker "DOMO". Pricing is TBA. As the startup previously had extremely limited disclosure, the filing offers the first public glimpse into its performance. In our view, while Domo has shown solid revenue growth, we believe investors will be more focused on the startup's gaping operating losses, with margins well below other SaaS peers in the periods before IPO. Further, its cash position appears weak, with just $72M sitting on the balance sheet currently and an average quarterly cash burn of roughly $35M over the last year. Based on our initial estimate, we believe the company could be valued at ~$1.0B versus the $2.2B implied valuation from its last private funding round. Stay tuned for a more detailed analysis of the S-1.
Operating Margins in Quarters Leading up to IPO: Domo vs. Peers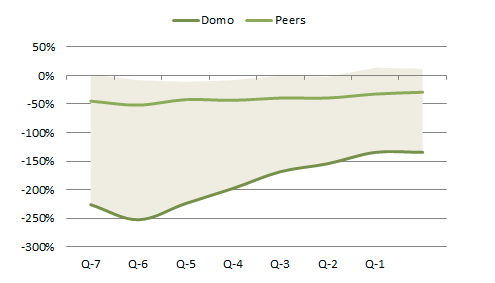 Source: Company filings and EquityZen estimates
Domo Valuation Analysis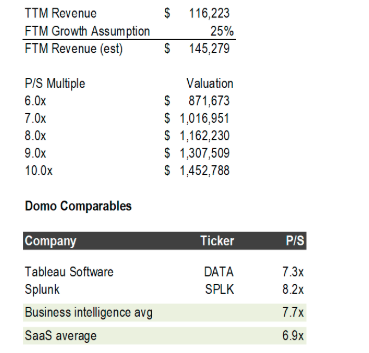 Source: Company filings, Ycharts and EquityZen estimates
Other items we are reading: