Bloomberg recently reported that Facebook may be in the early stages of developing its own semiconductor chips to use in artificial intelligence (AI) applications. The publication cited a job listing posted by the social media giant looking for someone with "expertise to build custom solutions targeted at multiple verticals including AI/ML". While Facebook's full motives are as of yet unclear, the announcement suggests the company will join a growing roster of large tech companies pursuing custom chip development including Google, Amazon, Alibaba, Microsoft and Apple.
The interest in silicon is not limited to tech giants, though. After years of retreating from chip manufacturing, venture capitalists also appear to be taking a second look at Silicon Valley's namesake. Among the startups that have raised significant funding rounds in recent years are Cerebras Systems ($60M Series C in 2018), SambaNova Systems ($55M Series A in 2018), Mythic ($40M Series B in 2018), Graphcore ($50M Series C in 2017), and Wave Computing ($55M Series D in 2017).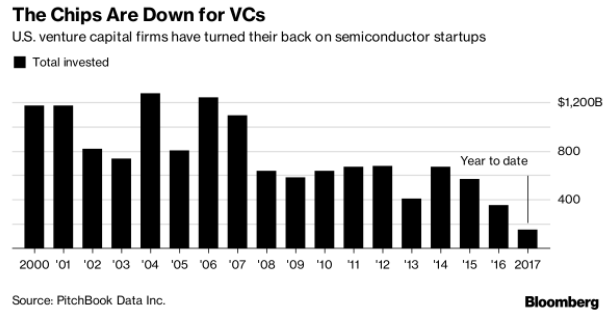 Is the chip industry ripe for disruption? Maybe. The demands of new computing-intensive innovations (AI among the most prominent of these -- but IoT and cloud computing are other examples) are increasingly challenging the value proposition of legacy silicon chips. A growing number of startups, including those mentioned above, are betting that new hardware can offer better performance for these tasks at a lower price point versus traditional vendors.
This bet carries significant risks. Challenges for new entrants to contend with include soaring development costs (exceeding $100 million in some cases), thin margins and high capital requirements. Deep-pocketed incumbents like Broadcom, Intel and Nvidia are also likely to mount a counterattack should any next-gen chips gain traction. These roadblocks likely explain at least part of the previous VC investment retrenchment.
Nevertheless, given the growing importance of technologies like AI and IoT, the potential reward for chip-makers could be significant. Our AI report notes that the eventual market for AI-related applications could reach as much as $14-16T by 2030 (third-party estimate). Meanwhile, Bain estimates IoT spending could reach $300B annually by 2020. As demand for these technologies grow, so will demand for the underlying IT infrastructure to support them. For investors looking to gain exposure to new, potentially game-changing computing innovations, it may be time to consider putting chips back on the table.
Other items we are reading this week: