This Friday marks the official start of the holiday shopping season in the US. In the spirit of the season, we look to the public market for insight into what's "in" and what's "out" in the world of retail valuations...with potential implications for private companies.
Select public market retailer data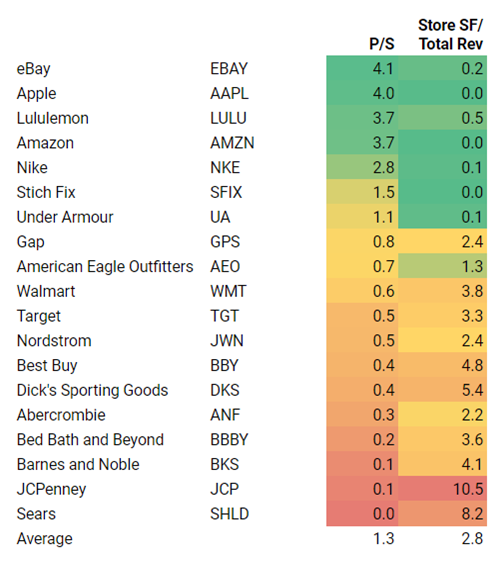 Source: Company filings, Google Finance, EquityZen estimates
Key Trends:
Real estate efficiency is "in".

As seen in the table above and in the chart below, there is a clear negative correlation between store footprints and relative valuation. In our view, the implication here is not that real estate should be avoided. Take two companies in our analysis: lululemon (LULU) and Abercrombie & Fitch (ANF). Both are actually very dependent on real estate for revenue, deriving ~80% of sales from this channel. LULU's stores are far more additive to revenue, though, achieving $1,600/sf in sales vs. ~$340/sf for Abercrombie. LULU trades at 3.7x sales, Abercrombie at 0.3x. Real estate is not out of favor, inefficient real estate is.
Real estate efficiency vs. relative valuation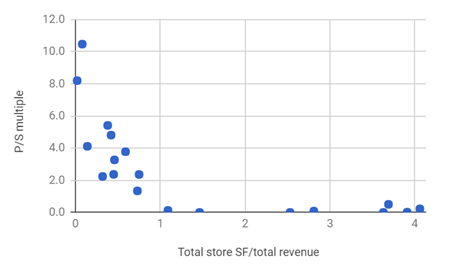 Source: Company Filings, Google Finance
General merchandise is "out".

Amazon has spent years fine-tuning the distribution platform for it's "everything store". The efforts appear to have paid off, with the retailer trading at a multiple 10x higher than traditional general merchandise stores (e.g. Sears, JCPenney, Walmart, Target). Not every retailer in this category is living in Amazon's shadow, however. eBay, which sells general merchandise (new and used) under an auction system, actually trades at a higher relative valuation than Amazon. We think this may bode well for Wish.com, which similarly provides a twist to the Amazon everything store model by offering general merchandise sold directly from manufacturers at bargain basement prices.
Price/sales comparison: General merchandise

Source: Google finance, Company filings
Is vertically-integrated the new category killer?

So called "category killers" gained significant competitive advantage in the 1990s and early 2000s by offering superior pricing and selection across a particular retail market (e.g. electronics, home goods, sporting goods). Investors now appear to favor more narrow specialization -- vertical integration across a narrow set of differentiated, proprietary products. Apple, for example, trades at a ~4x multiple vs. Best Buy's 0.4x. Similarly, Lululemon (3.7x) and Nike (2.8x - partial vertical integration) trade higher than Dick's Sporting Goods (0.4x). Private companies with vertically integrated models include Warby Parker (eyewear), Casper (mattresses), Glossier (cosmetics) and Stance (socks). A larger list can be found

here

.
Price/sales comparison: Vertically-integrated retailers vs. Category killers

Source: Google finance, Company filings
Service-based merchandising -- jury still out on this trend.

While vertically-integrated retailers differentiate on product, some companies have taken a different approach by selling third-party merchandise and differentiating on service. StitchFix (SFIX), for example, offers styling services as a way to sell clothes. Trunk Club (now owned by Nordstrom) employs a similar model. Trading history is limited here (SFIX is currently the only standalone publicly traded company and just recently went public), but we will continue to monitor this trend closely. In the private realm, Rent the Runway also offers a service-based model where high-end designer clothes can be rented rather than purchased.
In other news...