If successfully funded, Vision Fund II would be a testament to the continued strength of investors' appetites for tech investments. Softbank's first Vision Fund is the largest technology fund on record and, at ~$100B, amounts to more than 2x what global VC funds have raised on average over the past seven years. Another fully-subscribed megafund would suggest that demand for tech investments remains strong, which should support overall sector valuations near-term, in our view.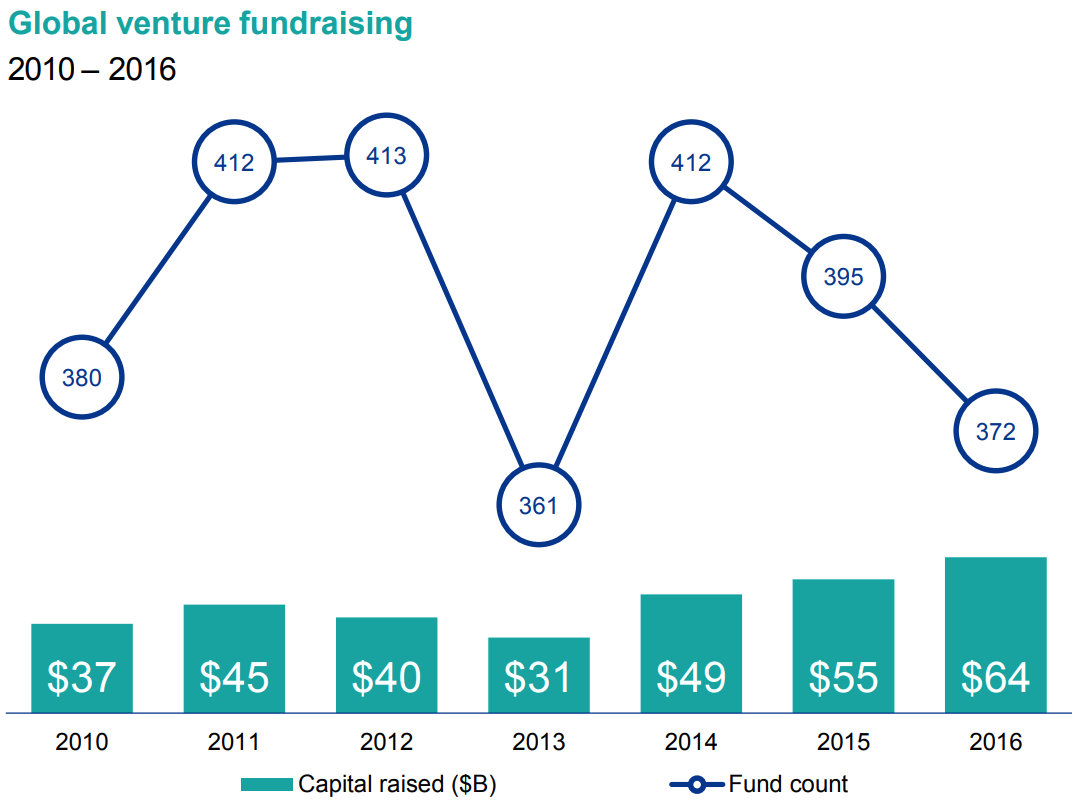 Source: https://assets.kpmg.com/content/dam/kpmg/xx/pdf/2017/01/venture-pulse-q4-2016-report.pdf
Vision Fund could become a key price-setter in the sector. Given the size of its warchest, Vision Fund could become a key force in setting private share valuations. The current fund's roadmap points to $20B of investments a year (5-year investment period). A second fund could see this number double to $40B. To put these numbers in perspective, CB Insights pegged 2016 global VC investment activity at ~$108B. Evidence so far has suggested Softbank is willing to outbid competing funds for highly sought-after deals, which could inflate share prices among its portfolio companies. The fund's aggressive style is also evident in recent league tables -- Softbank was involved in all but one of the largest five Q3 deals.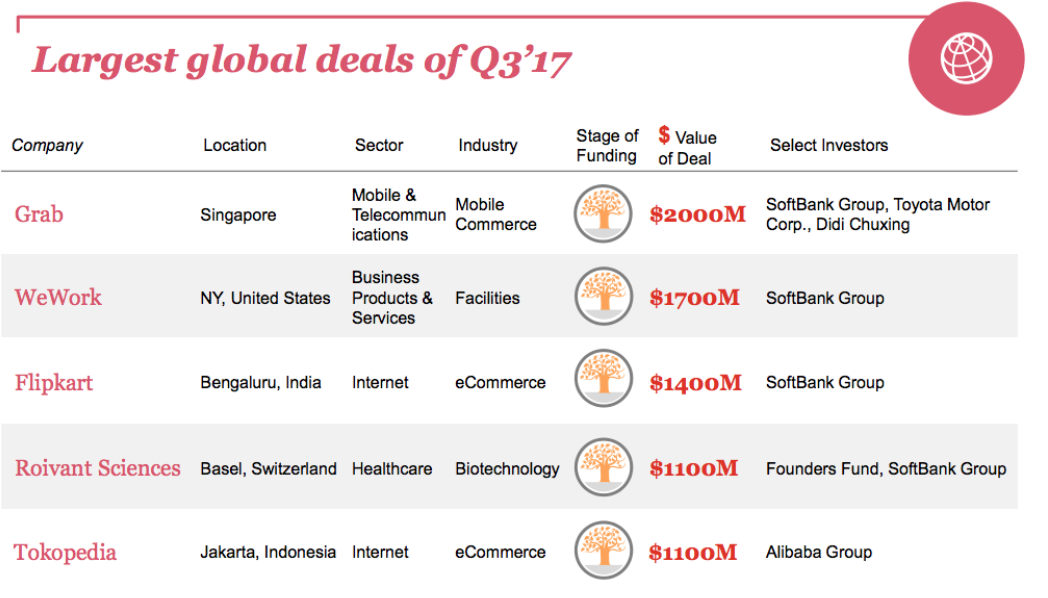 Source: CB Insights
IPO plans could take a back-seat for some...We believe Vision Fund(s) could provide an alternative exit for later-stage startups meeting its investment criteria. SoftBank's annual report notes a ~12 year investment horizon. This patient approach contrasts to the pressure and scrutiny of public markets, where investors often take shorter views (typically <1 year to 3 years).We believe startup management teams may prefer the alternative provided by Softbank, particularly given the mixed record of recent tech IPOs.
...while others could see large strategy shifts. One key feature of Vision Fund's investment strategy is its willingness to place bets on multiple players in the same sector. For example, the fund is reportedly contemplating an investment in Uber, which competes with current portfolio companies (e.g. Didi Chuxing, Ola, Grab). A large common investor could encourage less competitive pricing tactics (car-sharing companies have engaged in heavy discounting historically to grab share). Alternatively, the development could facilitate M&A.
Al, robotics, data-driven industries likely to see the strongest impact from Vision Fund. The motivating investment themes for Vision Fund are reportedly artificial intelligence and data. The existing fund's mandate is broad, though, and investments so far have run the gamut of technology sectors. With a minimum check size of ~$100M, targets will likely be later-stage.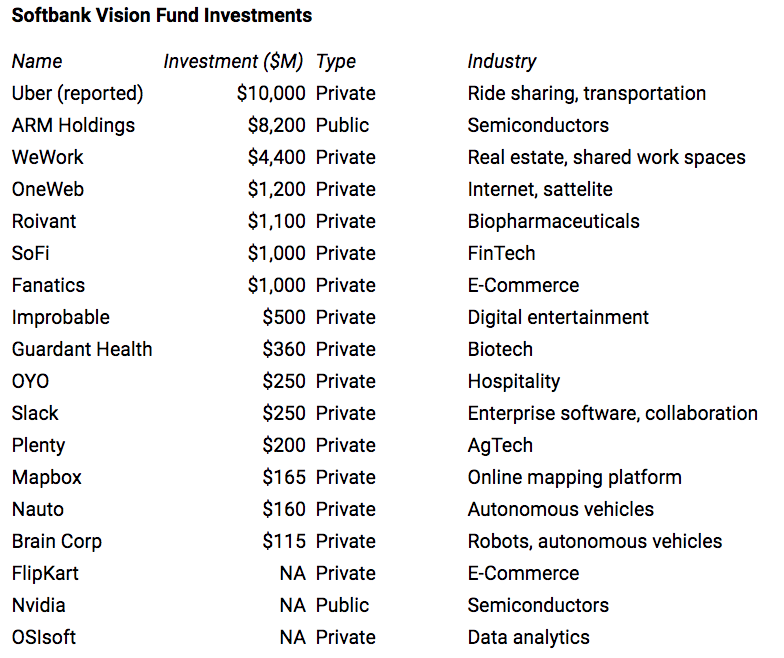 Source: TechCrunch
But...will it work? Unclear. Vision Fund's approach marks a radical departure from conventional VC wisdom in several ways. The massive amount of assets under management will challenge the notion that VC can't scale well (see chart below comparing historical fund vintage sizes and corresponding returns). The fund's bite sizes are also orders of magnitude larger than most other VCs -- indeed, they often exceed the entire investment capacity of most traditional funds. Additionally, it's not clear that the tech ecosystem can absorb the additional liquidity Vision Fund is proposing to add to it. We note that the industry wasn't particularly starving for capital before and too much funding can spoil sound businesses.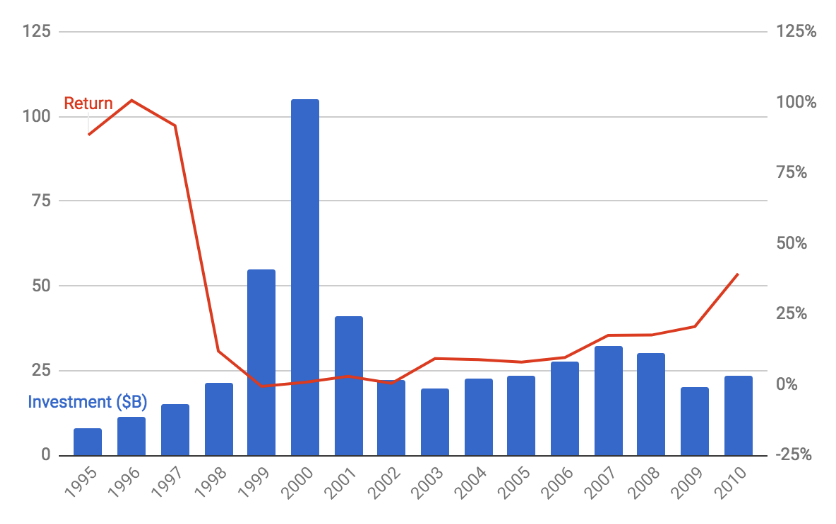 Source: Cambridge Associates

That said, Vision Fund hasn't set out to be a conventional VC fund. It's grandiose aim of spurring the "Information Revolution" is a larger mandate than most VCs tackle. Further, longer investment holding periods and gigantic stores of dry power (with potentially more to come) provide a longer leash to tackle VC in a more aggressive way. While Vision Fund's long-term staying power is unproven, this $100B+ gorilla is set to shape VC in a meaningful way for years to come.