Weekly Update #211: Super-voting shares: what they are and why they matter
Super-voting shares: what they are and why they matter
You've probably heard that founders of large tech companies like Facebook and Google have been able to retain control over their businesses, even after their public. They're able to do this because they own a different class of stock than those available to individual investors.
Historically, all shares of common stock had the same amount of votes: 1 per share owned. More recently, large tech companies began creating a "dual-class" structure where founders (and perhaps other senior executives) would own shares that had 10 (or even 100) votes per share. Therefore, even as a founder or CEO took on more dilution (by way of raising more capital), they could maintain majority control over the total amount of votes.
Why it matters
We're seeing two scenarios play out in relation to super-voting shares with major tech companies: Snap Inc and Uber.
Snap Inc's founders took the company public earlier this year, and actually issued investors a class of stock with ZERO votes per share! While the move didn't stop investors from lining up for shares, it has certainly frustrated the stock indices. FTSE Russell and S&P Dow Jones have both put new index rules in place that require shares to have at least 5% of the company's votes to be listed. Given that Snap's new shares come with 0% of the vote, SNAP Class A common stock will not be part of either index. This is a huge blow to SNAP, as inclusion in popular indices would lead to increased buyer demand by way of investors that invest in the indices (or ETFs that track the indices). According to this New York Times article, mutual funds and ETFs own about "12 percent of the shares of each stock in the S&P 500."
Uber's situation is a bit more unique. As we covered in 2016, the recently-ousted CEO Travis Kalanick still owns an estimated 10% of the shares outstanding. Uber has two classes of common stock:
Class A common stock (1 vote per share)
Class B common stock (10 votes per share)
Softbank, with its $93 billion megafund, could play a role in restoring Kalanick to power. There are reports that Softbank is looking to purchase shares from existing investors (a secondary purchase). Should Softbank purchase the shares from investors and then align themselves with Kalanick, their combined voting power could provide the majority needed to decide on Uber's next CEO. If we look in more detail, certain classes of Uber preferred stock convert into Class B common stock (and therefore have asymmetric voting value):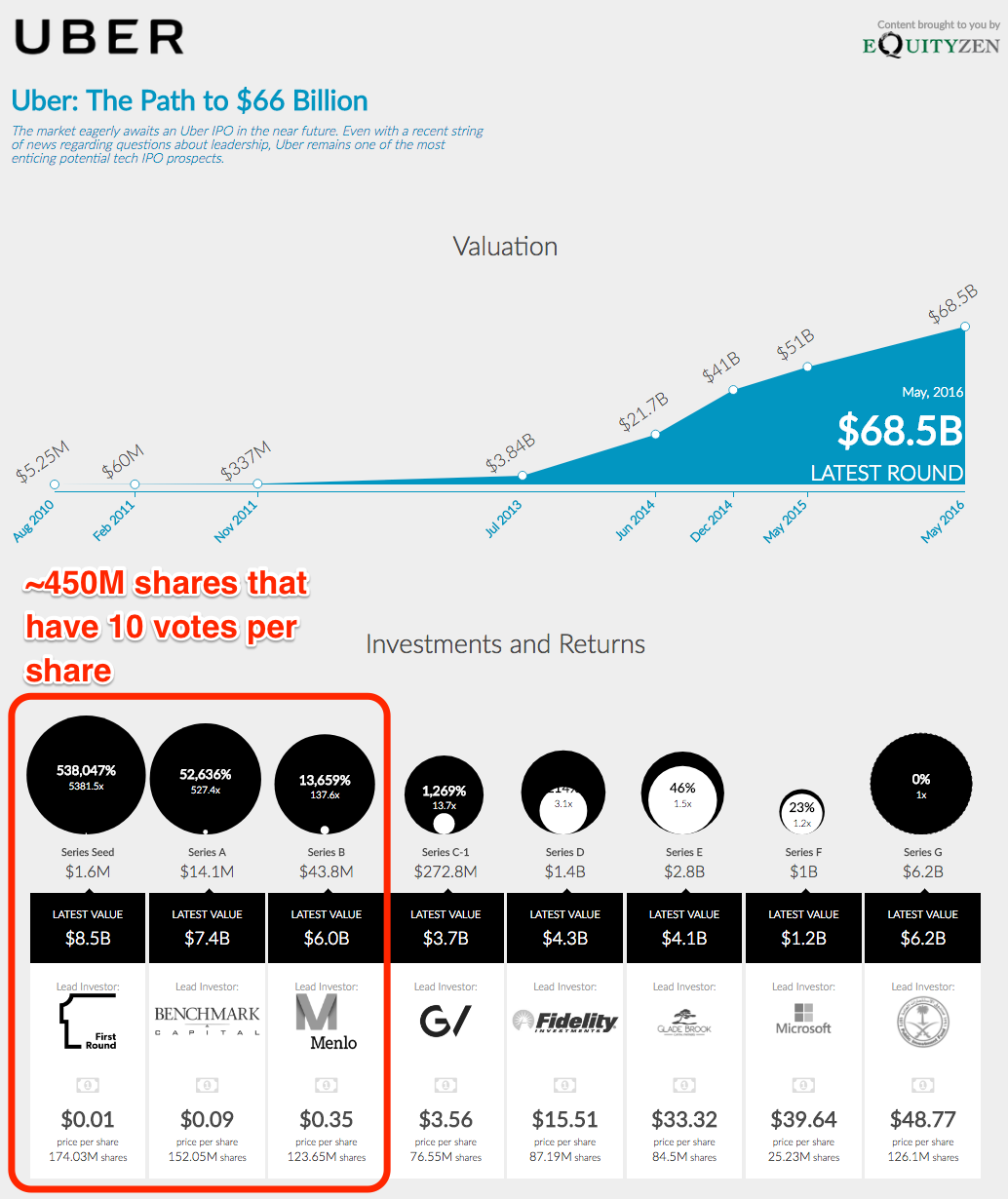 Source: EquityZen's Path to IPO Infographic
Softbank could optimize its secondary purchases by purchasing existing shares of Series Seed, Series A, and Series B preferred stock (all three classes get 10 votes per share, by way of converting into Class B common stock). However, this might not be as easy as it sounds, as Series A investor Benchmark has made public their intent to hold their stake: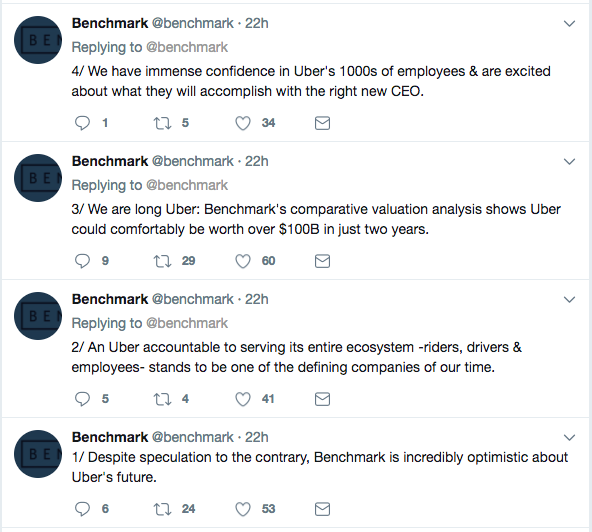 Source: Twitter