Weekly Update #205: Tech M&A Exits Significantly Outpace Tech IPOs
So far this year we have published several newsletters highlighting IPOs, both past and present. This week, we wanted to put these exits into context.
According to the latest Venture Monitor report, published by Pitchbook and the National Venture Capital Association (NVCA), IPOs represented only 5% of US venture-backed exits in 2016 and 4% for the 1st quarter of 2017. The vast majority of companies seeking late-stage liquidity are choosing acquisition offers over going directly to public markets.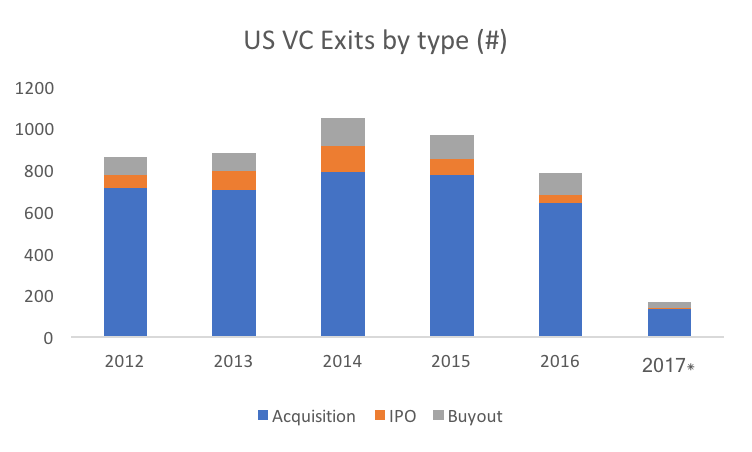 (Source: Venture Monitor, Pitchbook and NVCA)
There are several possible explanations for this trend. First, companies may be dissuaded by the complex and expensive process involved with pursuing an IPO. Alternatively, they might prefer greater certainty in their valuations rather than waiting for their lockup period to expire.
Snap Inc. (NYSE: SNAP) famously turned down a $3 billion acquisition offer from Facebook in 2013 before it went public in March this year, raising $3 billion at a $20 billion valuation and making it the largest portion (~75%) of 2017 IPO exit value year-to-date. However, shareholders are still waiting until their lockup period expires in August to realize liquidity.
Tech giants are playing into this trend, leveraging their considerable cash reserves to entice investors with high valuations. According to Pitchbook, the tech sector is responsible for over 60% of US venture-backed exits with Alphabet, Intel, and IBM leading as the most active corporate acquirers, completing a total of 66 deals since 2010. Despite their scale, big strategic buyers still have trouble matching the buying power of public markets, which will remain attractive to companies willing to take the risk.