Goldman Sachs and Spotify Bring Changes to the IPO Process
Investment bank Goldman Sachs has spent the past few years revamping their Initial Public Offering (IPO) banking process. According to an article in Bloomberg this week, Goldman has automated over half of the IPO process, which has freed up large amounts of time for junior investment bankers to focus on less-mundane efforts.
But will it save tech companies money if they choose to go public? In addition to the compliance costs of being a public entity (consulting firm Strategy& estimates the amount to be $1.5M per year), underwriters (like Goldman) historically charge 5-7% of new money raised. Given that the median IPO size in 2015 was $92M, one would hope that part of the cost savings associated with Goldman's new IPO approach would be passed on to the end customer.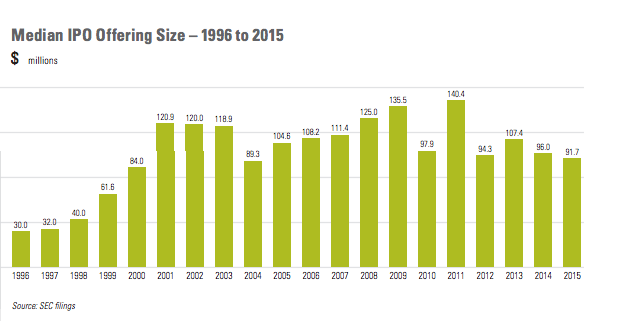 On a separate note, a relevant upcoming event will reveal itself in Spotify's pending "direct listing". A direct listing occurs when a company elects to begin trading on a public exchange but does not issue any new shares to investors. Spotify is reportedly working with Goldman Sachs and Morgan Stanley on the listing. The question is: what will the banks charge Spotify, if there is no IPO? Spotify would not be the first tech company to deviate from a "standard" IPO process. In 2004, Google famously sold their initial shares to the public via a "Dutch" auction, much to the delight of investors (and dismay of bankers).
Thanks,
Phil Haslett
Founder + Head of Investments, EquityZen