Weekly Update #183: Direct Secondaries vs Secondary LP Stakes
Direct Secondaries vs Secondary LP Stakes
You've heard EquityZen use the term "secondary market" quite a bit. It refers to the fact that shares sold on our platform are usually (but not always) sourced from existing shareholders (as opposed to a "primary market" where shares are issued directly by the company). In the industry, these are referred to as "direct secondary" transactions.
And you also already know that an investor in a Venture Capital or Private Equity fund is known as a "Limited Partner", or "LP" for short. But what you may not know is that there exists an active secondary market for those LP stakes as well.
To make things even MORE complicated and convoluted, a "private equity secondary sale" can refer to either the sale of shares of a company (like what EquityZen does), or to the sale of an LP stake!
Thoroughly confused? Don't worry. Here's a good way to know which type of transaction is happening:
If the transaction involves the sale of a portfolio of securities (ie: shares of multiple companies), it's a Secondary LP sale
If the transaction involves the sale of just one company's securities, it's a Direct Secondary
And if you're curious, the market for Secondary LP stakes is pretty huge: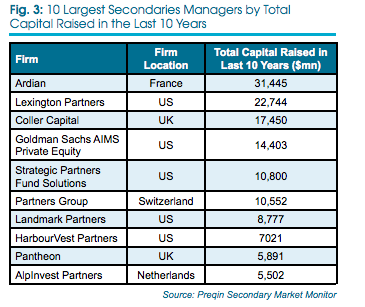 The market for Secondary LP stakes actually operates similarly to the marketplace that EquityZen has built for direct secondaries:
Investors are seeking access to a proven portfolio of private companies, and can benefit from some "selection bias" in knowing how the companies have performed thus far
Sellers are motivate to sell part of their holdings, for reasons that include diversification and liquidity needs
General Partners (GPs) of the Funds must approve the transfer of LP stakes (similar to how individual companies must sign off on direct secondary transactions on EquityZen's platform)
You can read more about the Secondary LP market here.
In other news...