Fidelity's marks of private investments
Tracking
mutual fund data has been a hot topic of late
. For the uninitiated: a handful of mutual funds own shares in pre-IPO tech companies. As with any securities holding, the fund managers are obligated to mark their positions (monthly or quarterly), and make this data publicly available.
EquityZen dove into some information from Fidelity's marks, and we'll be tracking it on a monthly basis. The chart below shows the price changes made by Fidelity between 6/30/15-12/30/15, and 6/30/15-1/29/16: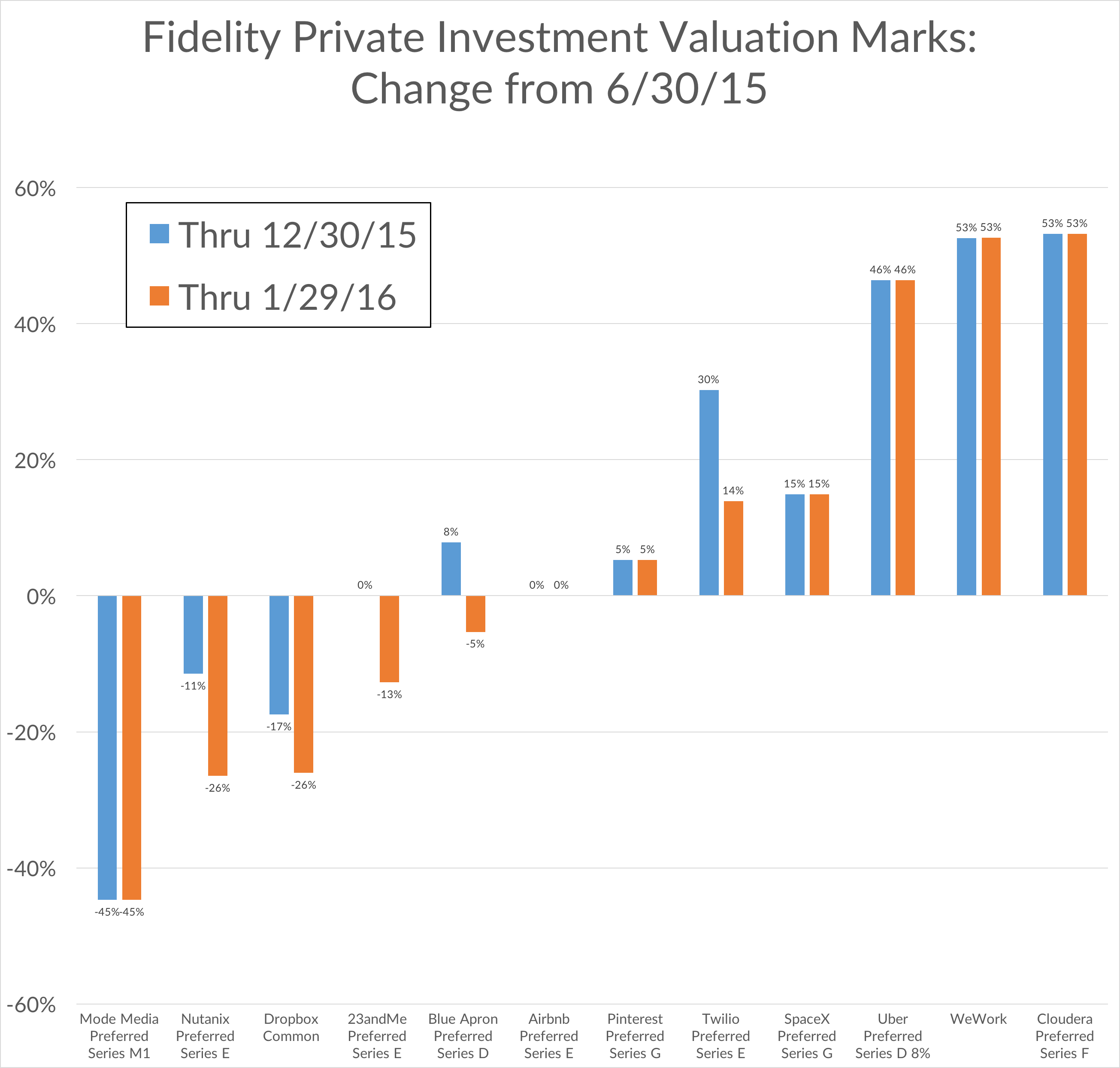 Of note:
7 company valuations (of 12) remained unchanged between 12/30/15 and 1/29/16
5 company valuations dropped between 12/30/15 and 1/29/16
0 of the 5 companies whose valuations dropped had a funding round in that month. Zero. So where's the updated mark coming from?
Thanks to Bryan Weis for his help in digging up this information.
There's a changing of the guard in New York. The financial and professional upside of a career in banking, sales and trading, or most other roles in institutional finance has diminished in light of the Financial Crisis of '08. EquityZen's Phil Haslett dives into how to break into tech from finance.
Tomasz Tunguz explains the current venture fundraising market and believes Series B will be the toughest round to raise this year.
Mattermark's Alex Wilhelm compares 2016's venture capital activity to that of 2015, and things aren't as bad as you might expect.
Thanks,
Phil
Haslett
| Founder + Head of Investments |
EquityZen
Funding Rounds Since Last Week