In order to view EquityZen's Investment Offerings, you must be an Accredited Investor. Please verify your status below.
Hello Investors,
The week's big news is
QVC's acquisition of e-commerce company Zulily
(
ticker: ZU
) for $18.75, a 49% premium to Zulily's closing price on Friday August 14th. At $18.75 Zulily is worth $1.56B, which is actually
below
the company's IPO price of $22 per share back in November 2013. Is this a trend? Are companies peaking after their IPO (ZU traded as high as $68.39 per share in February 2014) and then getting scooped up for bargain prices by larger competitors? And how are the Venture Capitalist investors doing?
We did some analysis on the 6 acquisitions in 2015 of publicly traded, venture-backed companies. Below are the results:

We looked at the price paid by each investor throughout the company's life-cycle. The last private financing (which comes from VCs), the IPO price, the first freely tradable price on the market, the last freely tradable price before the acquisition was announced, and finally the acquisition price. In four instances, the acquisition price was the highest of the set. In two instances (Borderfree and Zulily), companies were acquired for less than their first trading price. In all instances, the last private investors made money (at an average 113% return, or annualized 25% IRR). This assumes that those VCs held on to their position, however.
Here are the prices in a graph: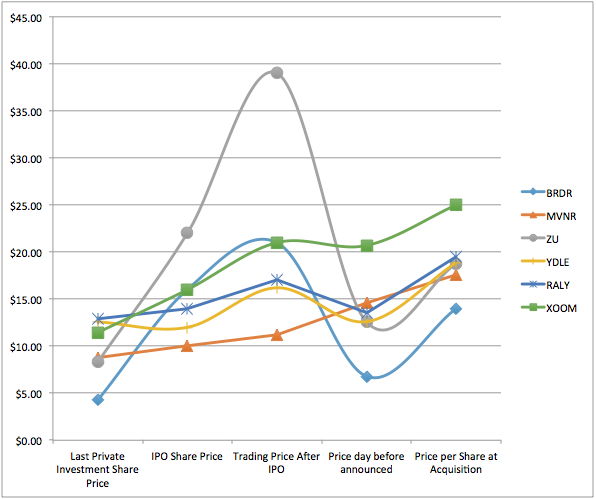 In other news...
Om Malik of True Ventures provides his take on Google's
announcement
and believes its new structure may reveal 'substantial and interesting bets without regulatory scrutiny'
A data-driven analysis of the typical tech company at IPO based on a dataset of 71 of the 214 companies that had public offerings since 2013.
A start-up lawyer discusses the need to revisit employee compensation with regards to taxation of "paper gains" on Incentive Stock Options (ISO's) and the push towards liquidity options.
In this week's post we cover Benediect Evans' update on 'US Tech Funding', the Yuan devaluation, startup revenue growth, Google's corporate restructuring and more.
Data storage company - Pure Storage - filed for an IPO last week under the ticker "PTSG". According to the filing, revenue increased 4x in 2015 to $174.5M while losses doubled to $183.2M; with margins increasing, the company is not yet profitable.
Thanks,
Phil
Haslett
| Founder & Head of Investor Relations |
EquityZen
To learn more about these offerings, contact us at hello@equityzen.com

Don't see what you're looking for? Tell us what companies or sectors you're interested in, and EquityZen's shareholder outreach team will work to meet your investment requests.
Funding Rounds Since Last Week