The private $1 billion IPO
Last month, the
Wall Street Journal reported
that there were only 8 venture-backed IPOs in 2015 so far (compared to 115 in all of 2014). Should the markets be concerned? Does an IPO slowdown on its own indicate signs of a market pullback?
To see if all these tech IPOs were migrating to the private markets, I took a look at
CB Insights' real-time "Unicorn" page
that tracks all the $1B+ valued private tech companies. One of my favorite features of this page is that they list the date a company reached that valuation. I bucketed them by year: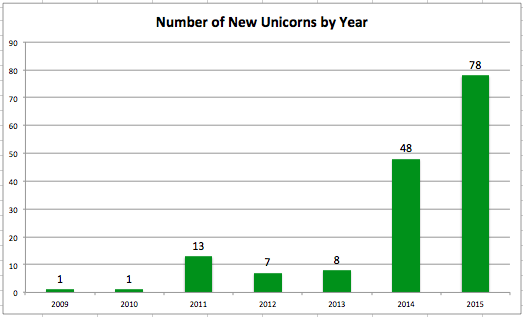 (Note: 2015 is an annualized figure of the 46 new Unicorns year-to-date as of August 3rd)

Should the trend continue, we can expect 78 new Unicorns for 2015, a 63% increase from 2014. Simultaneously, if we annualize the 8 venture-backed 2015 IPOs (to 14), compared to 2014's 115 IPOs we'd be facing an 87% drop.

This should not be surprising: instead of companies tapping the public markets, they are raising funds and growing privately. So while the declining number of IPOs may be declining, companies are continuing to grow and fuel their business with readily available private capital.
In other news...
As Square files for an IPO amid concern over growth and sustainability, Dorsey shows resolve and confidence in his leadership role, guiding Square from a Sand Hill Road darling to a mature, publicly traded company.
Thanks,
Phil
Haslett
| Founder & Head of Investor Relations |
EquityZen
To learn more about these offerings, contact us at hello@equityzen.com

Don't see what you're looking for? Tell us what companies or sectors you're interested in, and EquityZen's shareholder outreach team will work to meet your investment requests.
Funding Rounds Since Last Week