The Effects of Coronavirus on Venture Capital Firms and Startups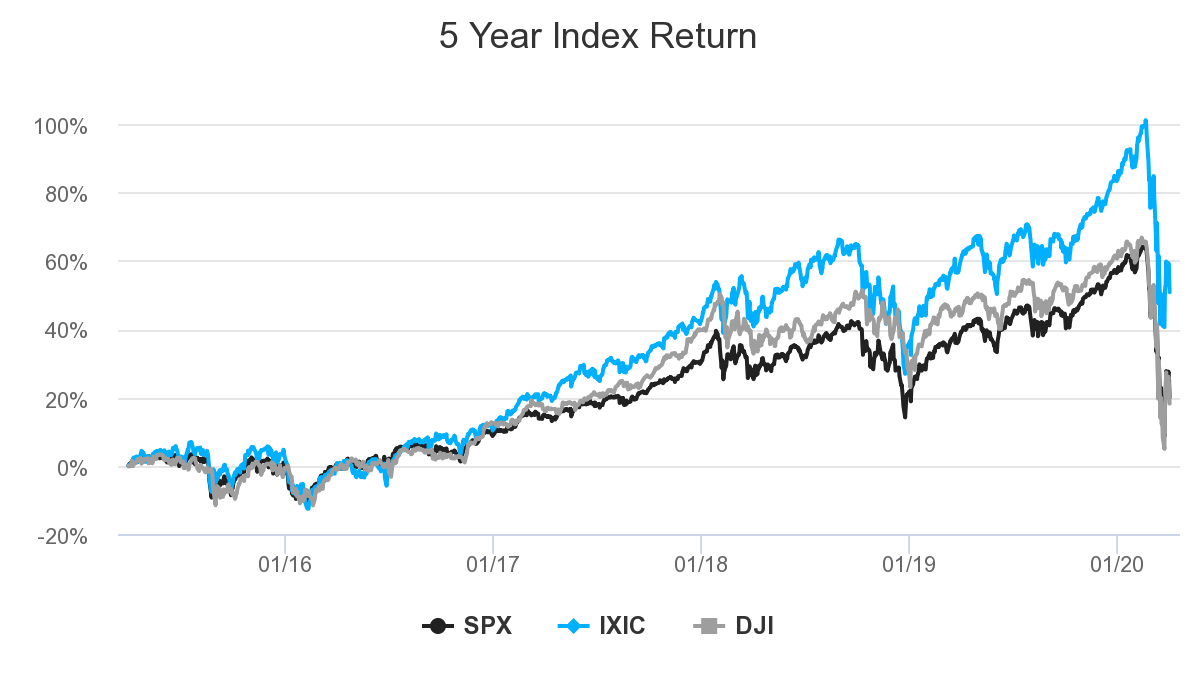 Source: YCharts as of 4/1/2020
With the flip of a switch, the stock market swiftly reacted to the worsening coronavirus situation. Most notably, the U.S. stock market entered bear territory – defined as a 20% or more fall in prices from the investment's 52-week high – on March 12, 2020, ending a decade-long bull run. The market has since drastically fluctuated, almost daily, as the world reacts to new information on the spread of coronavirus. The clearest indication of this unrest can be seen in the VIX, a measure of the market's expectation of volatility on the S&P 500, which has increased to the same levels as the 2008 Great Recession, shown below.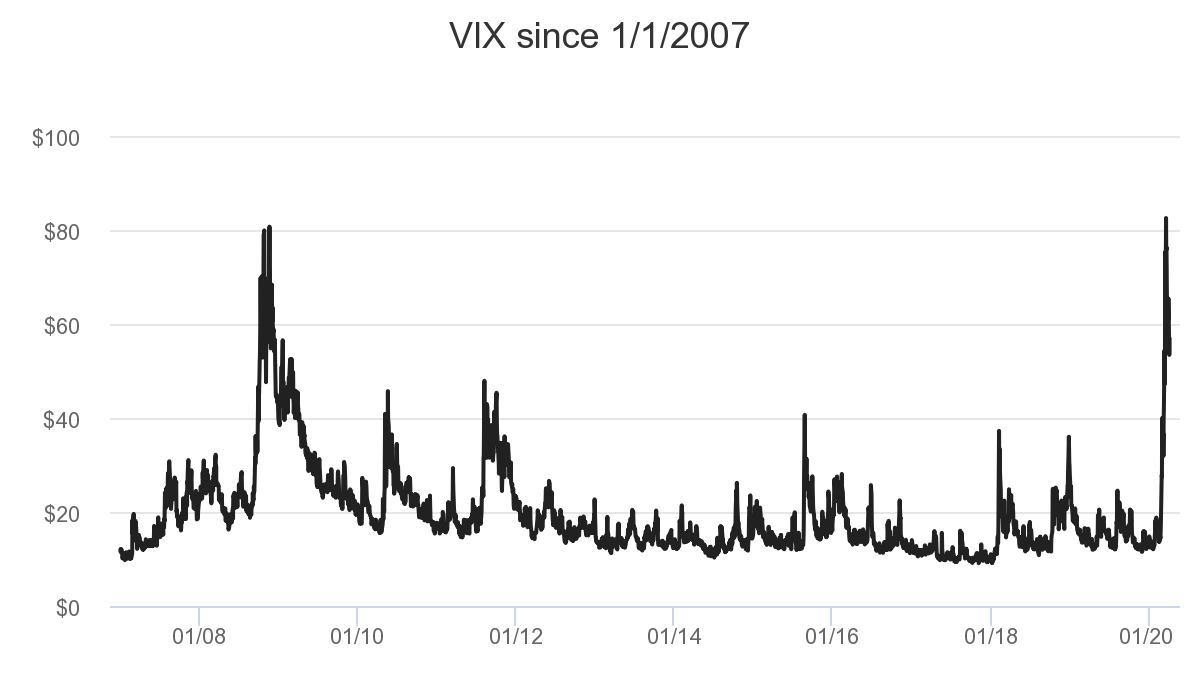 Source: YCharts as of 4/1/2020
As the charts above show, investors are jittery, pushing all three major U.S. stock market indexes to levels seen almost five years ago. While it's still too early to tell what the long-term effects of coronavirus will be on the public markets, startups and venture capital firms are hastily responding.
Venture Capital Firms
Venture capital firms are responding to coronavirus by modifying their investment strategies and rethinking how they manage their current portfolio companies. Sequoia Capital recently published an article, outlining how founders and CEOs should deal with the effects of coronavirus. It adeptly summarized the problems startups will face, but also signaled to the broader industry that investment strategies have changed.
The investment landscape has fundamentally shifted due to coronavirus. VC firms will likely use a finer tooth comb on investments and slow down the pace of check writing. Investors will want to understand how startups are faring under this new environment, particularly assessing the company's growth profile and bankruptcy risk.
In a down market, many startups' short-term total addressable market may decrease. For example, a direct-to-consumer luxury brand which targeted discretionary income may find consumers are less willing to purchase their goods. This spending shift can, in turn, reduce revenue growth (though other, well positioned firms, may see an increase). Thus, VC firms may push valuations and funding down as growth metrics decrease.
Despite the down market, VC firms will continue to opportunistically invest in startups. At the end of the day, VC firms pride themselves on being home-run investors – the idea that only one or few investments will have exorbitant returns, making up for most investments that have lackluster or negative returns. So, even though coronavirus may close some opportunities, it will certainly open others.
Lastly, coronavirus has the potential to adversely affect VC firms. Depending on how widely and deeply coronavirus affects the private markets, LPs may request for the return of their capital, affecting the fund's management fees. VC firms typically charge a nominal yearly management fee on the fund size to cover the cost of overhead. LPs' capital is typically subject to lock-up terms for the first few years of the fund's life, which give firms time to judiciously invest their capital. In cases where VC firms can't invest all the capital, LPs typically receive the portion that wasn't invested after the lock-up terms expire. In a down market where VC firms can't find suitable investments, LPs – cash-strapped themselves – may force firms to return their capital. With reduced management fees, VC firms may not be able to cover the cost of their workforce, resulting in layoffs.
Startups
Startups will need to contend with a drastically different consumer and business environment. Coronavirus has forced people to stay at home and altered consumer spending behavior. Often in uncertain markets, consumers reign in discretionary spending to weather any potential economic downturns. Furthermore, in pockets throughout the world, governments have closed many businesses, keeping only essential businesses open. As a result, coronavirus will affect B2C and B2B companies as consumer spending decreases and businesses navigate shutdown economies.
This altered business landscape will quickly translate to reduced revenue for many startups (in some cases, revenue will increase for startups that offer "need" products). As startups struggle with drops in revenue, companies will push to preserve cash by reducing costs, likely slashing marketing spend and laying off parts of their workforce. As Sequoia Capital noted in their article, "private financings could soften significantly, as happened in 2001 and 2009." Therefore, startups may no longer be able to adhere to typical fundraising cadences, heightening the need to increase cash runway.
Coronavirus, though, will not negatively affect all startups. Startups that recently raised large funding rounds or are profitable, may be in better shape to navigate the rough waters. Additionally, with large swaths of the global population forced to work from home, some startups that provide workforce tools and at-home services may be able to capitalize on the situation.
It's too early to tell the severity of coronavirus's effect on the market and economy. While we hope the effects are short-lived, VC firms and startups will need to quickly react to the market conditions to survive.