Slack's Valuation Against SaaS Peers
Does Slack deserve its $17B rumored valuation when it lists on the NYSE on Thursday? Tune into our Knowledge Center later this week as we grade Slack on ten key metrics compared to its SaaS peers. For now, see how Slack's rumored valuation multiple compares below.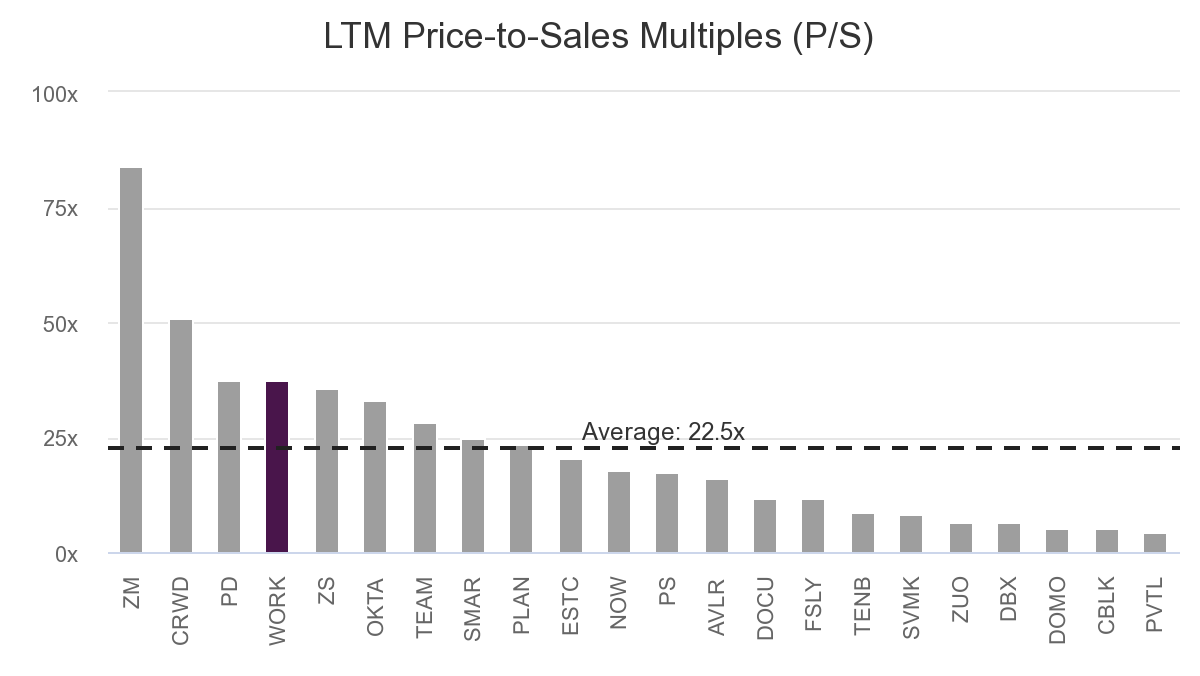 Note: Data from company filings; Market Data as of 6/17/2019; Tickers: ZM (Zoom Video Communications, CRWD (CrowdStrike), PD (PagerDuty), WORK (Slack Technologies), ZS (ZScaler), OKTA (Okta), TEAM (Atlassian), SMAR (Smartsheet), PLAN (Anaplan), ESTC (Elastic), NOW (ServiceNow), PS (Pluralsight), AVLR (Avalara), DOCU (DocuSign), FSLY (Fastly), TENB (Tenable), SVMK (SurveyMonkey), ZUO (Zuora), DBX (Dropbox), DOMO (Domo), CBLK (Carbon Black), PVTL (Pivotal Software); Slack multiple based on reported $17B valuation
Slack will directly list on the NYSE using the ticker "WORK" on Thursday, June 20, 2019. The market is eagerly awaiting this event as Slack will be only the second large tech startup (Spotify is the other) to forgo the traditional IPO route to go public. In a direct listing, Slack's chosen path, a company doesn't determine share pricing prior to publicly listing, which is a key characteristic of a traditional IPO. In contrast, a direct listing is more daunting, as the company can't gauge demand as effectively – and by extension, share price and valuation – from the public markets and has no safety nets, like price stabilization efforts from its underwriters, once it's listed.
In Slack's case, though, the company has had a robust trading history on the secondary markets, as disclosed in its S-1 filing. Having private trading history removes complete valuation opacity, potentially minimizing volatility in the public markets. Trading history is particularly important to a national exchange, such as the NYSE, as the exchange will set a reference price – an indication as to what price the company should begin trading at – on the eve of Slack's direct listing, relying in part on the secondary trading history. Using the rumored $17B valuation, Slack will list at approximately a 37x Price-to-Sales (P/S) multiple.

The P/S multiple determines how expensive or cheap a stock is compared to its peers. In broad strokes, the higher the multiple, the more expensive the stock is, as an investor is paying more ("P") for each dollar of sales ("S"). A P/S multiple, though, cannot be viewed in isolation and should be used as a relative metric. Therefore, the above chart plots other SaaS companies' P/S multiples using LTM (last twelve months) sales. Slack's P/S multiple is about 15 turns higher than the peer average, implying that Slack is highly valued compared to the overall SaaS space. In our full-length report that we are publishing this week, we will be taking a deeper look at Slack's P/S multiple and valuation by analyzing ten key SaaS metrics across comparable companies and grading Slack on each metric to see if it deserves its 37x multiple. Tune in then to see our full analysis.