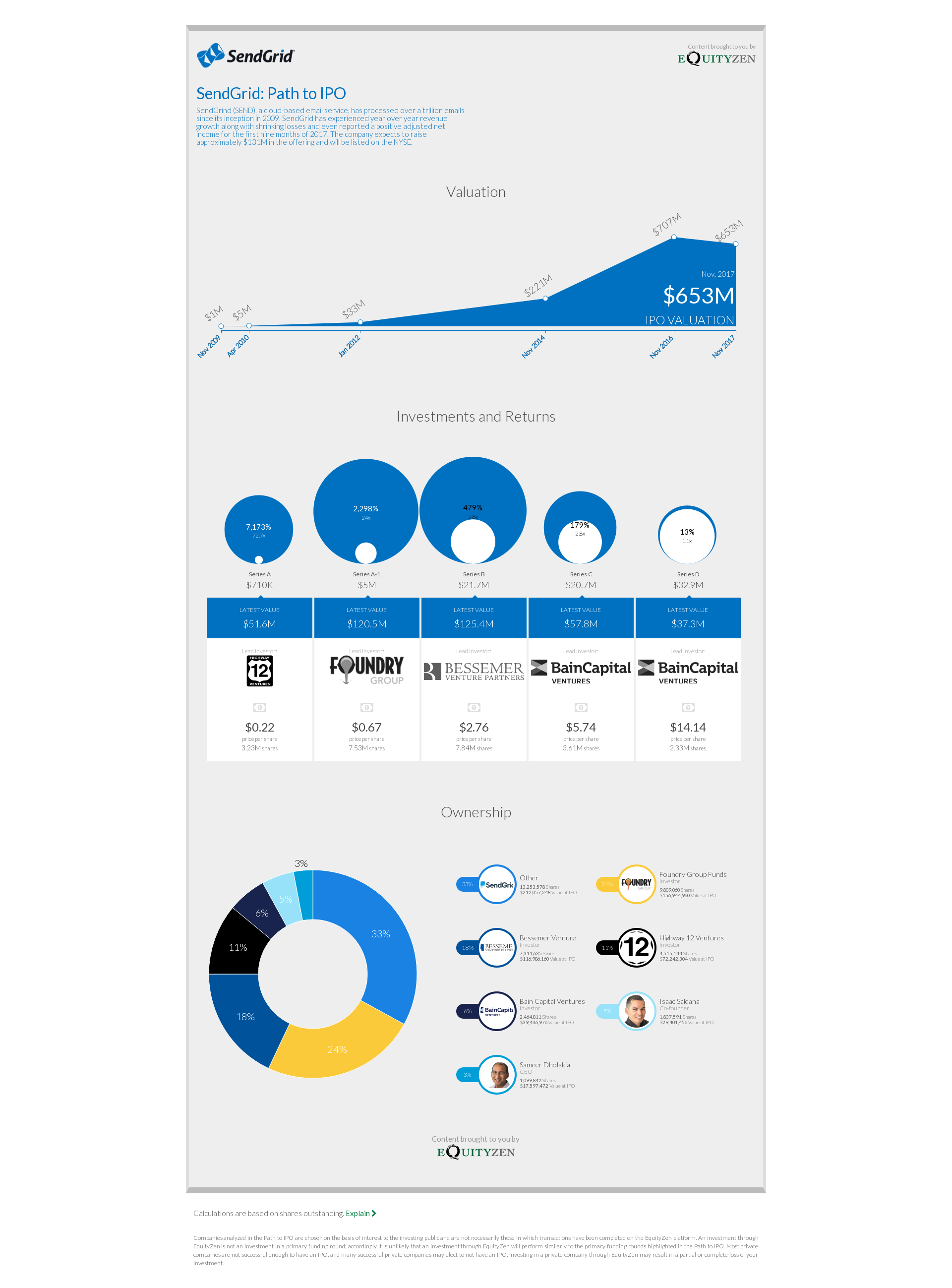 SendGrid: Path to IPO
SendGrind (SEND), a cloud-based email service, has processed over a trillion emails since its inception in 2009. SendGrid has experienced year over year revenue growth along with shrinking losses and even reported a positive adjusted net income for the first nine months of 2017. The company expects to raise approximately $131M in the offering and will be listed on the NYSE.
Investments and Returns
INVESTMENT
LATEST VALUE
Lead Investor:
0.11
price per share
0 shares
Series A
$710K
LATEST VALUE
$51.6M
Lead Investor: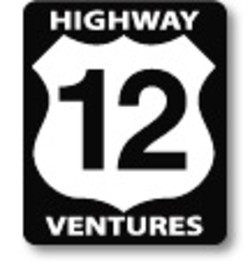 $0.22
price per share
3.23M shares
Series A-1
$5M
LATEST VALUE
$120.5M
Lead Investor:

$0.67
price per share
7.53M shares
Series B
$21.7M
LATEST VALUE
$125.4M
Lead Investor:

$2.76
price per share
7.84M shares
Series C
$20.7M
LATEST VALUE
$57.8M
Lead Investor:

$5.74
price per share
3.61M shares
Series D
$32.9M
LATEST VALUE
$37.3M
Lead Investor:

$14.14
price per share
2.33M shares
Ownership
Other

13,253,578 Shares

$212,057,248 Value at IPO

Foundry Group Funds

Investor

9,809,060 Shares

$156,944,960 Value at IPO

Bessemer Venture

Investor

7,311,635 Shares

$116,986,160 Value at IPO

Highway 12 Ventures

Investor

4,515,144 Shares

$72,242,304 Value at IPO

Bain Capital Ventures

Investor

2,464,811 Shares

$39,436,976 Value at IPO

Isaac Saldana

Co-founder

1,837,591 Shares

$29,401,456 Value at IPO

Sameer Dholakia

CEO

1,099,842 Shares

$17,597,472 Value at IPO
Content brought to you by


Calculations are based on shares outstanding. Explain Hide explanation
Tech companies often use their fully-diluted share count when they're private companies, to increase their perceived valuation. When they file to go public, however, the number of shares is typically only the shares outstanding (a smaller number than the fully-diluted share count). As a result, the company's "valuation" may decrease even though the price paid per share has gone up.
Other Companies
If you're interested in SendGrid, you may also be interested in these other companies
Thank you for your interest!
Browse our site, or contact us to have a representative reach out to you to explore how EquityZen may be for you.
Interested in finding out more?
To learn more about whether you're eligible, typical investment size, company valuation, and share price, request access here.