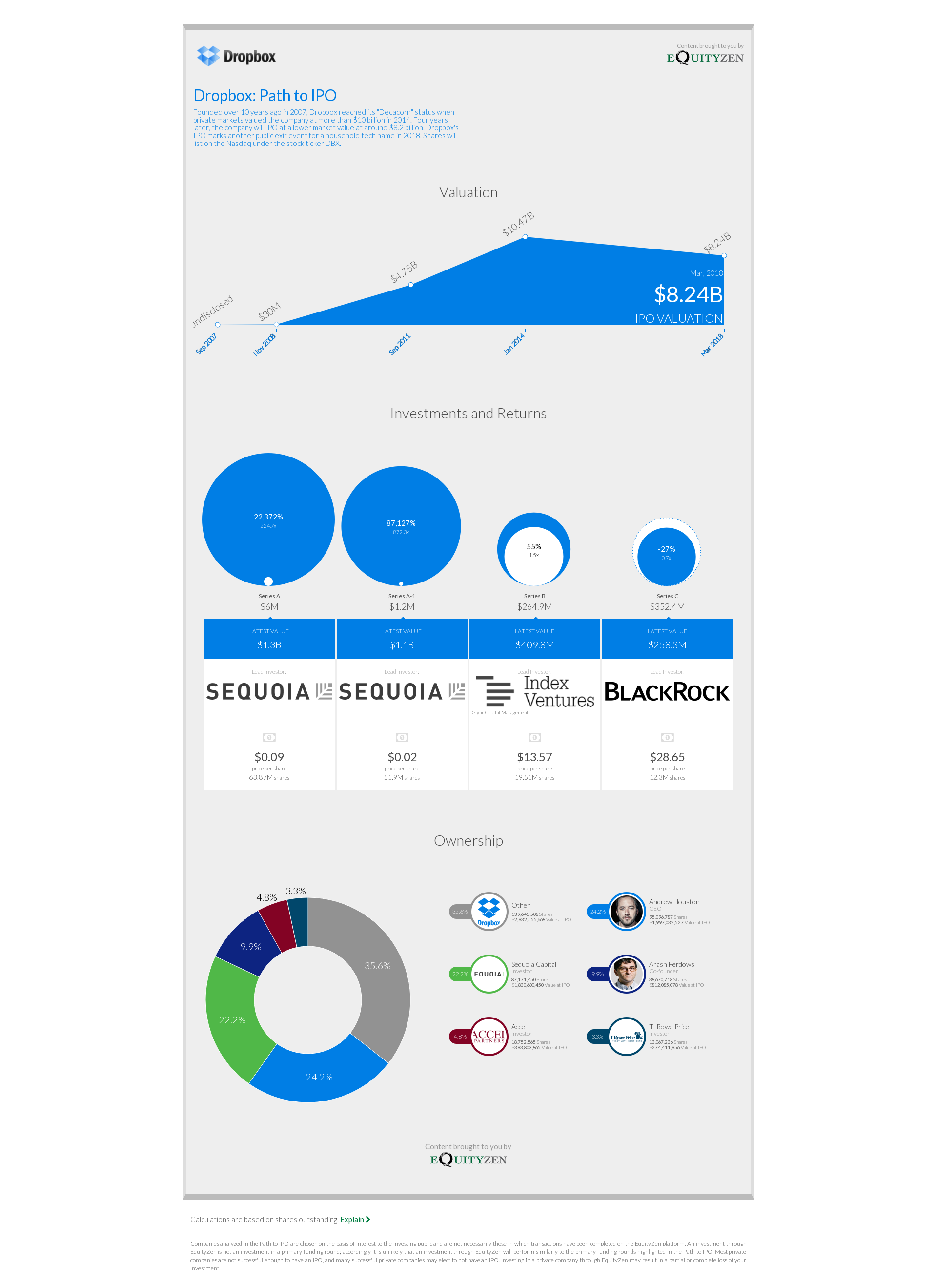 Dropbox: Path to IPO
Founded over 10 years ago in 2007, Dropbox reached its "Decacorn" status when private markets valued the company at more than $10 billion in 2014. Four years later, the company will IPO at a lower market value at around $8.2 billion. Dropbox's IPO marks another public exit event for a household tech name in 2018. Shares will list on the Nasdaq under the stock ticker DBX.
Investments and Returns
INVESTMENT
LATEST VALUE
Lead Investor:
0.11
price per share
0 shares
Series A
$6M
LATEST VALUE
$1.3B
Lead Investor:

$0.09
price per share
63.87M shares
Series A-1
$1.2M
LATEST VALUE
$1.1B
Lead Investor:

$0.02
price per share
51.9M shares
Series B
$264.9M
LATEST VALUE
$409.8M
Lead Investor:

$13.57
price per share
19.51M shares
Series C
$352.4M
LATEST VALUE
$258.3M
Lead Investor:

$28.65
price per share
12.3M shares
Ownership
Other

139,645,508 Shares

$2,932,555,668 Value at IPO

Andrew Houston

CEO

95,096,787 Shares

$1,997,032,527 Value at IPO

Sequoia Capital

Investor

87,171,450 Shares

$1,830,600,450 Value at IPO

Arash Ferdowsi

Co-founder

38,670,718 Shares

$812,085,078 Value at IPO

Accel

Investor

18,752,565 Shares

$393,803,865 Value at IPO

T. Rowe Price

Investor

13,067,236 Shares

$274,411,956 Value at IPO
Content brought to you by


Calculations are based on shares outstanding. Explain Hide explanation
Tech companies often use their fully-diluted share count when they're private companies, to increase their perceived valuation. When they file to go public, however, the number of shares is typically only the shares outstanding (a smaller number than the fully-diluted share count). As a result, the company's "valuation" may decrease even though the price paid per share has gone up.
Other Companies
If you're interested in Dropbox, you may also be interested in these other companies
Thank you for your interest!
Browse our site, or contact us to have a representative reach out to you to explore how EquityZen may be for you.
Interested in finding out more?
To learn more about whether you're eligible, typical investment size, company valuation, and share price, request access here.