Founded in 2011, DigitalOcean is a cloud platform focused on simplifying the complexities of infrastructure for software developers. The company provides highly available, secure and scalable compute, storage and networking solutions that help developers build software faster. The company is headquartered in New York City with data center regions throughout the world.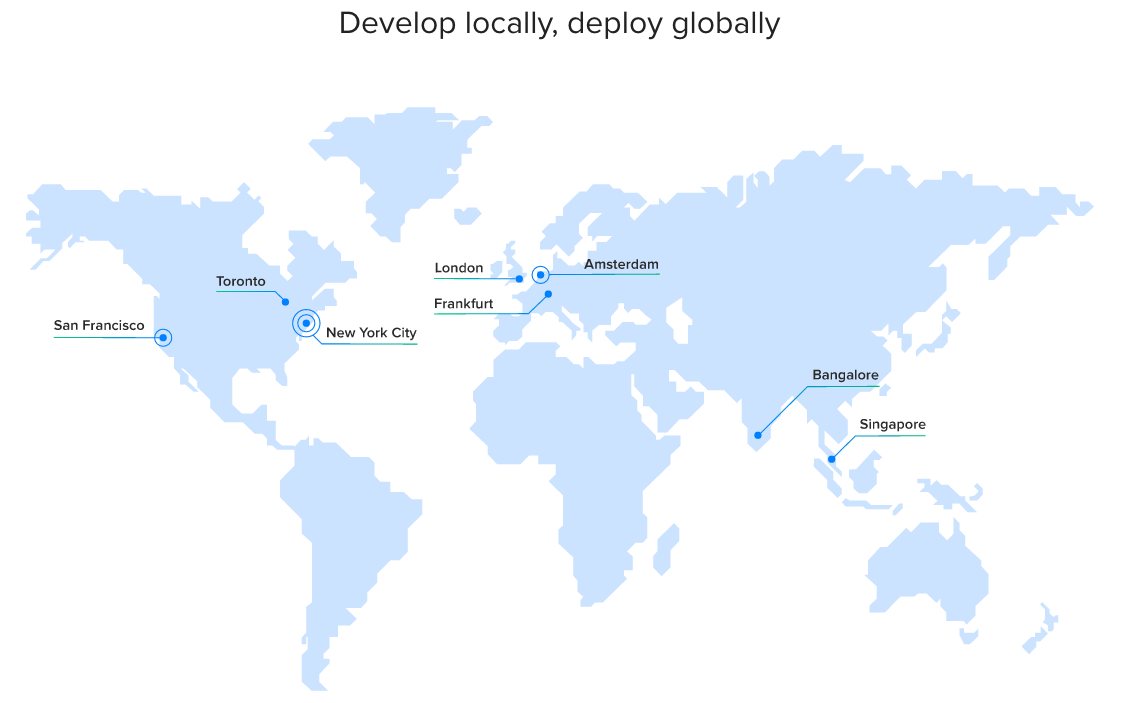 Source: DigitalOcean
Key Investment Considerations
Exposure to a large and rapidly growing industry. Cloud adoption has reached an inflection point among companies, who are increasingly building new workloads on the cloud given the improved economics, scalability and agility it offers their businesses. Gartner pegs total infrastructure-as-a-service revenue at $35B currently and projects this number to double by 2020.
2016 debt financing signals vote of confidence from lenders. In 2016, DigitalOcean secured a $130m credit facility, led by KeyBanc Capital Markets. Debt financing is unusual for start-ups, as lenders tend to be more risk-averse than venture capital investors. While DO has not publicly disclosed its financials, a vote of confidence from lenders is a positive signal for the company's positioning and prospects.

DigitalOcean has carved out a solid niche as a developer-focused business. Cloud hosting is dominated by Amazon Web Services (AWS), which enjoys a market share of over 30% globally. DigitalOcean has established a strong beachhead in the sector, though, by catering its product to individual developers that may find Amazon's and other larger players' products too complex and/or expensive. With this targeted approach, DigitalOcean has grown to the the third largest web hosting provider globally according to Netcraft (held the second largest position, until Feb 2017 when the Chinese Alibaba Group took their place). The company's own figures also suggest a strong market position, with a user base of nearly 1m in 2017 (up from 700,000 in 2016 and 200,000 in 2014). Prominent customers include salesforce, HP, Ericsson and Flipkart. Beyonce also used DO's platform to launch her album in 2013.
High switching costs may translate to more durable revenue streams. Customers tend to be relatively sticky in the infrastructure space given high costs associated with switching to different platforms. DigitalOcean is geared towards having smaller developers start out on their platform; however, these customers are incentivized to stay on the platform even as they grow. DigitalOcean's CEO noted in an interview that they see relatively little churn as customers' businesses grow and mature.
Competition growing in DigitalOcean's niche. Amazon has dominated the enterprise market and, up until recently, made little inroads with smaller customers that make up DigitalOcean's core market. In November of 2016, however, AWS launched Lightsail, which is competitively priced with DigitalOcean and may suggest the tech giant is ready to take on its smaller peers more directly in the coming years. Separately, another smaller competitor, Linode, also recently reduced its pricing to compete more effectively against DO.
Capital intensity of operating datacenters carries higher risk. Cloud hosting providers incur large capital expenditures to build and maintain their databases. Although these vendors can capture economies of scale more effectively than their individual customers, heavy investment needs tend to drag on free cash flow generation and carry higher operating risks vs. asset-light models.
Capturing enterprise customers could be a challenge. The simplicity of use that has attracted smaller developers to DigitalOcean's product is likely a negative for larger enterprises with more complex uses and needs. With the growth in its user base, DO has demonstrated a sizeable market for its current product. Going forward, however, it's unclear whether DO's limited penetration in enterprise will become a governor on growth.