WeWork Takes Unusual Path to IPO
Once a Silicon Valley darling, WeWork has steadily fallen from grace. Over recent years, concerns related to its culture, CEO Adam Neumann, and business model have dogged WeWork's image. The company began as a coworking space in 2010, aiming to match entrepreneurs looking for flexible leases with empty commercial spaces in NYC. The concept quickly gained traction, as WeWork provided month-to-month leases to startups and created a modern, collegial atmosphere. The company bet that providing an array of "millennial" amenities – beer on tap, fully stocked kitchenettes, and networking events – would attract a strong, sticky customer base, while at the same time allowing them to reduce square footage used per person to increase leasable space. As many funding rounds have shown, WeWork was a hit and even became the largest leaseholder in NYC in 2018.
Given its meteoric rise, speculations around WeWork's IPO have permeated the financial news in recent years. After filing confidential IPO paperwork last December, WeWork recently took its second major step to the public markets when reports indicated that the company would be hosting a Wall Street analyst day on July 31. Such an event would typically happen after a company hires underwriters for its IPO. Nevertheless, we expect underwriters will have many questions regarding WeWork's operational and financial health. Below, we address some key areas that Wall Street analysts will certainly be curious about.
WeWork Culture
Silicon Valley has increasingly come under scrutiny for workplace culture issues and discrimination. WeWork has not been immune to this scrutiny, and recent lawsuits and related allegations paint a toxic and discriminatory workplace environment. In October 2018, a former employee filed a lawsuit against the company for sexual harassment and retaliation, wherein the employee described a frat-like culture. In June 2019, WeWork was hit with another lawsuit by two former executives accusing WeWork of gender and age discrimination. As a result of these allegations, the company has undergone reputational damage. With an IPO on the horizon, the company will need to ensure investors that the culture has changed and that proper internal controls are in place to prevent future misconduct. Unsurprisingly, companies try to minimize lawsuits and other controversies in the months ahead of an IPO to ensure the best conditions for a public debut. Using Uber as an example, shareholders ousted the Founder CEO, Travis Kalanick, due to his alleged unprofessional conduct that contributed to a toxic workplace culture. Ultimately, investors and the Uber board determined that he was no longer suitable to lead the company.
Business Model
Culture aside, WeWork will need to answer two crucial questions regarding its valuation and business model: 1) can WeWork justify its valuation as a tech company?; and, 2) does WeWork have a path to profitability?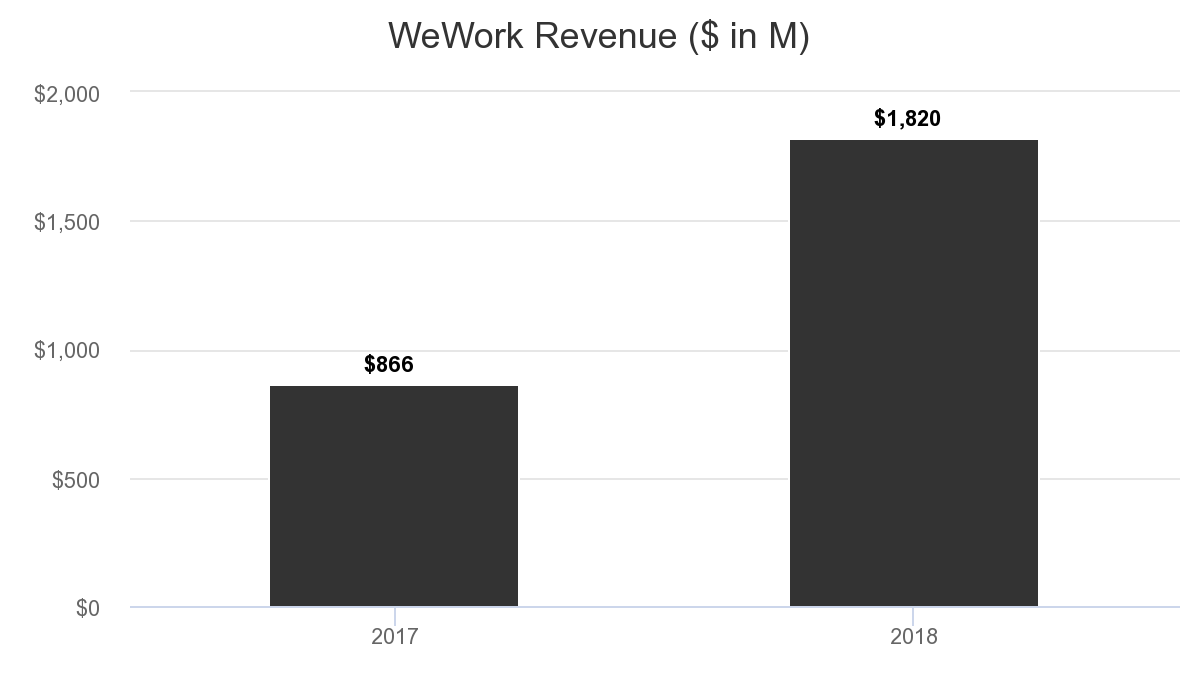 Today, WeWork is largely considered a commercial real estate services firm. It has certainly disrupted the field, previously dominated by JLL, CBRE and IWG, by garnering a loyal, millennial following. The company, though, has always billed itself as a tech startup, purportedly using proprietary software and data to create efficient coworking spaces. We expect the company to heavily rely on this tech startup narrative, along with its diversification play, to justify its valuation as tech companies generally garner higher valuation multiples than the real estate industry. Based on financials gleaned from bondholder reports, the company generated $1.8B in revenue in 2018. WeWork's last privation valuation was $49B, translating to a 27.0x P/S (price-to-sales) multiple. In contrast, companies like JLL, CBRE and IWG trade anywhere between 0.5x and 1.0x. When benchmarked against these companies, WeWork should be valued between $900M and $1.8B, in stark contrast to the valuation SoftBank gave the company. WeWork's valuation mismatch could come to a head in a recession scenario. The company takes substantial risk when it signs long-term leases and subsequently relets them to startups on a short-term basis (a primary reason real estate services companies trade at low valuation multiples, as they take substantial, cyclical balance sheet risk). In the event of a recession or downturn, WeWork's lessees would be able to eventually escape their short-term leases, while WeWork holds the bag.
Whether or not WeWork fits the definition of tech startup, the company will still need to explain why it's unprofitable and how it expects to achieve profitability. In 2018, the company generated $1.93B in losses. The ridesharing IPOs, Lyft and Uber, demonstrated that even the largest and highest profile tech unicorns will be scrutinized for unprofitable business models by the public markets. It's not surprising that both Lyft and Uber continue to trade below their IPO prices. Similar to its ride-hailing unicorn peers, WeWork's business model requires an astronomical amount of capital to grow, as it signs long-term leases (i.e., liabilities) and renovates these spaces (i.e., capital outlays), which in turn has contributed to huge cash losses. The WeWork bondholder reports additionally note that the company only had $2.2B in cash on its balance sheet, translating to roughly one year of runway at current spending. As a result, it's not surprising that WeWork is pursuing a $4B bond offering ahead of its IPO to bolster its balance sheet. The public markets will need to see concrete steps taken towards profitability and not a business model that relies on consistent cash infusions to stay afloat.
Adam Neumann, CEO & Founder
Over the last few years, Adam Neumann has been criticized for conflicts of interest and reducing his ownership stake in WeWork.
In January 2019, news broke that Mr. Neumann personally profited by buying stakes in property that was in the process of being leased to WeWork. The CEO was immediately criticized for this conflict of interest, wherein he could reap favorable rent terms from WeWork. Like many other startups, WeWork has dual class shares, which gives outsized voting rights to founders. As a result, Mr. Neumann can push the company to accept terms or lease property the company perhaps normally wouldn't. To allay these concerns, WeWork's real-estate acquisition unit reportedly was looking to buy Mr. Neumann's property stakes at cost in May 2019. This case speaks to the larger corporate governance concerns that plague WeWork and many tech unicorns.
Moreover, in a recent review conducted by the WSJ, WeWork's investment and acquisition strategy has reportedly oftentimes reflected the interests of Mr. Neumann and his wife. In 2016, WeWork acquired Wavegarden, a company that makes pools with surfing waves, reflecting Mr. Neumann's penchant for surfing in the summer. In another example, WeWork announced in 2017 that it would create an elementary school called WeGrow, reflecting Mr. Neumann's and his wife's "concerns with finding school[s] for their children." More recently, the company led an investment in Laird Superfood, a pro-surfer, natural-foods business. WeWork has acquired targets that more closely fit within its business model, but the company will need to answer whether it has proper corporate governance measures in place that stop conflicted acquisitions and investments. Institutional investors tend to stay away from companies with poor corporate governance track records, as they see them as riskier and fraud prone.
Adding to mounting concerns, news outlets reported on July 18, 2019 that Mr. Neumann cashed out from WeWork more than $700M via stock sales and loans. Equity stakes in companies provide founders and executives an incentive to do a good job. When founders and executives sell shares ahead of an IPO, it can signal to the public that they don't have confidence in the business or its public debut. Mr. Neumann is likely to counter by citing personal portfolio diversification and liquidity requirements, both of which may be valid reasons but still raise eyebrows among investors.
Conclusion
Like all companies, WeWork faces a difficult road to the public markets. Moreover, WeWork is taking an unconventional step towards the public markets by holding a Wall Street analyst day prior to hiring actual underwriters or publicly filing IPO paperwork. WeWork will likely use this format to educate potential underwriters and investors on its business model and IPO narrative. By jumpstarting the process, WeWork may be hoping to avoid the fates of Uber and Lyft.