Weekly Update #304: Slack Will Find Itself Among Strong Competition When It Publicly Lists
Slack Will Find Itself Among Strong Competition When It Publicly Lists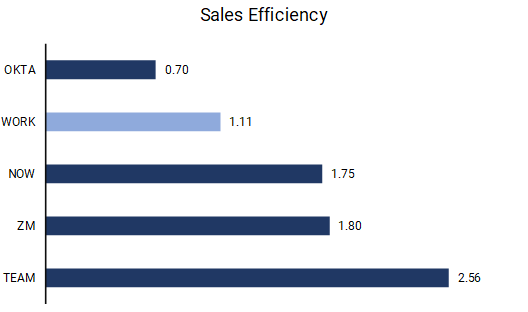 Source: Securities filings from Okta (OKTA), Slack Technologies (WORK), ServiceNow (NOW), Zoom Video Communications (ZM) and Atlassian (TEAM)
Note: Sales Efficiency calculation based on the two fiscal years immediately prior to each company's IPO
Slack has scheduled its direct listing for June 20, 2019, when existing shareholders will be able to sell stock on the New York Stock Exchange for the first time. The Enterprise Software-as-a-Service (SaaS) company has forgone a traditional IPO and will save millions of dollars by avoiding underwriting fees. However, as we've previously covered, a direct listing entails other disadvantages and uncertainties and has only been successfully executed once before by Spotify. Direct listing mechanics aside, Slack will continue the trend of highly-anticipated and deep-pocketed unicorns going public with significant losses (Slack lost $154 million in its most recent fiscal year). However, unlike Uber and Lyft, which were the first of their kind to go public, SaaS companies, even across numerous verticals, are much better understood by public investors who can rely on more standardized industry metrics to evaluate Slack's investment potential.
Given the nature of SaaS companies, with recurring revenue streams and limited costs of goods sold compared to other industries, they can be more readily benchmarked across several standardized metrics vis-à-vis comparable companies. We'll cover all of these metrics in a full-length report as we near Slack's IPO; however, for the time being, let's dive into one of these standard benchmarks for evaluating SaaS businesses: Sales Efficiency.
What does "Sales Efficiency" mean in the context of SaaS?
Sales efficiency is an insightful number that investors often use when benchmarking SaaS businesses across various sectors. Although there is some variation in how sales efficiency is calculated, generally investors use the difference between the current period's revenue (or gross profit) and the last period's revenue (or gross profit) and divide it by the last period's sales and marketing expense. Essentially, sales efficiency will tell an investor how much new revenue or gross profit a company generates for every dollar of sales and marketing spend. Ideally, SaaS companies will have a sales efficiency of over 1.0, indicating that every dollar of sales and marketing creates more than one dollar of revenue or gross profit. The inverse of sales efficiency is payback period, or the time required for customer revenue or gross profits to "reimburse" sales and marketing costs. Below, we've benchmarked Slack's sales efficiency (on an annual, gross profit basis) compared to some of its high-profile competitors.
How effective is Slack's sales and marketing strategy compared to its competitors?
Any sales efficiency calculation above 1.0 is good—it means the company should think about investing more in sales and marketing, given the net positive return on the investment. Moreover, assuming a one-year period, it indicates the company is able to effectively "reimburse" its sales and marketing expenses dollar-for-dollar with new revenue in less than a fiscal year. At 1.11, Slack's sales efficiency is excellent, although it actually significantly trails its competitors Atlassian (2.56), Zoom Video Communications (1.80), and ServiceNow (1.75). To be fair, without digging further into each of these companies, it's difficult to generalize that Slack is a less "desirable" investment, although it does imply that Slack's competition is getting serious leverage out of its sales and marketing spend. For example, Atlassian, which used to operate direct Slack competitor HipChat, created $1.56 in new gross profit in addition to returning every dollar of sales and marketing it spent leading up to its IPO. This implies a payback period of under five months, compared to just under eleven months for Slack.
However, the market did not immediately reward Atlassian's stellar sales efficiency, and Atlassian's stock price actually declined 4.4% in the first year after its IPO (currently, it's up 354% since its IPO). Conversely, Okta, with a sales efficiency of only 0.70 immediately prior to its IPO, saw a share price increase of over 64% in the year following its public debut. As this comparison makes apparent, Slack's public markets performance will come down to much more than just its sales efficiency. Nevertheless, sales efficiency is a useful, high-level indicator of the success of a company's sales strategy.
Other items we're reading this week: