Weekly Update #303: Is WeWork a Tech Venture or Just a Cash-Burning Real Estate Company?
This week's content is brought to you by Risun Udawatta.
Is WeWork a Tech Venture or Just a Cash-Burning Real Estate Company?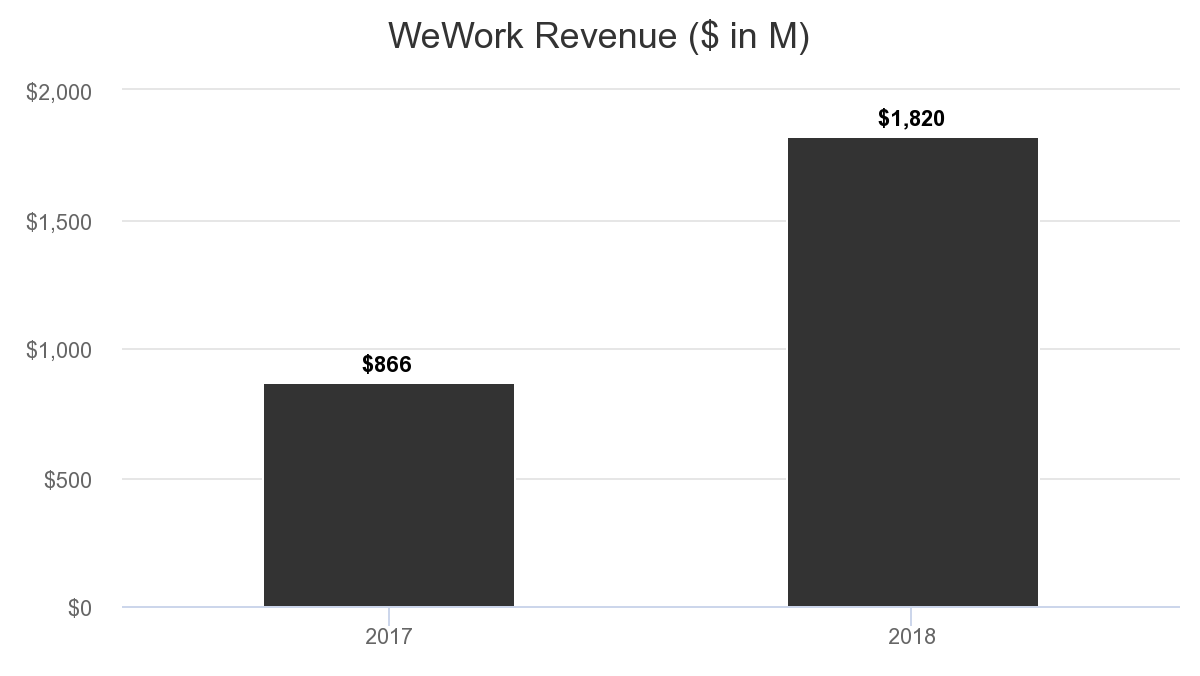 Source: The Information
WeWork may be joining the growing list of unicorns testing the public markets this year. On April 29, 2019, the company reportedly filed a revised confidential registration statement with the SEC (after initially filing in December), taking another major step towards an IPO. The announcement – unsurprisingly – was met with questions concerning whether the public markets would have appetite for another cash-burning startup. In the days following Uber's IPO and subsequent stumble, this question has become more apt.
Based on financial figures gleaned from bondholder reports, WeWork reportedly had $1.82B in revenue in 2018, translating to 106% growth from 2017. More astonishing than the company's growth, however, were the company's losses, which grew to $1.93B from $933M in 2017. Additionally, it was reported that WeWork only had $2.2B in cash on its balance sheet. Using net losses as a proxy for cash flow, this would imply that the company only has a year of runway before needing another capital infusion (this of course assumes WeWork's losses won't grow again this year). Consequently, the company seems to need a lot of capital, and relatively quickly. Unfortunately, on the heels of Uber's rocky public debut, if WeWork is serious about its IPO, it will need to do a lot to quell the public's concerns about its exorbitant losses and lay out a path to profitability.
Do public investors have appetite for another cash-burning startup?
2019 has seen a few highly anticipated tech IPOs already. Lyft started the movement, demonstrating that a lot of investors were willing to look beyond enormous losses if they believed in the company's story. Alternatively, Zoom Video Communications and its post-IPO trading are an example of the high demand for profitable SaaS companies. Most recently, Uber, which went public last Friday, opened at $42 a share, or ~7% lower than its offering price. If Uber and Lyft are a sign of what's in store for WeWork, investors may want to stay away with a ten-foot pole.
Uber's IPO is likely to dampen at least some startups' eagerness to go public, particularly if profitability is a distant reality. The company took a measured approach, trying to not emulate Lyft's process, and settled on the low end of its pricing range, or approximately $82B – far lower than the $120B price tag investment banks pitched to Uber last year. Uber's bankers wanted to temper pricing expectations, hoping this tactic would increase demand when the company publicly traded. Despite this measure, Uber's IPO still stumbled out of the gates. Much like Uber, WeWork has a complicated business, and its huge losses will draw parallels to Uber's troubled IPO. Uber, even with its seasoned CEO, still failed to convince institutional investors and the public markets that its more mature, larger business warranted a more stable IPO, in contrast to Lyft. This implies that prospects for WeWork are low, and the company may have to take the Box route, valuing itself below its last private valuation.
Still, WeWork will claim it's in a hyper-growth stage, wherein the company is prioritizing growth over profitability, and point to its recent developments (e.g., rebrand to The We Companies and global expansion). This tactic may be more successful if it can convince investors that WeWork should be viewed as a tech company.
Is WeWork a Tech or Real Estate Company?
WeWork has often billed itself as a tech startup, disrupting the real estate industry through its use of proprietary software and data. In its quest to upend commercial real estate, however, WeWork has amassed sizable lease exposures, as exemplified by WeWork's status as the largest private office tenant in New York City. As a quick refresher, WeWork signs long-term commercial leases, renovates the properties, and sells memberships and headquarter spaces to individual users and companies, respectively. WeWork gives users the flexibility of month-to-month memberships with startup amenities, and for corporations, WeWork provides fully-customizable, white-label offices. WeWork's business model has been successful for two reasons: 1) WeWork has drastically reduced the square footage required per person, thereby increasing saleable space and revenue, and 2) it has created workspaces that have drawn a strong millennial following (one need only mention on-tap beer). However, providing co-working spaces isn't groundbreaking at all, and WeWork's competitor IWG has been doing it since 1989.
Nevertheless, WeWork has done an admirable job convincing venture capital firms – mainly SoftBank, which has invested approximately $10B – that it's a tech company, and therefore it commands a tech multiple. Based on its last private raise, WeWork was valued at $49B, translating to a 27x P/S (price-to-sales) multiple. WeWork, though, largely functions as a commercial real estate services company, competing against JLL, CBRE, and IWG. These companies tend to trade between a 0.5x and 1x multiple, largely due the lease exposure and cyclicality of the real estate business. When benchmarked against these companies, WeWork should be valued between $900M and $1.8B.
Through its S-1 and roadshow, WeWork will need to convince potential investors how its business model differs from traditional real estate services companies. WeWork is likely to lean on the slew of acquisitions it has completed as well as its company rebrand. The company has acquired Meetup, a platform that facilitates social interaction through common interests, Teem, a meeting management platform, Euclid, a WiFi spatial analysis company, and Managed by Q, an office management services company, among others. All four of these companies may fit into WeWork's new mission of helping "people live proactively and with purpose." However, using data to create more efficient office layouts and billable services doesn't necessarily represent a paradigm shift in office management – all it may mean is that WeWork is a more efficient real estate services company, not a technical bet on a revolutionary innovation. WeWork will have to do more to convince the public markets that it merits a 27x P/S multiple.
Other items we're reading this week: