Weekly Update #301: As Uber's IPO Approaches, Investors Should Ask If Lyft Is a Fair Comparison
This week's content is brought to you by Risun Udawatta.
As Uber's IPO Approaches, Investors Should Ask If Lyft Is a Fair Comparison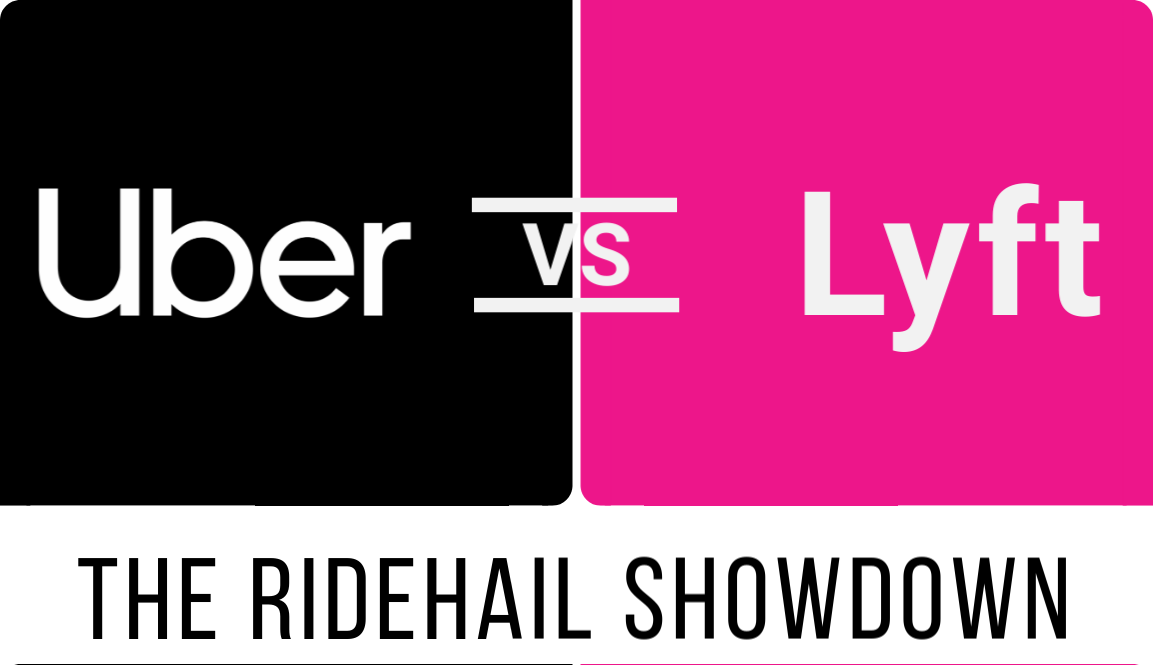 The comparisons drawn between Uber and Lyft aren't new. Lyft was born in the shadow of Uber and officially came to market in June 2012 — approximately two years after Uber had its first ride in San Francisco in 2010. Since then, Uber and Lyft have been aggressively competing to capture the transportation-as-a-service (TaaS) market, albeit with markedly different approaches and focuses. While Uber's IPO filings present a story of growth and diversification at all cost, Lyft has employed a focused growth strategy with steadily improving margins. Over the years, Uber ballooned in size, tackling the TaaS industry globally across six continents and over 700 cities, and Lyft has chosen to focus primarily on the U.S. market. Additionally, Uber has expanded beyond TaaS, joining the food delivery and transportation logistics industries with Uber Eats in April 2015 and Uber Freight in May 2017, respectively. As such, a one-to-one comparison of Lyft and Uber is problematic, as Lyft is largely a pure-play ride-hail company, while Uber has billed itself as a diversified, transportation logistics platform. Nevertheless, with Uber's IPO set to occur on May 10, the public markets will inevitably compare the two transportation pioneers.
Prior to diving in, it's first important to understand the different metrics and definitions that Lyft and Uber have used in their IPO filings and why comparing the two companies is complicated:
Uber has two reportable segments — "Core Platform" and "Other Bets." Core Platform includes ridesharing and Uber Eats, while Other Bets includes Uber Freight and New Mobility (i.e., scooters and bikes). This bifurcation complicates comparisons between Uber and Lyft, as the latter competes against Uber in scooter- and bike-sharing but not in food delivery or freight logistics. Ideally and for ease of comparison, Uber would report four individual segments: Rideshare, New Mobility, Uber Eats, and Uber Freight. Where possible, the below metrics have been adjusted to exclude Uber Freight and include New Mobility.
Uber and Lyft also don't break out their performance by geographic or metropolitan segments. Uber is a global company while Lyft operates primarily in the U.S. The absence of geographic segments obscures the companies' unit economics in their most mature markets (e.g., North America and metro areas such as New York City and San Francisco) and how the two compare.
In calculating Gross Bookings, Uber includes promotions, taxes and fees, while Lyft does not. Excluding these items from Gross Bookings is a closer representation to what Lyft and Uber can actually earn in revenue. Below, a Gross Bookings comparison is excluded as a result of these definitional differences.
Lyft and Uber use different methodologies to account for "Active Riders." Uber defines it as a unique consumer who completes a ridesharing or New Mobility ride or received an Uber Eats meal once in a given month and then averages the number of monthly users for the quarter. Lyft defines it as all riders who take at least one ride on its platform during a quarter. Uber's numbers are inflated by Uber Eats but more accurately represent platform engagement, while Lyft's methodology inflates engagement by totaling Active Riders over a quarter (rather than showing a monthly average).
Uber has a few definitions of revenue, but the below analysis uses "Core Platform Adjusted Net Revenue," defined as Gross Bookings less (i) driver and restaurant earnings, refunds, and discounts, (ii) driver incentives, and (iii) excess driver incentives and referrals. Lyft defines revenue as the service fees and commissions charged to drivers, bike and scooter fares charged to riders, and fees charged to renters under its Express Drive program, net of certain incentive fees. While Uber gives a breakdown of its revenues between ride-share and Uber Eats, it doesn't provide the same disclosures for trips and active riders. As such, Uber's metrics below include Uber Eats to preserve consistency across Uber's metrics.
With these complications in mind, let's dive into the Uber vs. Lyft debate.
Active Riders
The number of "Active Riders" provides a topline pulse on each company's growth. Both Lyft and Uber have focused on increasing this number as it is one of three main levers to grow revenue (the others being fares and number of trips). Uber is the clear winner here, boasting 91 million active riders as of December 31, 2018, in contrast to Lyft's 19 million. Uber's scale isn't surprising given its international footprint. However, Lyft, which focuses exclusively on North America, has been able to grow its Active Riders count by over 170% since 2016 compared to just over 100% for Uber.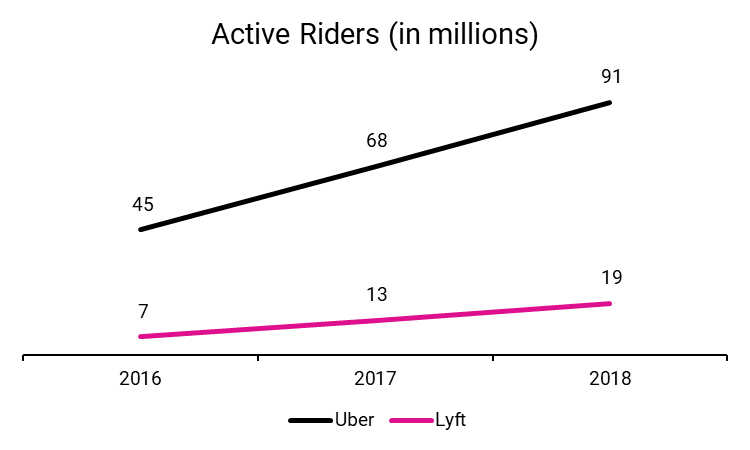 Neither company reports financial performance by geographic segment or metropolitan market, so it's hard to discern Uber's exact U.S. market penetration vis-à-vis Lyft's. Additionally, the TaaS industry isn't a zero-sum game, as these companies can't bar riders from using competitor apps, further complicating market drivers. Riders typically have both apps, opting for the most economical option. Ultimately, Uber and Lyft should disclose geographic segment performance so that the public markets can assess these companies' viability in their most mature markets.
Trips
Given Uber's global reach, it's no surprise that it also eclipses Lyft's trip totals. Uber's impressive trip totals, though, are tempered by its slowdown in trip growth compared to Lyft's. Uber grew trips by 106% and 40% in 2017 and 2018, respectively, versus 131% and 65% for Lyft. Impressively, Lyft has managed to outpace Uber's growth while competing predominantly in the most mature ridesharing market in the world.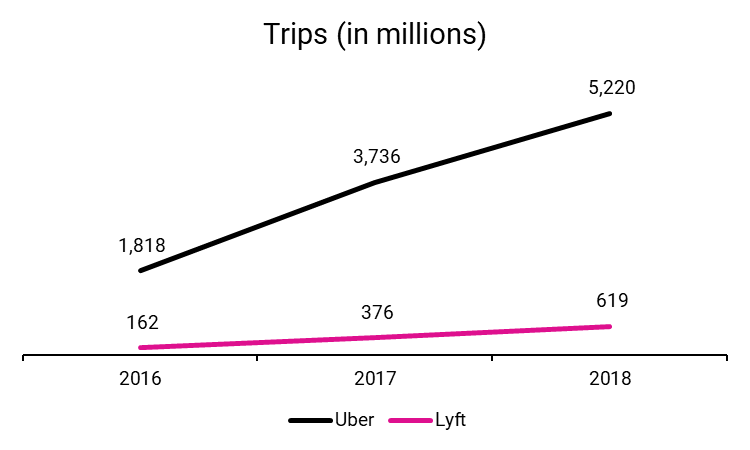 However, it appears that each Uber rider is on balance more engaged than the average Lyft rider. Uber boasted on average 57 trips per rider in 2018, while Lyft managed only 33. Although Lyft is growing trips at a higher pace, Uber's riders use the Uber platform more often, lending credence to Uber's point that other services like Uber Eats increase engagement among existing users. While riders can easily switch between apps, over the last three years, Uber has shown that it's been able to demonstrate stickier customers and a greater ability to re-engage riders.
Revenue Efficiency and Related Metrics
Uber's riders may engage with the Uber platform more but that doesn't necessarily mean they are more valuable. The below metrics imply that Lyft, despite its smaller scale, is getting more out of each rider, taking advantage of a more mature, higher-paying market within the U.S. while Uber's user base has become less efficient from a revenue generation perspective as it expands globally.
On a revenue basis, Uber is five times larger than Lyft. Uber's revenue growth has followed its trip growth, increasing 125% and 39% in 2017 and 2018, respectively. Lyft's revenue growth, on the other hand, has grown at a higher pace than trips, increasing 209% and 104% in 2017 and 2018, respectively.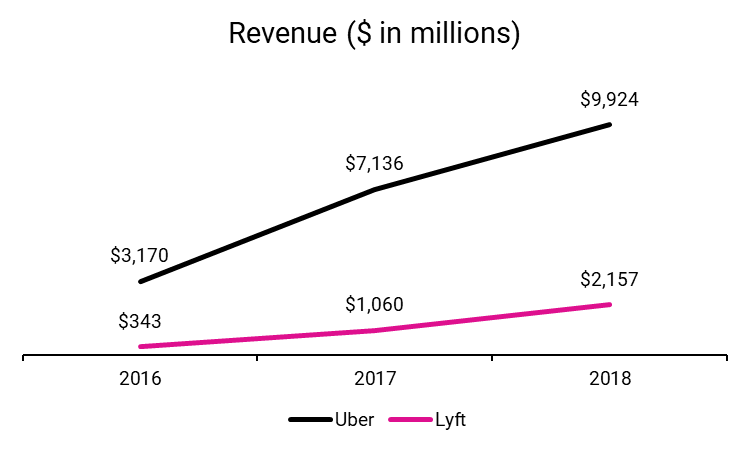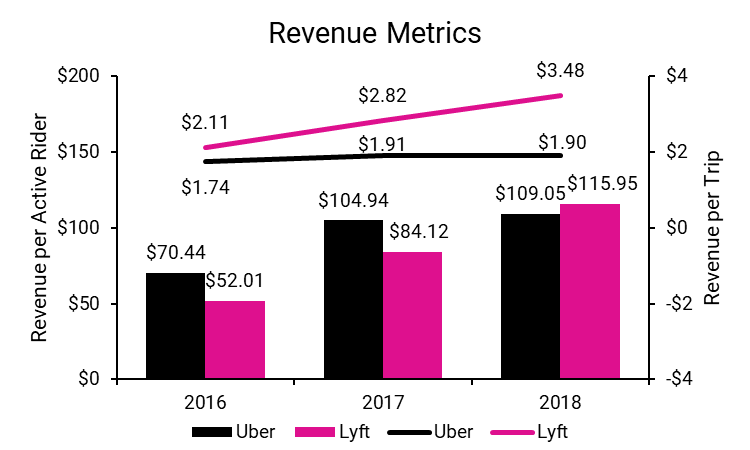 This disparity is due to Lyft's steady increase in revenue per active rider and per trip. Lyft has been able to increase its revenue per trip from $2.11 to $3.48 from 2016 to 2018, respectively, while Uber's revenue per trip has stagnated at $1.90 in 2018. Additionally, Lyft has increased its revenue per rider from $52.01 to $115.95 between 2016 and 2018, surpassing Uber, which increased its revenue per rider from $70.44 to only $109.05.
Revenue per trip is dependent on the mix of services used (i.e., a ride-hail trip presumably has a higher fare than a scooter trip) and local market pricing dynamics, among other things. While it may be troubling to see Uber's revenue per trip stagnate, it speaks towards the company's strategy. Uber's ambitions include amassing a global network and adding adjacent platform services, such as Uber Eats. In doing so, the company's pricing strategy has been aggressive, using promotions to attract and keep riders as it competes with Lyft, Ola, Curb, 99, BlaBlaCar, and others across six continents. Similarly, Uber's revenue per rider has flattened as well over the last two years.
Lyft, on the other hand, has concentrated its efforts on the North American market on its quest to become a one-stop-shop for consumer transportation. This strategy is exemplified by its plan to integrate public transportation options with its network. Lyft's performance shows that it continues to grow trips and amount spent on its platform, and the company has become steadily more efficient at converting riders and trips into revenue. The key question now is whether Lyft will improve steadily towards profitability or will plateau as it converges with Uber.
Looking for a more digestible comparison? Check out our Uber vs. Lyft Infographic! If you're interested in learning more about Lyft, head over to our Lyft IPO Center, where we've housed all our relevant analyses.
Other items we're reading this week: