Weekly Update #300: In War of Attrition, Uber Bookings See Steady Climb as Revenue Flattens
Chart of the Week – In War of Attrition, Uber Bookings See Steady Climb as Revenue Flattens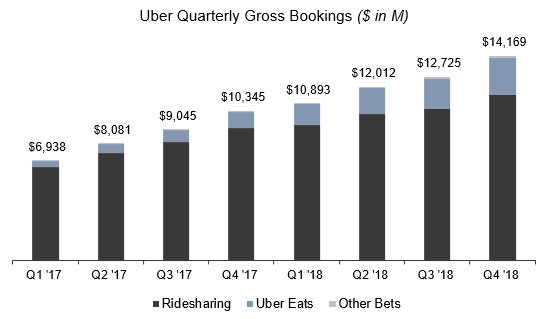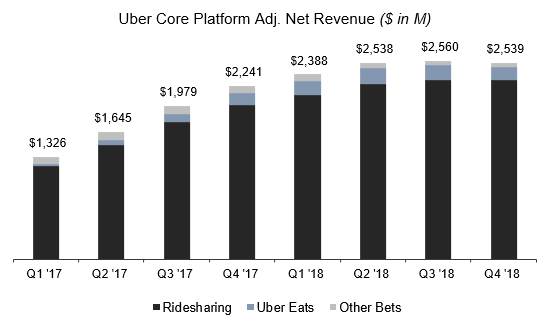 Source: Uber S-1 Filing
Note: Gross Bookings is the total dollar value, including any applicable taxes, tolls, and fees, of Ridesharing and New Mobility rides (e.g., e-scooters and e-bikes), Uber Eats meal deliveries, and amounts paid by Uber Freight shippers. "Other Bets" consists primarily of Uber Freight and New Mobility. Core Platform Adj. Net Revenue is defined as all Uber platform revenue less (i) excess Driver incentives and (ii) Driver referrals.
On April 11, Uber dropped its 395-page (excluding exhibits and schedules) Form S-1 on the investing public in its first step to a May IPO on the New York Stock Exchange. Uber's Form S-1 is over 100 pages longer than Lyft's and contains a glossary full of definitions to help potential investors understand Uber's business structure and parse through its financial performance. Comparisons to Lyft are inevitable, and Uber's disclosures underscore its massive scale compared to its U.S. rival. Available on six continents and in over 700 cities globally, Uber has 91 million monthly active consumers and provides 14 million trips a day, having recently completed its 10 billionth trip. By comparison, Lyft recently hit 1 billion rides and has yet to expand beyond the Canadian and American markets. Unsurprisingly, Uber's annual bookings and revenue dwarf Lyft's, at $49.8 billion and $11.3 billion, respectively, compared to $8.1 billion and $2.2 billion.
However, Uber's global business makes it difficult to size up its financial and operating metrics against Lyft's. In part because Lyft only operates in the U.S. and Canada, which are the most mature ridesharing markets in the world, it has been able to demonstrate a steadily increasing take rate, growing revenue as a percentage of bookings from 21% to 29% over the last two years. Conversely, Uber faces increasing downward pressure on its take rate as it penetrates markets with lower price points and also expands lower-priced products such as auto rickshaws and Uber Bus in certain markets. Moreover, local competition across Uber's global markets has pushed the company to offer additional incentives and referrals to drivers and riders. In particular, Uber Eats' take rate has declined in recent quarters as Uber onboards more large-volume restaurants at lower service fees. As demonstrated above, these efforts have successfully translated into solid gross bookings growth (nearly 37% quarter-over-quarter in Q4 2018) but have simultaneously compressed Uber's take rate, with adjusted net revenue largely flat in the last three quarters of 2018. While Uber's calculations of gross bookings and net revenue do not entirely match Lyft's one-for-one, the companies' diverging take rates highlight directionally the contrasting growth and margin profiles of these two companies.
Should investors worry about Uber's flattening revenue and sinking take rate? And what about Uber's enormous losses?
As with Lyft, we'll be publishing a fulsome review of Uber's S-1 closer to its IPO, in which we'll dig into Uber's expenses and multibillion dollar losses, which are beyond the scope of this analysis. As for Uber's flattening topline, the dynamic described above largely distills down to Uber's multi-front, global price war. Facing competition from 99 and Cabify in Latin America, Taxify in Africa, Ola in India and of course Lyft in the U.S. and Canada, among other global competitors, Uber is engaging in a war of attrition, fueling bookings growth across the world with driver, rider and restaurant incentives meant to undercut the competition and take market share. As the parable goes, money-losing strategies like this are tolerated in the venture capital world so long as the company can show strong growth and position itself as the market leader. Public markets investors, however, will eventually hold a money-losing company accountable and will demand a path to profitability.
These differences between private and public investors of course oversimplify reality (the public can love a cash burning company as much as any VC). Nevertheless, we think Uber will have to demonstrate quite strong bookings growth to public investors to make up for the take rate and margin compression that the company expects in the foreseeable future. Without commenting on Uber's long-term prospects, we think its stock is in for a bumpy ride, and that's probably enough for us to skip this IPO and wait it out.
Other Items We're Reading This Week: