Weekly Update #299: Can Uber Deliver Target Returns to the SoftBank Vision Fund's Investors?
Chart of the Week – Can Uber Deliver Target Returns to the SoftBank Vision Fund's Investors?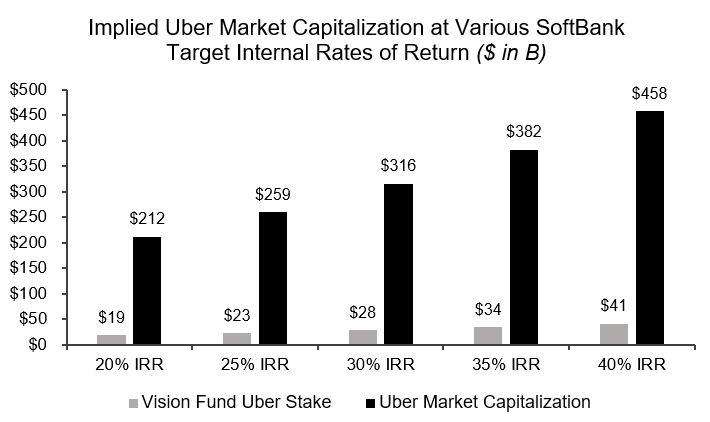 Source: Uber S-1 Filing; EquityZen assumptions
Note: The above analysis is purely illustrative and assumes that (i) the SoftBank Vision Fund will sell its Uber stake by January 2023 (5 years after its initial investment), (ii) Uber will issue 15% more shares in a May 2019 IPO, (iii) Uber will issue 10% more shares every year through January 2023, diluting the SoftBank Vision Fund's pre-IPO ownership in Uber from 16.3% to 9.0%, and (iv) Uber will not pay any dividends through January 2023.
Although ride-hail unicorn Lyft hasn't been public for even a month, attention has quickly shifted to its larger, global competitor Uber, which filed an initial Form S-1 with the SEC last week. For the first time, the investing public has access to detailed financial and operating metrics as well as a more granular breakdown of Uber's ownership structure. The ride-hail giant's Form S-1 reveals that SB Cayman 2 Ltd., which is wholly-owned by the SoftBank Vision Fund, is Uber's largest shareholder with over 222 million shares translating to a 16.3% ownership stake. SoftBank acquired its stake in Uber through two different investments in January 2018: (i) SoftBank invested over $1 billion in Uber's Series G-1 round, purchasing over 21 million shares at $48.77 per share and also (ii) purchased over 200 million shares from existing investors in a secondary transaction at $32.97 per share. In total, SoftBank spent nearly $8 billion at a weighted average share price of $34.49 to become Uber's largest shareholder.
SoftBank has undoubtedly changed the face of venture capital, as we covered in a prior report on its tech investments, with $100 million+ rounds becoming the norm out of its $100 billion Vision Fund. The Vision Fund's gargantuan bets on some of Silicon Valley's elite companies, such as Uber, have begged the question—can SoftBank deliver competitive equity returns to its Vision Fund limited partners ("LPs")? Using only Uber as a litmus test of SoftBank's strategy, we ran the numbers on how valuable Uber would have to become over the next few years to meet SoftBank's target returns. We assumed the following in our analysis:
Given SoftBank's late-stage strategy, we assume the Vision Fund is targeting typical private equity returns of approximately 20% to 40% (or 2.0x to 4.0x multiple on invested capital)
Private equity funds typically expect to exit their investments in 3 to 5 years, so our analysis assumes SoftBank will sell its Uber stake in January 2023, which will be 5 years after its initial investment
While SoftBank currently has a 16.3% ownership in Uber, we assume that its stake will decrease to just over 9% by January 2023 as Uber issues 15% more shares in its IPO and 10% more per year over the next 4 years
Finally, given Uber's significant losses, we assume that the company will not pay any dividends to its shareholders through January 2023, which would otherwise boost SoftBank's returns
So, how much will SoftBank's $7.7 billion investment in Uber have to be worth by 2023? If SoftBank wants to return at least a 20% internal rate of return ("IRR") to its LPs, SoftBank will have to more than double its investment to over $19 billion. At a 20% IRR, this would imply a $212 billion valuation for Uber, or 2.1x its anticipated $100 billion public debut. Assuming the Vision Fund is more ambitious, 30% and 40% target IRRs would imply valuations of $316 billion (3.2x IPO valuation) and $458 billion (4.6x IPO valuation), respectively, for the ride-hail company by January 2023. For reference, at a 20% IRR, Uber would be valued more than each of Comcast Corporation, PepsiCo, Netflix, and PayPal. At a 40% IRR, the company's market cap would be nearly equal to Facebook's and would be greater than the market caps of technology giants Intel and Cisco.
Can Uber really reach a valuation of over $200 billion in fewer than 4 years from now? Looking at some of the other tech giants, it's actually not that much of a longshot, but you have to be pretty confident that Uber will hit and maintain its $100 billion target IPO valuation. For comparison, Facebook debuted on the Nasdaq in 2012 at a valuation of over $80 billion and was able to double its valuation to over $160 billion in just over 2 years. Similarly, Google went public in 2004 at a valuation just over $50 billion and was able to crack a $100 billion market cap only 1 year later. That being said, Facebook made $1.8 billion in operating income in the year prior to its IPO, which contrasts starkly with Uber's over $3 billion in operating losses last year. Despite being much smaller than Uber at the time of its IPO, Google was also profitable by the time it went public, generating $343 million in operating income in 2003.
Nevertheless, at a $100 billion market cap, SoftBank's Uber investment would be just under halfway there to a 20% IRR for its LPs, and Uber hasn't made a cent since its founding 10 years ago. SoftBank may very well have the last laugh here.
Other Items We're Reading This Week: