Weekly Update #292: Early Lyft Investors Expecting Staggering Payday as IPO Appears Imminent
This week's content is brought to you by Adam Augusiak-Boro.
Chart of the Week – Early Lyft Investors Expecting Staggering Payday as IPO Appears Imminent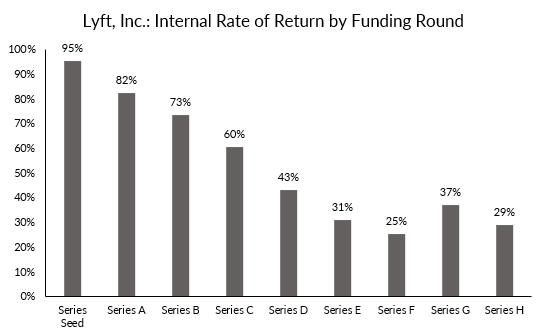 Note: EquityZen analysis above is illustrative only and displays implied returns to previous Lyft investors assuming they exited shortly after Lyft's Series I Funding Round in June 2018. Illustrative returns derived from analysis of company regulatory and securities filings.
In an otherwise sleepy year for tech IPOs, Lyft has reignited investor focus on the public markets after news leaked that the ride-hail company would soon be filing its IPO paperwork publicly and commencing a roadshow to market its public debut as soon as mid-March. If all goes according to plan, we could see Lyft trading on the Nasdaq by the end of March or early April. According to news reports, Lyft is targeting a valuation between $20 and $25 billion, which would be substantially above its last private valuation of approximately $15 billion (check out EquityZen's "Lyft: Path to $15B" for a detailed look at Lyft's valuation history).
A $25 billion valuation is a big number, but what does it mean for Lyft's investors? Below, we dig into just how large some of the investor paydays could be.
Since venture capital and private equity firms typically measure their performance in terms of internal rate of return (IRR) or multiple on invested capital (MOIC), we analyzed each of Lyft's funding rounds to see how its investors would have performed along these metrics. Since we don't know exactly where Lyft will trade upon IPO, our returns analysis assumes Lyft's investors exit at its latest private valuation of $15 billion after its Series I funding round. Unsurprisingly, the data confirms the benefits of getting in early on a future unicorn—Series Seed investors, which included notable VCs like Keith Rabois, would realize a 95% IRR and a staggering 210x MOIC. Series B investors, which include Peter Thiel's Founders Fund, would realize a 73% IRR and 23x MOIC, while Andreessen Horowitz, which participated in Lyft's Series C round, could expect a 60% IRR and 11x MOIC. To put these returns into perspective, a 3x MOIC is the traditional threshold for a "good" investment in the VC industry.
But what about the later stage investors? As we move beyond Lyft's Series C round, the returns drop off substantially. However, the risk profile of late-stage investors, which increasingly includes private equity firms and corporations, is considerably different from their angel, seed and other early-stage colleagues. "Good private equity returns" typically translates into an IRR of 20% to 40%, as these investors tend to deploy capital in more stable, proven enterprises. Lyft's implied returns for its late stage investors range from 25% to 43%, which would hopefully meet the returns thresholds of Series E investors like Fortress Investment Group and Rakuten or Series G investors like KKR. Other late-stage Lyft investors include Coatue Management (Series D), Icahn Enterprises (Series E), General Motors (Series F), and CapitalG (Series H), all of which seem to be tracking to strong returns on their investments.
Assuming Lyft hits its IPO target valuation of $20 to $25 billion, these implied returns would obviously improve. This begs the question—can Lyft reach its valuation goals?
We'll delve into this topic at length upon Lyft's public S-1 filing (check our Knowledge Center for continuous Lyft updates), but here are some initial thoughts. Lyft's closest comparable company is of course Uber—despite Uber's global reach and burgeoning businesses like Uber Eats, Lyft is its only major competitor in the U.S. ride-hail market. Uber reportedly finished 2018 with just over $11 billion in revenue and is supposedly targeting an IPO valuation as high as $120 billion, implying that Uber is valued at nearly 11x its revenue. EquityZen estimates that Lyft hit $2 billion+ of revenue in 2018, which would imply a revenue multiple of ~10-12x at Lyft's target IPO valuation range, in line with Uber. Lyft is also growing much faster than Uber (~50% 2018 revenue growth vs. Lyft's ~100%), which would theoretically support a higher revenue multiple. A similar revenue multiple to Uber may imply that investors are offsetting Lyft's faster growth with Uber's global presence and the perceived potential of Uber Eats, Uber Freight and other Uber business segments.
Lyft's public IPO filings will give investors a much clearer picture of the company's value proposition. High-level financial information is helpful, but investors are yearning for details on Lyft's market share growth, average fare per ride, driver churn, and longer-term plans for Lyft's non-ride-hailing businesses (scooters and bikes) and its autonomous vehicle program. As Lyft updates continue to surface, we'll be sure to keep you updated via our Knowledge Center.
Other items we're reading this week: