Weekly Update #289: If An Economic Slowdown Arrives, Which Startup Sectors Are Better Prepared?
This week's content is brought to you by Risun Udawatta
Chart of the Week – If An Economic Slowdown Arrives, Which Startup Sectors Are Better Prepared?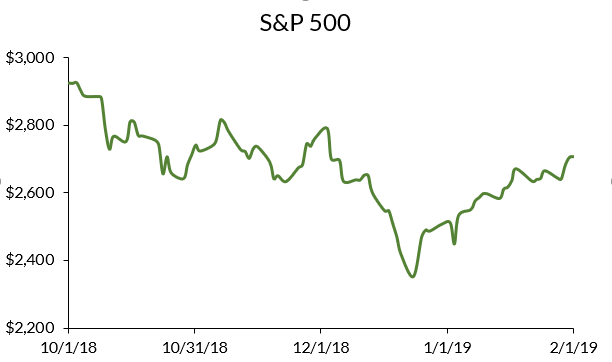 Source: YCharts as of 2/1/2019
The stock market over the last four months has been quite a rollercoaster ride. The market has seen large swings, driven by rising interest rates, trade war concerns, and weakening economic indicators. The S&P 500 saw sustained losses in December, losing 305 points intramonth, and on December 24th, 2018, the market briefly entered in a bear market, defined as a 20% drop from the most recent high. With an increasingly volatile stock market, safety is a growing priority for investors.
VC-backed companies and other growth-oriented investments are typically not viewed as "safe" or defensive from an investment standpoint. That said, some of these companies may fare better than others in a shifting economic climate. In our view, the following characteristics will likely contribute to more resilient valuations across the cycle:
Profitability – startups that are profitable, on an EBITDA and Free Cash Flow ("FCF") basis are more likely to weather a downturn. Positive FCF means the company is generating more cash than is used to run the business. Consequently, a startup doesn't need venture capital to sustain operations, which dry up in tightening markets. EBITDA, on the other hand, is a measure of the company's operating performance. This metric is important in a downturn, as companies will seek alternative financing, such as debt, to maintain operations. Companies with negative EBITDA will find it harder to raise debt, as EBITDA is a universal metric used in financing.
Sticky Customer Base – in times of volatility, companies and customers reduce spending, focus on essential purchases, and seek alternative, cheaper products and services. Sticky customers are more likely to continue purchasing goods and services during slumps and not seek out cheaper goods.
Low Capital Expenditures – low capital expenditures translate to lower cash outflows and potentially an easier route to positive FCF. Startups have cash restraints, as they are usually unprofitable – meaning higher capital outlays may require startups to raise funding sooner. Therefore, startups that can delay or reduce capital expenditures will be in a better position­­­­.
Cash Balance – a high cash balance, usually through recent funding rounds, is important for startups during market volatility, as they may not be able to raise capital, venture or otherwise. As a result, a high cash balance will allow them to continue to spend, grow and sustain negative free cash flow.
Three industries with these characteristics include Enterprise SaaS, Beauty / Consumer Staples, and Security.
Enterprise Software-as-a-Service
The enterprise software-as-a-service (SaaS) business model has changed how many companies operate. Historically, companies kept mission-critical business processes inhouse, but enterprise SaaS startups provided a cheaper, subscription-based model for these applications. By abandoning the inhouse model, customers became dependent on enterprise SaaS companies. Therefore, enterprise SaaS startups are in a unique position to sustain operations in a market downturn, as companies will be required to continue subscriptions.
Additionally, these startups have low capital expenditures when compared to their revenue. IT infrastructure has fundamentally changed with the emergence of merchant cloud-computing offerings. Startups no longer have large capital expenditures to create an entire IT infrastructure to maintain their software and now rent server capacity on a variable cost basis. As a result, enterprise SaaS startups have the added benefit of paying variable costs, dependent on demand in a slowdown.
Beauty / Consumer Staples
The beauty and consumer staples industries produce products that are needed on a recurring basis, and as a result, this sector has historically been immune to slowdowns. The beauty sector has the added benefit of having non-cyclical goods. For example, luxury cosmetics are not subject to the same effects of a market downturn, as individuals who can afford these products are usually not affected by volatility. On the opposite spectrum, beauty and consumer staple products can have relatively low price points, lessening the need to seek alternative brands.
These companies, accordingly, operate with a sticky customer base that will continue to purchase goods on a recurring basis, despite a market downturn.
Security
Companies across all industries are increasingly focusing on security. As the number of data breaches and cyberattacks rises, executives are expanding budgets on security services. A market slowdown would not change the underlying demand for security services, as the threat of attacks will remain.
Thus, startups in this sector have sticky customer bases, as their services have been deemed mission critical. Additionally, much like enterprise SaaS startups, security services are usually delivered through the cloud, which lowers capital expenditures and increases variable costs.
Other Items We're Reading This Week: