Weekly Update #288: As Streaming Platforms Proliferate, Where Does the Industry Go Next?
This week's content is brought to you by Risun Udawatta.
Chart of the Week – As Streaming Platforms Proliferate, Where Does the Industry Go Next?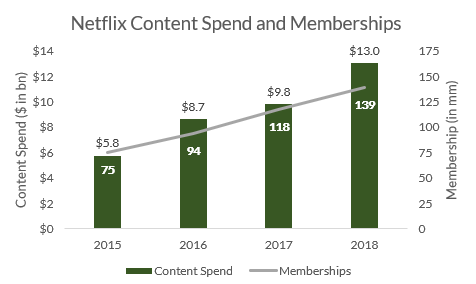 Source: Netflix
2018 proved to be another strong year for Netflix. The company boasted 139 million members and spent $13 billion on content, an 18% and 33% increase over 2017, respectively. Over the last four years, Netflix's membership has grown steadily along with its content spend. Recently, the company has focused on original content creation over licensing, with its Chief Content Officer Theodore Sarandos disclosing that 85% of new spending will be on original content. Netflix and other streaming services, through massive membership numbers and spending, have brought about a paradigm shift in the entertainment industry and in how their members consume content. Netflix helped enable the consumer trend towards binge-watching, making entire TV show seasons available at once, by acquiring exclusive rights to popular shows and movies, like The Office, Friends, the Marvel movie series and others. Hulu, on the other hand, allowed networks to reach consumers under an ad-supported platform. Both companies ultimately led the cord-cutting movement by providing their platforms at a fraction of the cost of traditional cable subscriptions. With new entrants coming in 2019, we've wondered—what's next?
As Netflix became a household name in the same vein as Google, Facebook and Apple, the cord-cutting movement became a real threat to cable companies. Since 2007, other streaming companies, both tech giants and niche content providers, have steadily entered the market. Amazon joined in 2011 with a re-branding, adding Amazon Prime Video to its Prime membership. The latest major contender is Google, which launched YouTube TV in 2017. Adding to an already crowded field, traditional cable and satellite companies also launched their own streaming services to make up for losses among traditional cable customers. For example, Dish Network launched Sling TV in 2015, which is an over-the-top internet television service.
With the competitive landscape now saturated with streaming options, the industry is facing numerous changes and challenges. For example, the current model of acquiring exclusive licensing rights may not be viable long-term. As media mega-mergers continue, new owners of content libraries are moving away from licensing TV shows and films to established streaming platforms. For example, Disney is wrapping up its acquisition of 21st Century Fox, which owns the Star Wars and Marvel film franchises. These films have traditionally been exclusively licensed to Netflix, but Disney announced in 2017 that it would launch its own streaming service in 2019, which will have exclusive rights to the Star Wars and Marvel films once its licensing agreements with Netflix expire. Similarly, AT&T entered the streaming space with the acquisition of Time Warner, now called WarnerMedia. WarnerMedia owns HBO and the rights to Wonder Woman, Harry Potter and The Big Bang Theory, among other well-known TV shows and films.
Despite the immediate financial impact of forgoing licensing fees, some companies are willing to stomach the economic pain to bolster homegrown platforms. With licensing waning, established players have been changing course. Netflix, Hulu and Amazon have pivoted to creating more original content than ever before, and the fruits of these labors are becoming apparent. In a report by Parrot Analytics and S&P Global Market Intelligence, audience demand for Netflix originals is expected to surpass that of licensed content this year. Netflix's Chief Content Officer commented on the company's Q4 earnings call that the "vast majority of the content that's watched on Netflix are our [Netflix's] original content brands." Sarandos disclosed that by the end of 2018, the Company will have 1,000 original movies and TV shows and 85% of new spending will be on original content. As part of that effort, Netflix increased content spend to $13 billion in 2018, up from $9.8 billion in 2017. FAANG-colleague Amazon has established a studio to create and own content and includes movies and TV shows like The Big Sick, The Marvelous Mrs. Maisel, and The Man in the High Castle, among others. Hulu has also been creating original content, including The Handmaid's Tale and The Looming Tower. So far, the pivot to original content seems to be working, as many of these films and TV shows have made waves throughout the award ceremonies (see: Roma, The Handmaid's Tale, and The Marvelous Mrs. Maisel).
Consumers already feel overwhelmed by the number of films, TV shows and other content available to them on numerous streaming platforms. Managing multiple subscriptions with different log-in information and payment options has already become a pain point for many. This problem will only worsen as more streaming platforms pop up, such as Disney+ and Apple's highly-anticipated streaming service. An industry marked by cord-cutting, proliferation, unbundling and largely centered around pioneers Netflix and Hulu, may end up mimicking the traditional cable model. The plethora of services available is leading consumers to seek bundled services for ease of use. Tech giants like Amazon and Google may have an upper hand here; these companies have the tech expertise to support the highest-quality bundled platforms. For example, Amazon Video Channels already gives customers the ability to subscribe to various content providers. Moreover, Google has expanded the world's original streaming platform, YouTube, into YouTubeTV.
Unfortunately, we think the traditional cable providers will continue to shed customers, and they're not in the best position here to pivot their businesses towards much lower margin streaming platforms. We think this is another win for the tech giants—after all, Google and Amazon don't need to make money off their streaming services and can severely undercut competitors without that luxury. As for Netflix, we think they'll continue to eschew any remnant of traditional linear TV, instead focusing on a stand-alone, premium movie and TV entertainment network. It will be interesting to see if a Netflix subscription remains valuable enough to consumers as they embrace the bundled TV streaming platforms of the future.
Other items we're reading this week: