Weekly Update #287: 2018 U.S. Tech IPOs Largely Maintaining or Exceeding Private Valuations
This week's content is brought to you by Adam Augusiak-Boro.
Chart of the Week – 2018 U.S. Tech IPOs Largely Maintaining or Exceeding Private Valuations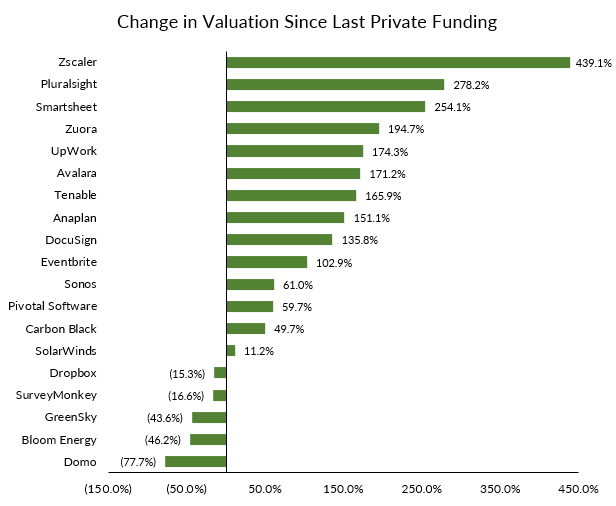 Source: YCharts as of 1/14/2019; VCExperts; Crunchbase
As we discussed in our 2018 Tech IPO recap from last week, 2018 saw nearly 45 tech companies debut on U.S. exchanges, selling approximately $28 billion of company shares to public investors for the first time. Given the volatility and general market downturn in Q4 of last year, it's no surprise that most of 2018's newly-public companies continue to trade below their IPO prices. However, 19 of these companies are currently trading above their IPO prices, with some providing returns of 30%-40% since IPO. Moreover, so far in Q1 2019, almost 40 of these companies are in the black with an average YTD gain of approximately 15%.
Nevertheless, since EquityZen operates in the private markets, we wanted to delve a bit more deeply into how 2018's IPO class is faring compared to their private market valuations. Due to information limitations, we narrowed our list of approximately 45 tech IPOs to the 27 U.S.-based companies that went public last year. From there, we were able to find publicly disclosed private valuation estimates for 19 of those 27 U.S.-based companies. When comparing current market prices to the last private valuations of each of these 19 companies, we found a much different picture than last year's Q4 market meltdown would suggest. Overall, public valuations today are higher than private valuations, with 14 of 19 companies exceeding their most recent private valuation. In fact, due to companies like Eventbrite, DocuSign, UpWork, and Zscaler, 10 of 19 companies have market caps today that are over 100% higher than their last private valuations. There are of course companies struggling to maintain their private company glory, such as Domo, Bloom Energy, and GreenSky, but there are far fewer than the market turmoil headlines of recent months would imply.
So what does this all mean?
Among our sample set of 19 newly-public companies, the average company remained private for nearly 15 years before its IPO, which begs asking: are public market investors missing out on most of the value creation? In trying to answer this question, we certainly do not suggest that we are providing the complete picture by delving into this group of companies—private company data remains limited, and we are only dealing with a subset of U.S.-based companies that went public just last year. What we are reminded of, however, is that while tech companies are increasingly creating more value in the private markets and are delaying IPOs, entrepreneurs that succeeded in taking their companies public did so believing they would be around for the long-haul and would continue their successes in the public markets.
While the gargantuan private valuations granted to certain tech startups certainly raise some eyebrows, entrepreneurs today plan to be around for a while, hoping to generate strong returns for investors for decades to come, whether in the private or public markets. While no doubt some investments turn out well and some turn out poorly, EquityZen's goal continues to be providing increased access to these entrepreneurs and their endeavors while they remain private.
Other items we're reading this week: