Weekly Update #285: As iPhone growth engine wanes, where does Apple go next?
This week's content is brought to you by Adam Augusiak-Boro.
Chart of the Week – As iPhone growth engine wanes, where does Apple go next?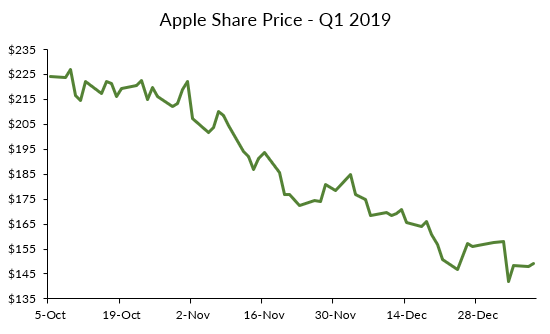 Source: YCharts as of 1/7/2019
The market has not been kind to Apple stock throughout the first quarter of Apple's 2019 fiscal year. After becoming the first American company to hit a $1 trillion market cap, Apple's stock price has fallen dramatically since its 52-week high of $233.47 per share. At the time of this writing, Apple is trading at around $149 per share, a nearly 34% drop from its peak. For perspective, Apple has lost over $400 billion in market cap over the last three months, or roughly the entire value of Facebook today. Remarkably, Apple is still valued at over $700 billion, which is greater than the individual GDPs of 170+ of the planet's 195 UN-recognized countries. So, let's not feel too badly about Apple's market woes.
Concerns over trade wars, slowing global growth, and political uncertainty, among other things, have battered not just Apple but the entire market over the last few months. And after Apple revised its guidance for Q1 2019 last week, lowering revenue forecasts from previously stated $89-$93 billion to $84 billion, the only way for Apple's stock was down yet again. By now, analysts have written ad nauseam about the root causes of Apple's downward revision. Reasons cited include a continuing slowdown of the Chinese economy (as well as stronger domestic competition from companies like Huawei), Apple's iPhone battery replacement program, slowing product innovation, and high price points for Apple's new iPhones and other products, to name a few. Regardless of which side you take in the Apple slowdown debate, it's clear that one of the biggest issues facing the company is that the smartphone market is now quite mature. Apple has sold over a billion iPhones over the past decade, and it would be unreasonable to expect the same growth over the next decade.
But wait. Folks have been discussing the maturity of the smartphone market for at least the last couple years and probably substantially longer than that. The market didn't suddenly realize last week that Apple would struggle to replicate its historical iPhone sales growth going forward. Maybe certain investors were caught off guard by the rare downward revenue revision, but a $700 billion+ market cap says Apple still has a few tricks up its sleeve as it weens itself off the iPhone. So, where does Apple go next?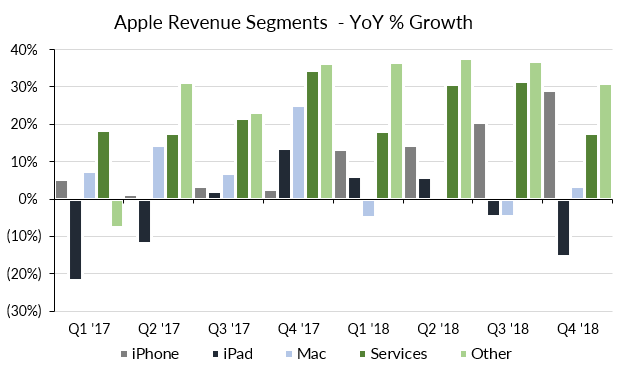 Source: YCharts
Services. This is an obvious path for Apple—once you've sold over a billion iPhone devices, you start to sell your consumers services that they can enjoy while using their iPhones. Apple doesn't break out its services revenue streams, but this segment includes things like Apple iCloud, AppleCare, Apple Pay and other digital content and services like the iTunes Store, Apple TV and the App Store. And this segment is enjoying strong growth—on average, Apple services have grown 25% quarterly over the last two years. That compares to average quarterly growth of only 11% for iPhone sales. With nearly $40 billion of estimated revenue over the last twelve months, Apple services would be a formidable company in its own right. Facebook and Netflix, the "F" and "N" in the ubiquitous "FAANG" acronym, hit $52 billion and $15 billion in revenue over the last year, respectively. Assuming Apple services grows revenue 25% in 2019, this segment will be nearly the size of Facebook.
Unsurprisingly, the market values recurring, subscription-based services businesses at a premium to say a hardware business, which Apple arguably is. Using market data from last Friday's close, Apple traded at a market cap to sales (P/S) multiple of approximately 2.7x, compared to Facebook's P/S of nearly 8.0x and Netflix's P/S of nearly 9.0x. If Apple's services segment were valued like Netflix, it'd be worth approximately $350 billion, not much less than social media giant Facebook. This multiple arbitrage is not lost on Apple's management and shouldn't be lost on investors either. Tim Cook recently noted that Apple's installed base of active devices hit a new all-time high and grew by more than 100 million units in the last year. The iPhone has been a colossal success—the next challenge for Apple will now be transforming its iPhone business into a services platform that can grow as quickly as "Apple-the-iPhone-maker" has over the last 10+ years.
But let's not forget about hardware. Apple reportedly sits on nearly $240 billion of cash and cash equivalents. The company also spent $16.7 billion on capital expenditures in 2018 and anticipates spending another $14 billion this coming year. With that kind of capital cannon, Apple may very well be working on the next silver bullet (Maybe it's smart glasses? Or a self-driving car?) while it continues to produce highly-regarded products like the Air Pods and the new Apple Watch. Apple's veil of secrecy makes it difficult to predict exactly which direction it will go in, but we shouldn't forget that Apple is used to answering, "where does Apple go from here?" pretty convincingly. I wouldn't count them out this time around either.
Other items we're reading this week: