This week's content is brought to you by Risun Udawatta.
Chart of the Week – Amazon, Already the Dominant Cloud Provider, Vows to Dominate Even More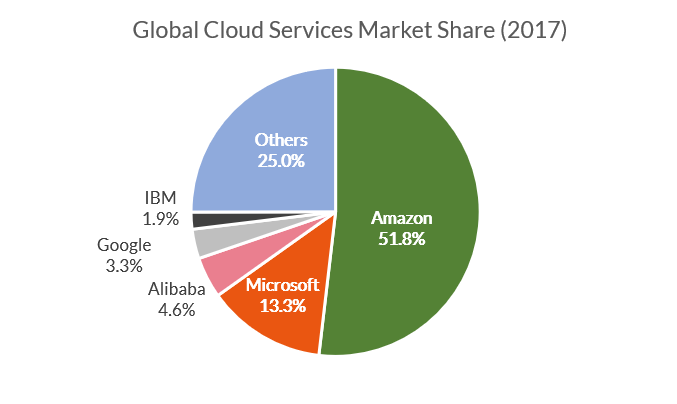 Source: Gartner Research
Amazon (NASDAQ: AMZN) held its annual Amazon Web Services (AWS) re:Invent conference last week. While every year it is characterized by the breadth of features announced, this year was markedly different as Amazon made clear that it was cementing itself as the global cloud hegemon. Based on a report by Gartner Research, Amazon was the number one Infrastructure-as-a-Service provider in 2017, with a 51.8% market share, beating out rivals Microsoft, Alibaba, and Google. In Q3 2018, Amazon reported $6.7bn in net sales for AWS, representing 46% year-over-year growth and 12% of Amazon's total net sales. AWS is now the fastest growing segment of Amazon.
At re:Invent, Amazon's feature and product announcements ranged from an enterprise data center called AWS Outposts – a counter to Azure Stack – to a peculiar launch of Ground Station, a managed service that lets customers control satellite communications. A full list of announcements can be found here. With these feature launches, it's abundantly clear that Amazon's go-forward strategy will be to go head-to-head with its competitors, whether that be Microsoft Azure, Oracle or Red Hat, to eventually dominate every aspect of the cloud market. Andy Jassy, CEO of AWS, even took direct aim at Oracle at re:Invent, portraying Oracle-founder Larry Ellison's face on a slide demonstrating AWS' dominant market position.
AWS poses a very real and present threat to cloud service providers and prospective innovators in the space. As Amazon goes all in on AWS, many startups may be in its crosshairs. As a result, these startups will not only have to provide superior value – either through product or pricing – but also convince customers to choose their platform over Amazon's all-in-one platform. To add insult to injury, AWS has repeatedly been criticized for its one-way use of open source technology. Tom Krazit, Geekwire's Cloud & Enterprise Editor, has characterized AWS as circumspect about its views on open source, explaining that AWS has a "penchant for siphoning off the best parts of open source for commercial gain." Many startups and tech companies contribute their software to open source repositories and rely on providing said software as a service, only to find out that Amazon has integrated their code into AWS – a legal practice but one that tends to ruffle feathers in the developer space. Critics argue that this tactic neutralizes competitors and is fueled by Amazon's endless ability to fund expansion. As a startup, going up against Goliath may be too challenging or cost prohibitive.
This year has shown that Amazon's strategy may be working as the company solidifies its position in the industry. In conjunction with re:Invent, Korean Airlines announced that it would be going all-in on Amazon Web Services, "running its website, loyalty programs, flight control systems and other key operations in the cloud." Korean Airlines agreed to a 10-year contract with AWS. Other notable companies going all-in are DoorDash and Ryanair. Additionally, Goldman Sachs surveyed 100 CIOs at public companies with annual revenue of more than $1 billion, asking which public cloud providers they currently used; 56% of CIOs responded that they used AWS, followed by 49% who responded with Microsoft Azure. AWS has established itself at the forefront of the cloud services industry.
It is truly an exciting time for the cloud. Startups and major tech companies are racing to provide as many features as possible, while aiming to secure long-term contracts with clients. Amazon has recently responded to pressure to contribute to the open source initiative, specifically by making Firecracker open source, but it is unlikely that Amazon changes direction completely. We believe Amazon will continue to expand AWS' services and functionalities – taking advantage of open source technology– to dominate the market and further exert pressure on the viability of smaller competitors.
Other items we're reading: