Weekly Update #274: 2019 IPOs May Serve as a Bellwether for Private Tech Elite
Chart of the Week – 2019 IPOs May Serve as a Bellwether for Private Tech Elite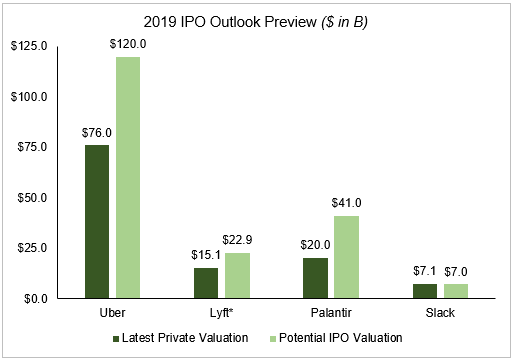 Source: Uber, Lyft, Palantir, Slack
*Lyft IPO valuation estimate based on revenue estimate of $2B in 2018 and Uber's implied P/S Multiple ($120B / $10.5B revenue expected in 2018 = 11.4x)
2018 has already been quite a successful year for IPOs, with 173 IPOs raising $45.7 billion so far through the end of the third quarter. The value raised is 46.5% greater than cash raised in the same period last year and more than three times that of 2016. However, the 2019 IPO schedule is perhaps the most heavily anticipated IPO season since the Dotcom era nearly two decades ago. Investors have been told to expect IPOs from Silicon Valley's elite private companies, including Uber, Lyft, Palantir, Slack and potentially other household tech names. These few companies may serve as the bellwether for tech IPOs in the coming years and will shed light on whether the recent massive influx of private capital into the tech industry has been well spent.
As we near the end of 2018, here are some predictions for 2019's IPO activity:
Uber could equal Alibaba's listing as the largest IPO in history. Back in 2014, when Alibaba listed on the New York Stock Exchange, the company raised a record-breaking $25 billion, which is still the largest IPO in history. However, just in the last couple of weeks, the Wall Street Journal reported that Uber could be valued up to $120 billion in a 2019 IPO that the company has stated it is pursuing. If Uber raises the typical amount for a company of this size, IPO proceeds could potentially eclipse the Chinese ecommerce giant's 2014 record. For reference, that would be more than half of the $44.5 billion raised by all tech companies in the US in 2000, the peak of Dotcom era market exuberance.
While Uber chases Alibaba, Lyft may get to their IPO first. As we discussed in a prior newsletter, Lyft has made their intentions clear to IPO as soon as early 2019, and has grown revenue and decreased operating losses at a faster rate than Uber since 2014. Uber is still several times larger than Lyft in terms of revenue ($7.4B vs. $1.1B in 2017 revenue) and geographic presence (65 countries vs. 2 countries), but this hasn't slowed down Lyft's IPO ambitions. Assuming Lyft trades similarly to Uber, we could see Lyft attaining a nearly $23 billion valuation in a potential IPO next year. However, reports indicate that Lyft's lead underwriter, J.P. Morgan Chase, has valued the company closer to $15 billion, which is in line with Lyft's most recent private valuation.
We may finally get under the hood at Palantir. According to media reports, the data-mining company most often associated with the words "elusive" and "secretive" has been engaged in discussions with Morgan Stanley and Credit Suisse as part of a potential IPO as early as 2019. Palantir hasn't received private capital since 2015, when it was valued at $20 billion, and has faced criticism for its role in helping law-enforcement agencies identify crime suspects, among other controversies. The notoriously opaque company has also been subjected to significant write-downs, including a nearly $16 billion write-down from its favorite investment bank, Morgan Stanley, from earlier this year. However, the capital markets desk at Morgan Stanley seems to think otherwise, reportedly ascribing a $41 billion valuation to Palantir in a potential IPO.
There may be no 2019 IPO boom at all. Despite all the media hype, capital markets conditions are known to turn on a dime. As I write this newsletter, the Dow Jones Industrial Average has dropped almost 550 points while the Nasdaq Composite flirts with correction territory, as concerns over the health of China's economy and the impact of trade tariffs rattle the global financial markets. As we head into 2019, private tech companies may no longer find a market receptive to their shares. Moreover, there's no guarantee Uber, Lyft, Palantir or any of their Silicon Valley peers will actually decide to take the plunge and go public. Slack is another company that has been widely touted to go public in 2019, although as recently as last year CEO Stewart Butterfield stated that a Slack IPO was still a long way off.
EquityZen will be releasing a more fulsome 2019 IPO Outlook in the coming weeks, so stay tuned for more analysis on the next major tech IPOs. In the meantime, check out our 2018 IPO Outlook to refresh your recollection of last year's most-hyped potential IPOs.
Other items we are reading: