Weekly Update #270: Forget the Ride Hailing Wars--the Food Delivery Wars Are Heating Up
Chart of the Week - Forget the Ride Hailing Wars--the Food Delivery Wars Are Heating Up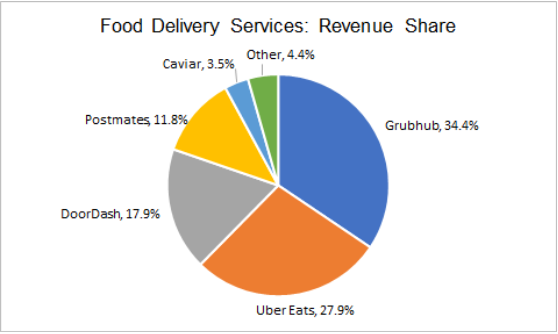 Source: July 2018 revenue market share in the United States according to Edison Trends
While there's been much focus on the race for ride hailing supremacy, with Uber, Didi Chuxing and their competitors challenging each other at every corner of the globe, the food delivery market has been heating up as well. Just in the past year, the main food delivery rivals have received a staggering amount of money, with Postmates raising $300 million in September and DoorDash clinching nearly $800 million in two separate funding rounds this year. Uber, which has entered into the food delivery space with Uber Eats, is currently valued at $76 billion after receiving $500 million in funding from Toyota. Incumbent leader, Grubhub, which went public in 2014, has seen its stock rise 89% to a market cap of over $12 billion since the beginning of the year.
Unsurprisingly, Postmates, DoorDash, Uber Eats and Grubhub have emerged as the frontrunners in a four-way race for dominance in the U.S. market. Grubhub continues to lead with a 34.4% market share, although Uber Eats has risen quickly since its 2014 debut to 27.9%. DoorDash and Postmates are also formidable rivals, at 17.9% and 11.8% market share, respectively, and on the heels of massive funding rounds to grow their businesses. Although the food delivery services market remains hypercompetitive, there is plenty of whitespace for smaller competitors to chase. According to analysis by Morgan Stanley, the market could grow to $220 billion by 2020, compared with current sales of around $30 billion.
Who will win the food delivery wars? We're not going to make a prediction just yet, but we think it may come down to one thing--funding. With the food delivery market projected to grow over 630% by 2020, there is enormous room for these companies to grow rapidly as restaurants increasingly shift sales online. Capital to fund expansion will be critical as these companies fight over the same consumers, drivers, and restaurants, and having the money to offer incentives to all parts of this market is increasingly important. This is an industry where the barriers to entry are relatively low (compared to sectors with more sophisticated technology), and where competitors can really only differentiate themselves by consistently offering a greater breadth of restaurants and broader geographic penetration with quick delivery times.
This may explain why companies like DoorDash have decided to stomach the ownership dilution and take on funding in rapid succession. According to its CEO Tony Xu, DoorDash plans to triple its markets to over 1,800 cities by the end of 2018 while also adding 250 employees to enable this growth. Capital will also be deployed to ink large restaurant partnerships, such as Uber Eat's delivery arrangement with McDonald's and Grubhub's arrangements with KFC, Taco Bell and Yum! Brands. Similarly, DoorDash has partnered with Chipotle to offer free delivery for a limited time on minimum orders of $10. This rapid growth and the concessions offered to partner restaurants are costly but may be key to food delivery dominance, as consumers increasingly order food based not on which restaurant they want but rather which delivery app is most convenient.
Other items we are reading: