Weekly Update #267: 2018 IPOs -- Window Still Open, but Could SEC Be A Headwind for Listings In 2019?
Chart of the Week: 2018 IPOs -- Window Still Open, but Could SEC Be A Headwind for Listings In 2019?
2018 has been a solid year for tech IPOs. Year-to-date, a total of 14 VC-backed companies have gone public and another two are on deck for listings (SurveyMonkey and Eventbrite recently filed S-1s). At this pace, 2018 is tracking to modestly exceed 2017 in terms of the number of companies filing for offerings. Despite the uptock, listing activity will likely fall short of robust 2013-14 levels, though, when over 60 companies made their public debuts.
IPOs by Year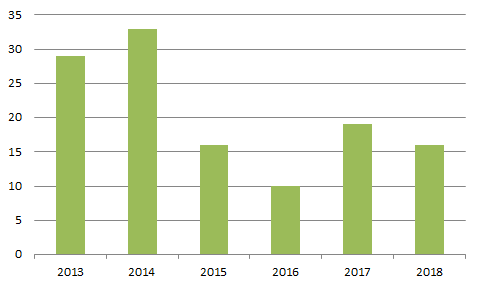 Source: NASDAQ, EquityZen Estimates
Grass is still green in public markets...The good news for bankers: the IPO window looks like it is still open for tech companies. SaaS multiples (SaaS forms the bulk of tech IPOs) are well above historical averages and currently stand at their highest levels since the beginning of 2017. Companies prefer selling equity into strong valuation environments like this in order to maximize proceeds from their offerings and minimize dilution for investors.
Historical SaaS P/S Muliptles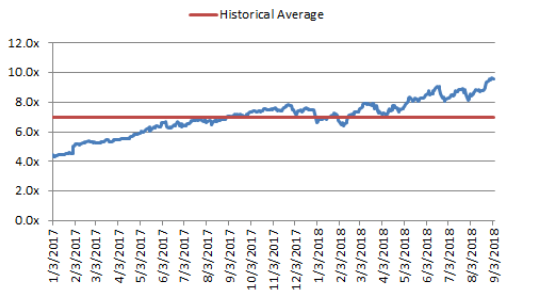 Source: Ycharts
...but will unicorns leave their private stables? At EquityZen, we have argued that strong private market capital availability has been a key contributor in delaying startup IPOs over the past several years, despite favorable public market conditions. A recent SEC announcement may perpetuate this trend. In an interview late last month, SEC Chairman Jay Clayton suggested the agency may look into opening up private markets to retail investors that have historically been locked out of this arena. While there is no certainty that any regulatory changes will take effect, we believe broadening access to startup investments could have a meaningful impact on private market liquidity and capital costs. Private markets are by no means the new public markets, but some management teams might find prolonging their stay in the former just a bit more attractive down the road.


Other Items We Are Reading: