Weekly Update #266: Softbank Will Need Gargantuan Exits to Meet Return Expectations
Chart of the Week: Softbank Will Need Gargantuan Exits to Meet Return Expectations
This week's content brought to you by Andrew Zhan and Adam Augusiak-Boro
Last week, we published a report highlighting the colossal undertaking Softbank faces in delivering competitive returns to its investors from its unprecedented $100 billion Vision Fund. Vision Fund has been a hot topic in the venture world since its inception just over one year ago given its size (by far the largest in VC history) and its investment pace. In the past year alone, the fund has deployed a record $40B, including key investments in Uber ($9.3B), WeWork ($2B), Doordash ($0.5B) and Compass ($0.5B). We provide a data-driven analysis to illustrate what it will take for Softbank to successfully monetize these bets.
Key findings from our report include:
Assuming an internal rate of return ("IRR") of 20%, which is quite modest by VC standards, we estimate that SoftBank will have to generate over $142 billion in cash for the Vision Fund by the end of its life (12 years minimum). For reference, it took Amazon 16 years from IPO to reach this valuation.

In reality, we believe investors will look for higher returns to compensate for the riskiness of SoftBank's underlying investments -- likely in the range of at least 30 to 40%. This translates to a confounding $35 to $55 billion of required cash generation per year in the second half of the fund's life.

Drilling down to the investment level, these return hurdles require massive exit valuations for Vision Fund's underlying portfolio companies. For example, at a 40% IRR, the $9.3 billion SoftBank-led investment in Uber implies a $1 trillion plus valuation if Uber goes public towards the end of the fund's life. Apple took nearly 38 years to reach its record-breaking $1 trillion valuation.
Required Exit Valuations for Vision Fund Portfolio Companies Uber and WeWork to Generate 20% Return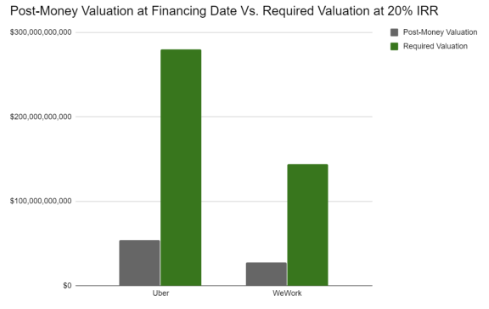 Source: EquityZen estimates
Required Vision Fund Portfolio Company Valuations at 20, 30 and 40% Return Hurdles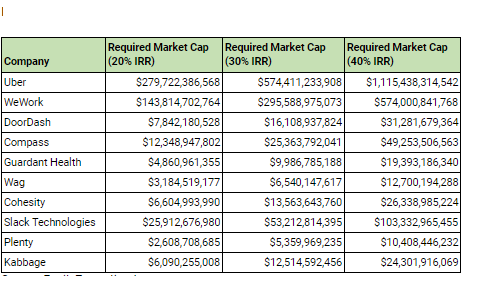 Source: EquityZen estimates
While the jury is still out on whether Vision Fund can pull this off these feats, one thing that is clear is the impact it is having on the VC landscape. Masayoshi Son, Softbank's CEO, has been quite transparent that one of his primary objectives is to provide entrepreneurs with limitless capital to pursue the next generation of technological innovation. With a $100 billion checkbook and a clear appetite for tackling the most polarizing tech companies, the Vision Fund is crowding out competition, proliferating megarounds and lowering the cost of capital across the VC sector. We believe these themes are only likely to grow as other VCs follow suit with their own megafunds to compete, as Sequoia has recently done.
To read more, please download our report here.


Other items we are reading: