Weekly Update #265: Is Spending on Proprietary IT Driving Inequality Among Companies?
Chart of the Week - Is Spending on Proprietary IT Driving Inequality Among Companies?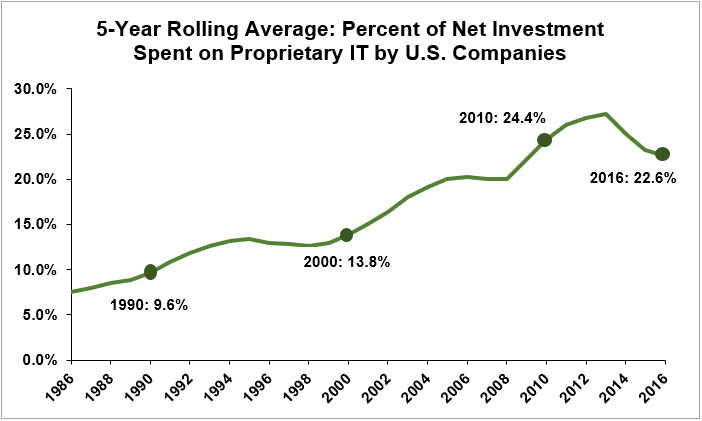 Source: Based on data from the Bureau of Economic Analysis
If you feel like the corporate landscape is increasingly splitting into groups of winners and losers, with the biggest corporations seizing outsized economic spoils, then you would be correct. As the WSJ notes, the dominant tech companies like Amazon, Google and Facebook, as well as their peers in other industries, are pulling ahead in every meaningful measure of prosperity, including revenue, profits and productivity. For example, since 2001, productivity has grown over 44% among the 5% most productive U.S. service companies. Conversely, all other U.S. service companies have grown only ~7% more productive over the same time horizon.
While there are multiple hypotheses floating around to explain the diverging fortunes of these companies, a new viewpoint focuses on company investment spending patterns. As made clear in the chart above, the increased inequality among the nation's companies has come with strong growth in spending on proprietary IT systems, which has increased from ~7% in 1986 to a rolling average of nearly 23% in 2016. A company's proprietary IT spending goes towards creating software to be owned and used exclusively by the home firm, such as the software developed to enable Amazon Web Services or Facebook's artificial intelligence capabilities.
While some economists believe that previous technological advancements would diffuse throughout the private sector, bringing greater prosperity to all companies, the most successful companies of today are hoarding proprietary IT at the expense of everyone else. This viewpoint comes to the forefront as some economists also believe the tech titans are on their way to monopoly.
How should these trends impact investment decisions, particularly in emerging companies hoping to challenge the status quo? We have a few viewpoints below on how to mitigate the negative effects of IT-hoarding:
While it may be difficult to find startup investments with all of the characteristics above, investors may also benefit from legislative action in the future, as governments consider IP and antitrust policies meant to alleviate the effects of IT-hoarding.
Other items we are reading: