Weekly Update #264: NYC Ride-Hailing Facing a Screeching Halt
Hello Investors,
As brought to you by Andrew Zhan:
Charts of the Week - NYC Ride-Hailing Facing a Screeching Halt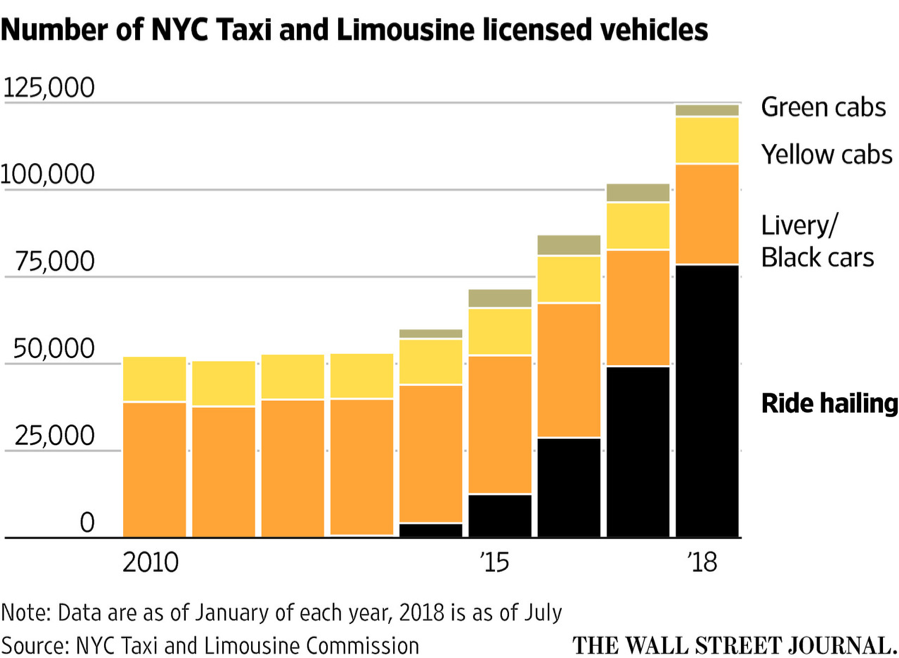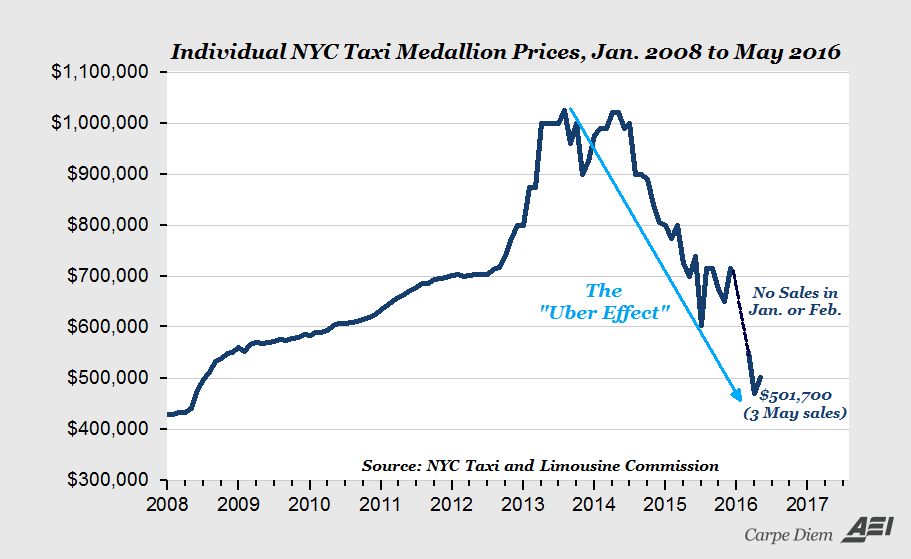 Last week, the New York City Council imposed a package of bills that instituted several changes--most notably, a one-year freeze on new for-hire vehicle licenses.
How and why did we get here? The story starts 7 years ago…
On May 4, 2011, Uber launched its app into New York City, the company's first expansion outside San Francisco, with access to just 100 cars to transport passengers around the city. Since its launch, other ride-hailing services, such as Lyft and Via, have entered into the fray, bringing in 80,000 additional vehicles to the city.
The rise of these on-demand ride-hailing services has revolutionized the way New Yorkers are able to travel. These services are a relatively cheap and convenient mode of transportation, and are replacing the archaic subway and traditional taxi system for many city dwellers.
However, these ride-hailing services have created negative consequences for both the city and its drivers. The rapid influx of vehicles has caused increased gridlock and traffic across the city. According to the NYC Department of Transportation, the average travel speed in Midtown is down to just 7.1 mph, a 22% decrease from 2010. In addition to travel speeds, the increased competition has caused taxi medallion prices to plummet. Previously priced at an average of $1 million in 2013, the value of a medallion has sunk below $200,000 today. Many of these taxi drivers who had previously taken out loans to acquire these licenses are left in a precarious situation as both their yearly earnings have crashed due to increased competition and their once prized medallions have sunk to a fraction of their original value. The issue has become so grim that at least six taxi drivers have committed suicide in the first half of this year. To address this issue, the passage of the bill also included a provision for a $17.22 per hour minimum wage for ride-hailing drivers.
So will this bill help solve these issues? The debate is quite heated to say the least.
In corner one, we have New York Mayor, Bill de Balsio: "Our city is directly confronting a crisis that is driving working New Yorkers into poverty and our streets into gridlock. The unchecked growth of app-based for-hire vehicle companies has demanded action – and now we have it."
In the other corner we have Uber: "The city's 12-month pause on new vehicle licenses will threaten one of the few reliable transportation options while doing nothing to fix the subways or ease congestion."
Uber is already scrambling to find ways around this legislation as the company is set to IPO next year. As Anand Sanwal, chief executive of CB Insights states, "[i]f it changes their growth trajectory, that could have an impact on their valuation and the narrative around the company."
Other items we are reading:
The guy in charge of Magic Leap's 'go to market strategy' just left the company
Magic Leap's headset is real, but that may not be enough
How much WeWork is too much WeWork?
IPOs are too expensive and cumbersome
ClassPass Singapore launch taps Asia fitness tech potential
What the Facebook Crypto team could build
A private Tesla backed by Saudi Arabia might not be as far-fetched as you think