Weekly Update #258: United States VC Funding Sector Mix Evolves Over Time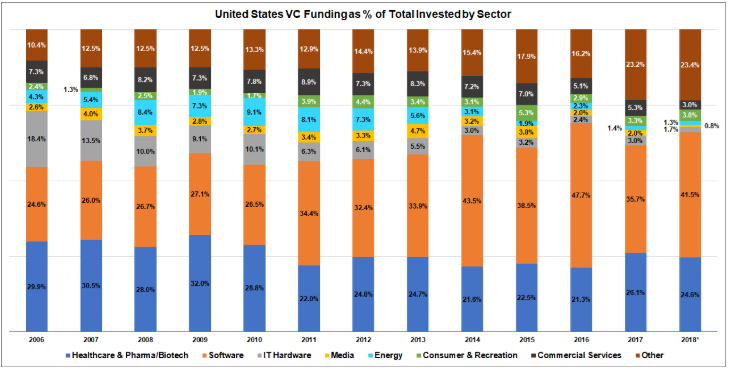 * Data as of March 31, 2018
Source: National Venture Capital Association
Source: National Venture Capital Association
US annual VC funding in 2017 topped $80B, the highest amount since the dot-com era, with the software, healthcare and pharma & biotech sectors leading the charge. These sectors collectively brought in over $51B from US VCs out of almost $83B invested in total. 2018 is also on pace to be a record-breaking year--as of the end of Q1 2018, over $28B of VC capital had already been invested (a run-rate of nearly $113B for 2018). So far this year, software startups have taken in the most capital, receiving almost $12B of VC funding as of Q1 2018.
While sector allocation of US VC funding has remained relatively stable over the last couple years, the sector mix that US VCs are targeting has experienced significant change since 2006. We note some observations on US VC funding sector trends and potential opportunities for investors below:
Technology is just starting to disrupt several sectors, which US VCs are chasing as they increasingly diversify their portfolios. While investments in the "Other" sector category above totaled around 10% of all US VC investments made in 2006, these sectors have more than doubled their share of the VC funding market (received over 23% of US VC funding in 2017 and Q1 2018).

Sectors in the "Other" category include commercial transportation, capital markets/institutions, financial services, agriculture, chemicals & gases, mining, and textiles, among others.

We believe that this investment trend has a long tail and may present interesting opportunities for investors going forward as new companies form

.

Software has grown into the most prominent sector for US VC investing over the last 12 years. In 2006, the software sector took in approximately a quarter of all funding. Today, software's allocation has increased to over 40% in Q1 2018 (the sector received as much as nearly 48% of all US VC funding back in 2016). While software is clearly the dominant sector so far in 2018, other industries may offer less competitive financing environments for investors looking to deploy capital, as discussed below.

Investments in the energy sector experienced strong and stable growth from 2006 through 2012 and then quickly tapered, particularly after the oil and gas crash began in 2014.

From

$114 per barrel

in the summer of 2014, the price of oil quickly sank to

below $30 per barrel

in early 2016.

However, with oil prices climbing to over

$70 as of today

, the traditional energy sector may begin attracting VC capital in greater amounts as the sector recovers and the prospect of strong returns arises again.

Similar to the energy sector, IT hardware has also shrunk as a percentage of all US VC funding received. Investments in this sector have declined steadily since 2006, dropping from over 18% of all funding received to 1.7% in Q1 2018.

However, hardware is increasingly important in sectors that are experiencing strong growth, such as

food and agriculture

. Hardware may also prove to be meaningful among frontier markets, like

cannabis

; although a nascent market, this sector may present meaningful opportunities for investors in the future.
Other items we are reading: