Weekly Update #257: Tech Tumbles Amid Trade Tussles
Chart of the Week - Tech Tumbles Amid Trade Tussles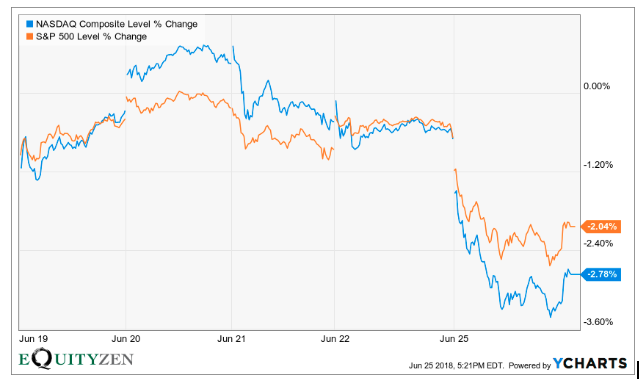 Source: Ycharts
Concerns over escalating trade tensions with China roiled Wall Street over the past week, with tech shares hit disproportionately hard. The NASDAQ Composite (which is heavily tech-focused) slid 278bps since early last week, underperforming the S&P by ~70bps.
How will the trade concerns impact Silicon Valley investors? Difficult to say at this point as the full scope of trade policy has yet to be finalized and - as is many times the case - the devil is likely to be in the details. Further, unlike public markets where sentiment and expectations are immediately evident, any impact from trade will take time to feed into private valuations given lags between funding rounds. We note some potential ramifications of the new trade initiatives for startups below:
Tariffs will have a direct impact on the price of imports, crimping profitability at companies that source components from overseas. Hardware companies have meaningful exposure here. Further, as

Wired magazine notes

, Chinese suppliers are important for firms that leverage the Open Compute Project (which includes many prominent internet firms).

Revenue pressures may increase if trade frictions hurt

broader economic growth and business sentiment

. Startups may face additional hurdles in reaching growth targets against this backdrop.

On top of tariffs, the US administration is reportedly also looking to

restrict Chinese investment in US firms

, including start-ups. Lower Chinese investment flows could have a meaningful impact on valuations in future funding rounds -- China has accounted for

10-16% of the investment

in US venture-backed companies over recent years.

Domestic investment flows could slow as well. Large corporates are another important source of venture funding as well as a key driver of exits (via acquisitions). Lower profitability from margin and/or revenue pressures could weigh on free cash flow for these firms and may suppress their M&A/investment appetites.
Other items we are reading: