Tech M&A activity slowing. With tech IPO volume lagging in recent years, acquisitions have become a more important source of startup exits. M&A, however, appears to have hit a rut itself. According to Crunchbase data, acquisition volume is on pace to total just over $1.1T this year compared to $1.5T in 2016 and $1.7T in 2015. Note that 2017 deal volume is annualized based on YTD activity.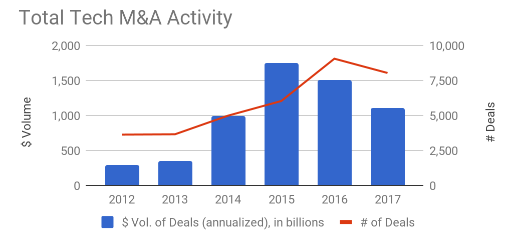 Source: Crunchbase
Top 10 acquirers showing less appetite. A handful of companies account for a meaningful number of domestic tech acquisitions including Alphabet, Microsoft, Apple, Intel and Cisco. Similar to the trend noted above, these companies have pulled back on M&A YTD. Deal volume for this group tends to be choppy, however, owing to a handful of mega-deals (defined here as >$5B -- 2016 was a blockbuster year for these). Notably, though, smaller "tuck-in" acquisitions have declined consistently since 2014. Among these transactions, 2016/2017 volumes are nearly half of the average over 2012-2014.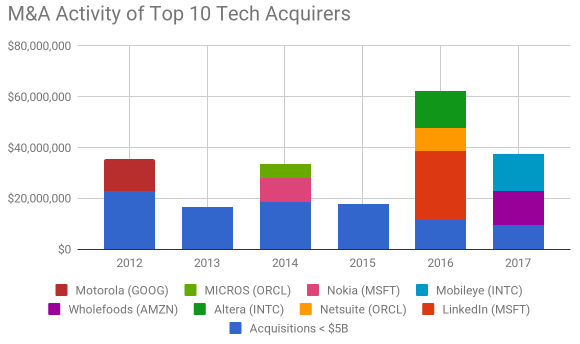 Source: Company filings (Alphabet, Microsoft, Apple, Facebook, Oracle, Intel, IBM, Amazon, Cisco and Qualcomm)
When will top tech firms get their M&A mojo back? Unclear. We believe several factors have been responsible for the slowdown in tech acquisitions in recent years:
Vibrant venture capital funding environment. The same forces that are delaying IPOs could be leading some companies to push off potential sales.

Wider bid-ask spreads. Private tech valuations grew frothy in 2014/2015 and may have set unrealistic price expectations among some companies.

Waiting for a repatriation holiday. Tech acquisitions are largely cash deals and for tax reasons, a lot of large tech companies hold a significant portion of their cash stores overseas (a Citigroup estimate pegs this at

$2.5T

). A tax holiday to repatriate these funds could spur these companies to invest more of these cash in domestic startups.
We will continue to keep an eye out for signs that tech M&A spigots may be loosening. Notably, the recent tax plan proposed by Republican lawmakers would push the repatriation rate on cash to 12% (from 35% currently), which may be a positive catalyst for deals if/when it passes. Near-term, though, we expect tech firms to remain selective and to focus on strategic acquisitions in areas that have been tagged as high priority, including Cybersecurity, Artificial Intelligence and IoT. Artificial intelligence in particular has seen a significant uptick in mentions on recent earnings calls.
AI mentions on public earnings calls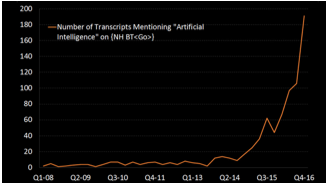 Source: Bloomberg