Hello Investors,
A Closer Look at Domo's S-1
Domo filed an S-1 on 6/1/18, kicking off its journey to the public markets. The startup, which provides business intelligence software to over 1,500 customers globally, plans to list on the NASDAQ under the ticker "DOMO". Timing, pricing and size of offering are still TBA.
Bottom Line -- Likely A Tough Sell: Domo's S-1 offers the first public glimpse into the company's performance, as management provided only very limited disclosure previously. Overall, while solid revenue growth is a positive, we believe investors will likely focus more on the startup's steep operating losses and weak cash position. A competitive business intelligence landscape may also weigh on valuation, in our view.
Heading for a down round IPO? Based on our initial estimate, we believe the company could be valued at ~$1.0B versus the $2.2B implied valuation from its last private funding round. Our valuation estimate is based on a FTM revenue estimate of $145M (assuming 25% revenue growth) and comparable multiples of 7-8x.
Domo Valuation Analysis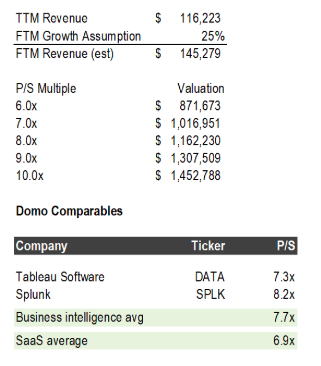 Source: Company filings, Ycharts and EquityZen estimates
We have included several key takeaways from Domo's S-1 below, along with key metrics comparison at the end.
Domo S-1 Excerpt

Source: Company filings
Operating results have underperformed.

Domo's overall operating performance has fallen far short of other peers heading towards IPO. On average, SaaS company operating margins have hovered around -50% before going public. Domo, by contrast, has been generating much wider losses, exceeding 100% of revenue.
Operating Margins in Quarters Leading up to IPO: Domo vs. Peers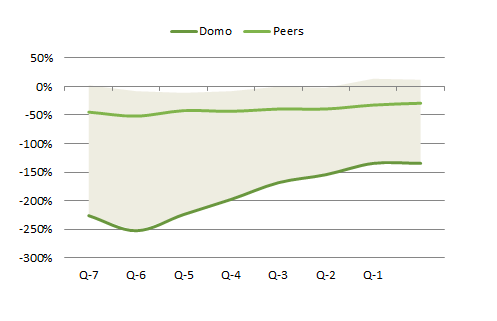 Source: Company filings and EquityZen estimates
Underlying fundamentals also lackluster.

Gross margins and contribution margins are among the key pillars supporting overall operating results among SaaS companies. Domo stacks up poorly on both counts. Gross margins are weak, particularly compared to its closest competitors (DATA and SPLK). Further, the company's payback period for new customers appears lengthy. Most startups look to recoup

the cost of acquiring new customers in 12 months

or less. Domo, by contrast, seems to require more than two years, with contribution margins for its 2016 customer cohort (which it selected as a "typical" representation) of -196%, 52% and 58% in years 1, 2 and 3, respectively.
Gross Margin Comparison: DOMO vs. DATA
Source: Company filings and EquityZen estimates
Formidable competitive landscape could stand in the way of operating turnaround.

The business intelligence market has become increasingly crowded, with notable players including Microsoft BI, Tableau (DATA) and Splunk (SPLK). As Domo notes, some larger competitors even bundle business intelligence in with their other offerings, effectively offering these services for free. Against this competitive pricing backdrop, we believe gross margin improvement will be challenging. Additionally, Domo's above-peer sales & marketing spend may continue as the startup competes for share, further crimping overall profitability.
Sales & Marketing Spend as a % of Revenue: Domo vs. Peers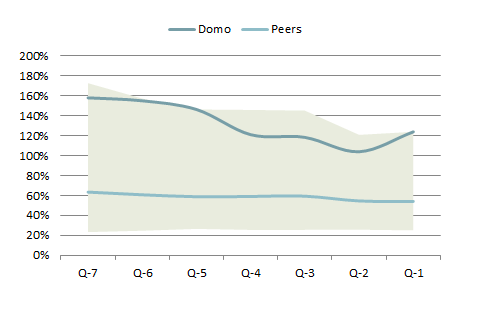 Source: Company Filings and EquityZen
Corporate governance may be a handicap. Domo's dual-class common structure will leave voting power concentrated with CEO after IPO. We note that public investors have managed to look past this unwelcome governance feature in the past (FB and SNAP come to mind); however, those companies were generally supported by stronger fundamentals heading into their public debuts. A combination of weak fundamentals and weak governance could be a tougher pill to swallow.
Key Metrics Comparison
Revenue CAGR 7 Quarters Leading up to IPO: DOMO vs. Peers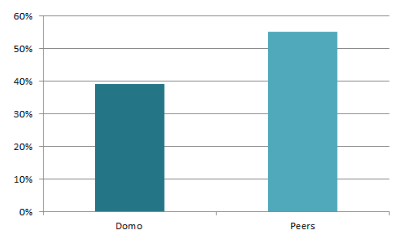 Source: Company Filings and EquityZen
Gross Margins: DOMO vs. Peers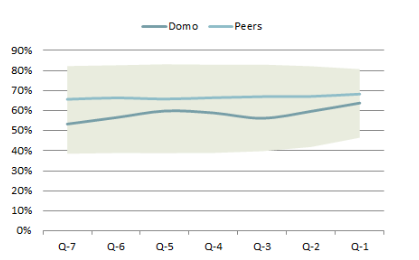 Source: Company Filings and EquityZen
Operating Margins: DOMO vs. Peers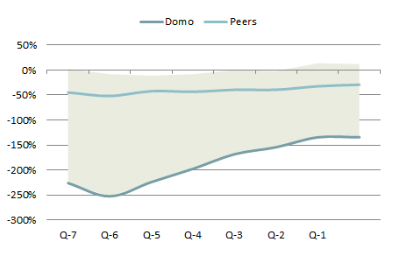 Source: Company Filings and EquityZen
G&A to Revenue: DOMO vs. Peers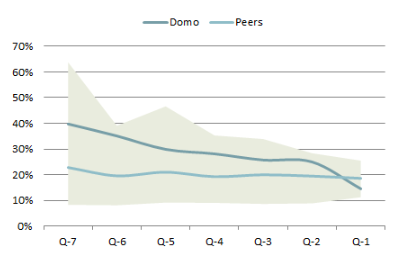 Source: Company Filings and EquityZen
R&D to Revenue: DOMO vs. Peers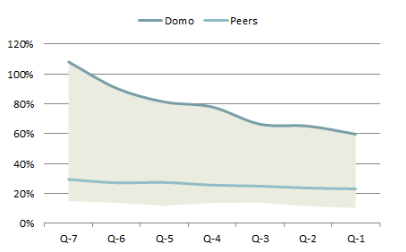 Source: Company Filings and EquityZen
Other items we are reading:
Thanks,
Catherine Klinchuch
Finance & Research Lead, EquityZen