FinTech company GreenSky filed their S-1 last week. GreenSky serves as a technology middleman between merchants, consumers and banks to facilitate financing for bigger-ticket purchases like home improvement items (it has also recently expanded into elective medical procedures). The company, which is largely PE-backed (and not VC-backed), plans to list on the NASDAQ with the ticker "GSKY". GreenSky was among EquityZen's IPO predictions included in our recent EquityZen IPO Outlook - Q2 Update.
GSKY appears set for a strong FinTech debut, with the midpoint of its pricing range pointing to a $4.2B valuation. We estimate this translates to a forward P/S of 11-12x, assuming revenue grows 10-15% from its 2017 level of $325M. This compares favorably to the ~1-2x P/S multiples observed among FinTech lenders like Lending Club and On Deck.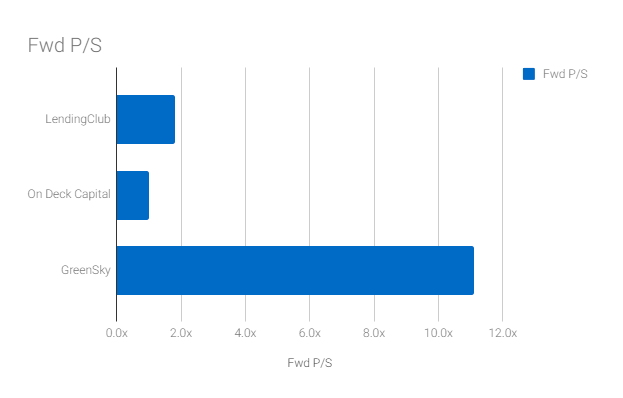 Source: Ycharts and EquityZen
While seemingly pricey at first glance, GreenSky's model is differentiated from peers in several key ways that we believe likely justify a stronger valuation. Some (quick) notes from the filing:
Attractive revenue growth. GreenSky realized ~50% revenue growth in 2016 and just over 20% in 2017, above that of its peers. The company's revenue is derived almost entirely from transaction fees on loans originated using its platform. GSKY is looking to expand into other industry verticals beyond its current home improvement and elective healthcare focus (e.g. online retail, auto repair and jewelry loans), which we believe could pave the way for further revenue growth streams going forward.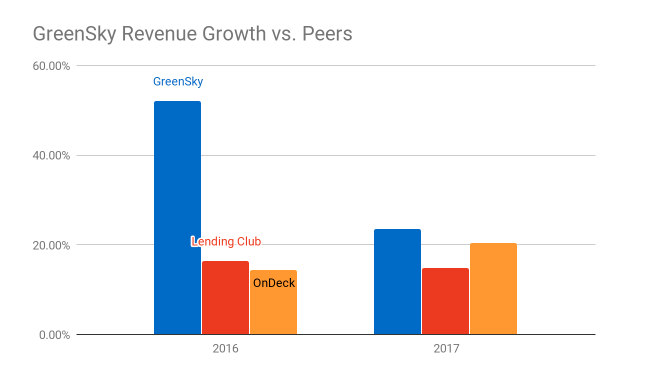 Source: Company filings
A de-risked approach to the online lending market. GreenSky relies on established banking partners (incl. SunTrust, Regions and Fifth-Third Bank) to originate and own the loans facilitated through its platform. As such, the company does not directly bear credit risks or funding risks related to these loans. The latter has been a particular concern at other FinTech lending businesses that have historically relied on whole loan sales to fund their operations.
Efficient marketing. GreenSky spends significantly less on sales & marketing than peers. At least part of this is likely due to GreenSky's strategy of marketing to merchants, which in turn offer lending options to their customers at point of sale. This compares to models that reach out directly to end-consumers -- a much larger and likely costlier market to target.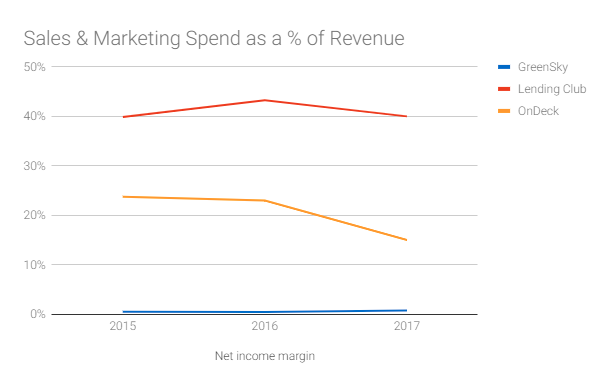 Source: Company filings
Strong profitability. The advantages of GreenSky's business model are evident in it's solid profitability over recent years -- unique among the FinTech lending cohort.