A Quick Look at Tech M&A
There are two primary exit options for startups: IPO or M&A. We have written a considerable amount on the strong IPO market YTD, but where do we stand on M&A activity? Looking at 10 of the largest tech acquirers historically*, the year is off to a slow start. These companies closed only ~$2B of acquisitions in the first quarter of 2018, putting them on pace for the slowest year since 2013.
*Includes: Alphabet, Amazon, Apple, Cisco, Facebook, IBM, Intel, Microsoft, Oracle and Qualcomm.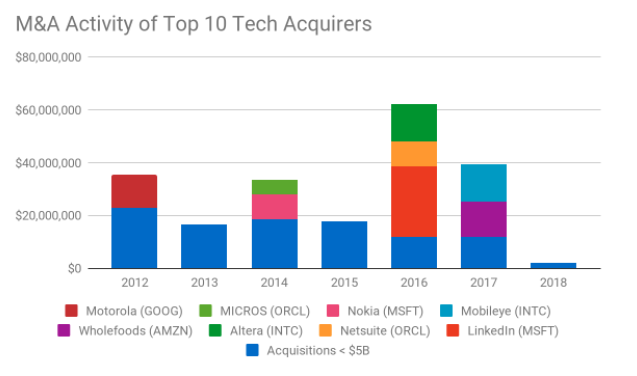 Source: Company filings and EquityZen
Further, judging from comments from recent earnings conference calls, these behemoths don't appear to be gearing up for an uptick in M&A any time soon.
AAPL: CFO Luca Maestri noted that M&A was among their capital allocation options; the company spent more time addressing returning capital to shareholders via dividends and buybacks. Note that if company buys back shares, this typically serves as a signal that they view their shares as undervalued...and by extension, not good acquisition currency. That said, Apple is flush with cash and wouldn't necessarily rely on using their shares for ac

quisitions.

MSFT: CFO Amy Hood noted that Microsoft's appetite for acquisitions remains "unchanged". The company will likely be opportunistic in its approach, though, targeting deals "

in core areas for us, where markets are expanding, [and] where the companies have a unique asset".

INTC/GOOG: In both of these cases, acquisitions were second in line on capital allocation priorities to organic growth.
What might be stalling these giants? Regulatory concerns and considerations could be a factor. Tech firms have (perhaps justifiably) faced greater regulatory scrutiny as of late and opening themselves to potentially even more scrutiny through increased deal-making may not be palatable right now. Valuations are likely another key factor. Emerging companies have enjoyed favorable pricing in private markets and - increasingly - in public markets (see SaaS multiples chart below). Strong valuations -- while good for IPO activity -- may be keeping potential suitors on the sidelines for now.
Historical SaaS Multiples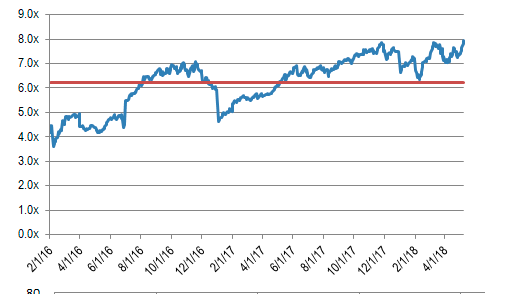 Source: Ycharts and EquityZen
In Other News…