Weekly Update #246: More IPO Updates
More IPO updates this week…
With the flurry of S-1 activity YTD, we now count 8 VC backed companies that have/are slated to IPO. This includes Docusign, Carbon Black (just filed!), Zuora, Pivotal, Smartsheet as well as those that have already listed -- Spotify (SPOT), Zscaler (ZS), and Dropbox (DBX). Valuations have generally held up well so far, despite some underlying market volatility. Only Dropbox has experienced an IPO "down round", which we believe was likely driven by a stretched valuation in its last funding round (DBX last took money from VC investors in 2014, a year generally characterized generally by ebullience in private valuations).
Key updates include:
> Carbon Black joined the class of 2018 IPO candidates, submitting their filing earlier this week. Carbon Black, which plans to list on the NASDAQ under ticker "CBLK", sells endpoint cybersecurity solutions. Pricing is TBA.
> Zuora increased its pricing range to $11 to $13, from $9 to $11. We estimate this translates to a 7-8x multiple on forward revenue, above the SaaS average.
> As expected, e-signature company Docusign (expected ticker "DOCU") filed an amended S-1 last week, with additional disclosure on TTM (trailing twelve month) results. The company's timing and expected pricing are still TBA. Overall, we believe the market will likely welcome DOCU's strong market position and opportunity as well as its balanced growth profile. Some quick notes on the filing are included below:
- Revenue metrics remain solid, with TTM sales at $519M, up 36% year-over-year. Total customers grew ~30% over the timeframe. DOCU has estimated the size of the e-signature market at $25B, suggesting ample growth opportunities ahead. Note that competition could eat into this opportunity somewhat -- key competitors for DOCU include large, deep-pocketed players like Adobe and other startups, e.g. HelloSign.
Docusign Annual Revenue Growth (Fiscal 2018, 2017)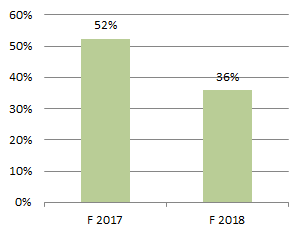 Source: Company filings and EquityZen Securities
- Strong dollar-based net retention should support healthy growth going forward. DOCU's dollar-based expansion rate remains well above 100%, suggesting the company continues to expand business with existing customers. Growing with existing customers often carries favorable economics compared to attracting new business.
Docusign Dollar-Based Net Retention
Source: Company filings and EquityZen Securities
- Importantly, Docusign seems to have done an admirable job balancing growth with profitability. DOCU's operating margins exceed other SaaS peers in their quarters leading up to IPO, steadily climbing to just-shy-of-positive as of the company's last fiscal quarter. Part of the profitability improvement is attributable to above-average gross margins. DOCU also runs leaner on G&A and R&D relative to its peers. Low R&D can sometimes signal underinvestment; however, it is important to remember that (a) SaaS peers compete in different underlying sectors which can have an impact on required R&D and (b) DOCU may now be reaping some dividends from past expenditures as a leading player in the e-signature market.
Docusign Operating Margins; 7 Quarters Leading Up to IPO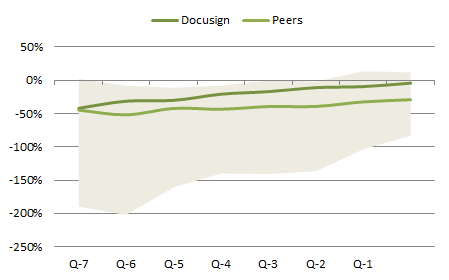 Source: Company filings and EquityZen Securities
Docusign Gross Margins; 7 Quarters Leading Up to IPO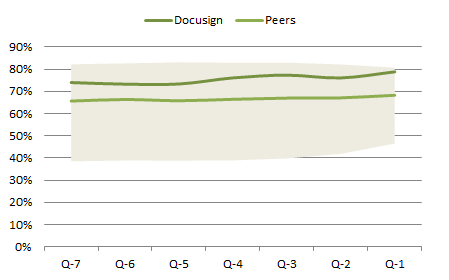 Source: Company filings and EquityZen Securities
Docusign R&D to Revenue; 7 Quarters Leading Up to IPO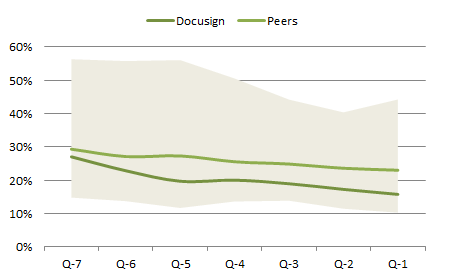 Source: Company filings and EquityZen Securities
Docusign G&A to Revenue; 7 Quarters Leading Up to IPO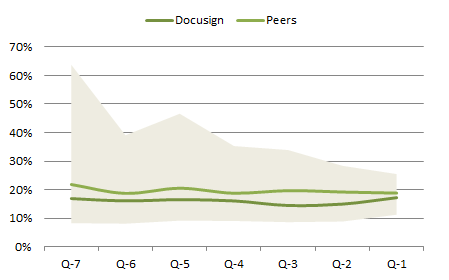 Source: Company filings and EquityZen Securities
Other items we are reading this week: