Weekly Update #240: A Quick Look at Dropbox's S-1
Dropbox filed an S-1 last week, becoming the second tech unicorn to seek a public listing this year (Zscaler filed the week before). The company, which provides cloud storage solutions for consumers and enterprises, aims to list on the NASDAQ under the ticker "DBX".
We believe Dropbox may be heading for an IPO "down round". Our estimated fair value range for the company is $5.3-8.3B, which is based on a forward revenue estimate of $1.3-1.4B and P/S comps of 4.0-6.0x. Our valuation estimate compares to the $10.3B implied valuation Dropbox's last funding round. The potential re-rating is not entirely surprising -- the company last raised in 2014, a frothy year for VC financing. Several other tech firms that also obtained funding that year have experienced step downs in valuation upon their public debut. We talk more about IPO down rounds here.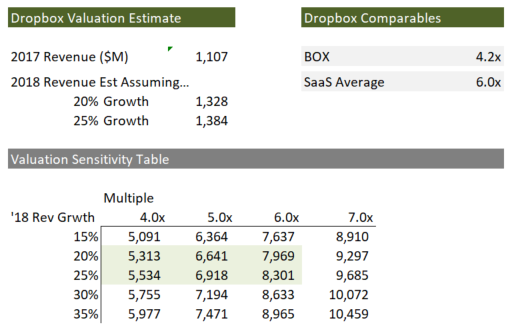 Source: Company data and EquityZen Securities
Some quick takeaways from the filing:
Operating losses have been narrowing.

Dropbox continues to generate losses, but has improved profitability meaningfully over the past two years. The improvement has been driven primarily by expanding gross margins.
Dropbox Margins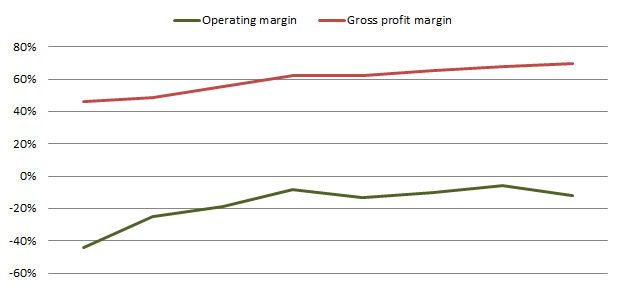 Source: Company data and EquityZen Securities
Product selling itself?

Dropbox generates 90% of revenue through "self-serve" channels (i.e. consumers downloading from website or app store). This likely contributes to the company's solid sales efficiency, which has averaged around 1x since mid-2016.
Dropbox Sales Efficiency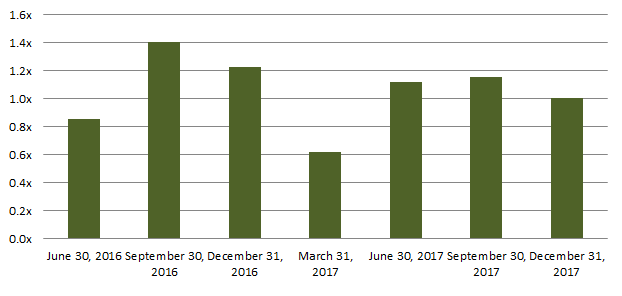 Source: Company data and EquityZen Securities
Free cash flow has grown significantly.

Free cash flow is a measure of cash generated through operations less capital expenditures required to support those operations. The aforementioned profitability improvement has contributed to meaningful FCF growth.
Dropbox FCF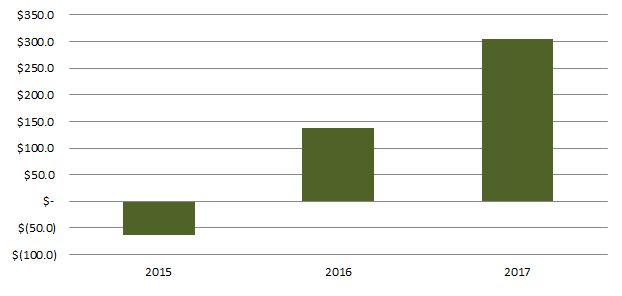 Source: Company data and EquityZen Securities
Revenue growth may be decelerating.

While top-line growth remains solid, it has trended lower over recent quarters. In addition, the 30%+ average growth over the past seven quarters is below other SaaS peers that have filed recently (including 40%+ for Zscaler and SendGrid).
Dropbox Revenue Growth (Quarterly Annualized)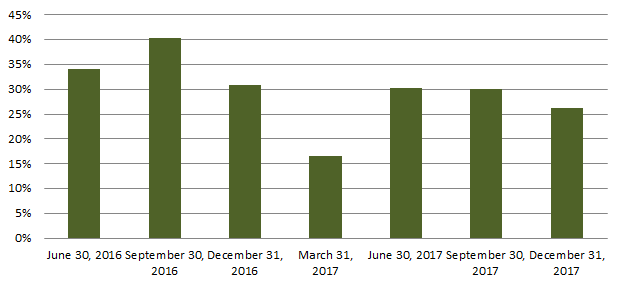 Source: Company data and EquityZen Securities
Multi-class share structure may weigh on valuation.

Voting rights for Dropbox will remain concentrated with founders and early investors. Class A common (which will be traded publicly) will have disproportionately lower voting control. DBX joins a handful of other tech companies employing this structure (incl. GOOG, FB, SNAP). While its difficult to ascertain the impact voting rights may have had on share performance for these stocks,

some academic studies

have shown that shares of companies with better governance practices tend to outperform in the long-run.
Other items we are reading this week: