A few recent announcements on the artificial intelligence front...
1 - AI put one more point on the scoreboard over humans over the past week, with software created by Microsoft and Alibaba outperforming humans in a reading comprehension test. Results of the test can be found here (human performance is listed at the bottom). Thise latest news adds to the list of AI's accomplishments over human intelligence, which currently includes victories in complex games such as chess and Go. It also marks a meaningful milestone for AI and how the technology is able to interact with people (immediate applications include chatbots and customer service).
2 - AI is not just focused on recreating human intelligence. At CES last week, Sony relaunched its Aibo robotic dog. Like our old-fashioned four-legged friends, Aibo is cute... though the price less so at $1,735 plus a $26/month service fee. Nevertheless, it can do a lot of what we expect from dogs, including recognizing its master's face and sitting down on command (apparently it is somewhat inconsistent on the latter but my guess is that it still outperforms my beagle — obedience is not really his thing).
3 - As major tech companies jockey for AI position, many startups are hard at work carving out their own niches in the nascent sector. Notably, the AI chip market is thriving, boosted by the infusion of $1.5B of venture capital in the last year alone. The NY Times reports that over 45 different startups are tackling the challenge of creating new chips that meet the intensive computing demands of AI software.
We noted in a recent newsletter predicting 2018 VC themes that AI is poised to remain a major investment focus in the year ahead. Indeed, the above are just a few examples of the rapidly growing interest in AI from tech companies both large and small — mentions of artificial intelligence on public earnings calls continue to grow (see chart below). We continue to view AI as a very promising investment opportunity in the tech sector and expect to see increased M&A demand for startups operating in the space, particularly as larger players compete for talents and patents.
For more information on the AI startup landscape, please see our report here.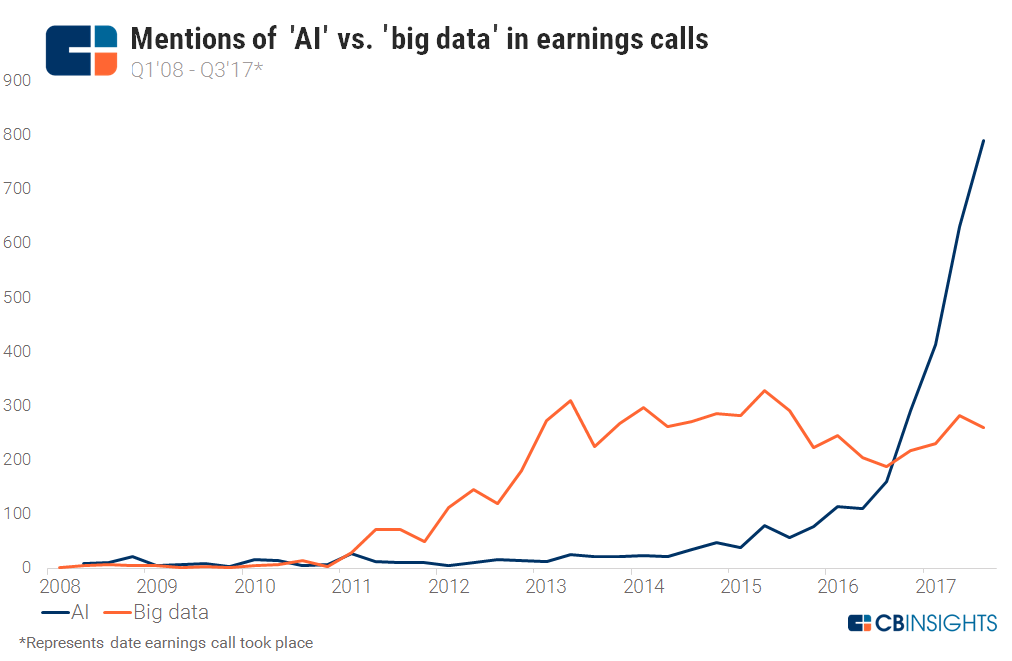 Source: Crunchbase