Weekly Update #232: Time for Lyft Off?
Hello Investors,
To say 2017 was tough for Uber would probably be an understatement. During a tumultuous 12 months, the company seemingly bounced from one scandal to another, lost key executives (including its CEO), faced a lawsuit from investors, became subject to a DOJ investigation...just to name a few. Uber remains the largest ride-hailing service globally; however, the giant's woes appear to have opened the door for Lyft, it's key rival, to shore up its own competitive position. Just how much? A Bloomberg article suggests quite a bit -- we note some key highlights from the startup's 2017 below:
Lyft grew US market share by 61%. The company now commands ~⅓ of the market vs. ~20% previously.

The company's 2017 revenue was tracking around $1.5B, more than double last year's $700M. Investors expect the net loss to remain relatively consistent sequentially at $600M and Lyft believes it could reach breakeven profitability by the end of next year.

Lyft ended the year with strong revenue projections. Bloomberg reports that the company expects to quadruple its revenue over the next three years (see chart).

At year end, Lyft closed a $1.5B funding round led by CapitalG, which valued the company at $11.3B ($39.75/sh). The new share price translates to a 24% increase from the company's prior round last April. Fidelity, which is an Uber investor, also invested in the recent round.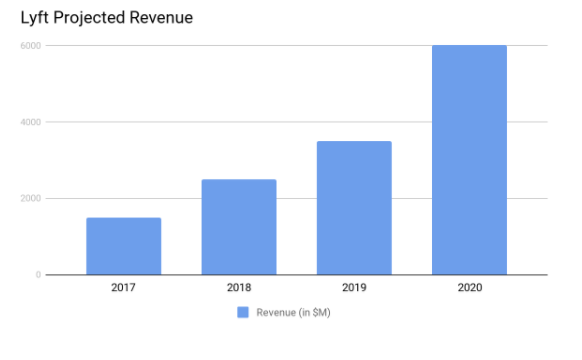 Source: Bloomberg
Thanks,
Phil Haslett
Founder + Head of Investments, EquityZen
Funding Rounds Since Last Week


Uber - SoftBank's big investment in Uber comes to a close



DNAnexus - DNAnexus Announces $58 Million Investment to Accelerate Expansion